CE MID-WEST ZONE: WE ARE LIVE!!! IT'S PRAY-A-THON on KingsChat Web
WE ARE LIVE!!! IT'S PRAY-A-THON WITH PASTOR CHRIS Click here to join in and participate with us online. 👇👇 https://www.pastorchrislive.org/prayathon/livetv.php Also find the link on the PastorChrisLive SuperUser Notification Banner on your KingsChat Timeline Page; or, on the @PastorChrisLive TV located at the bottom of your KingsChat settings Page. As you pray, remember to post on Kingschat with the hashtags below. #Prayingnow #PrayingwithPastorChris #Cemidwestzone #PCLPrayathon2019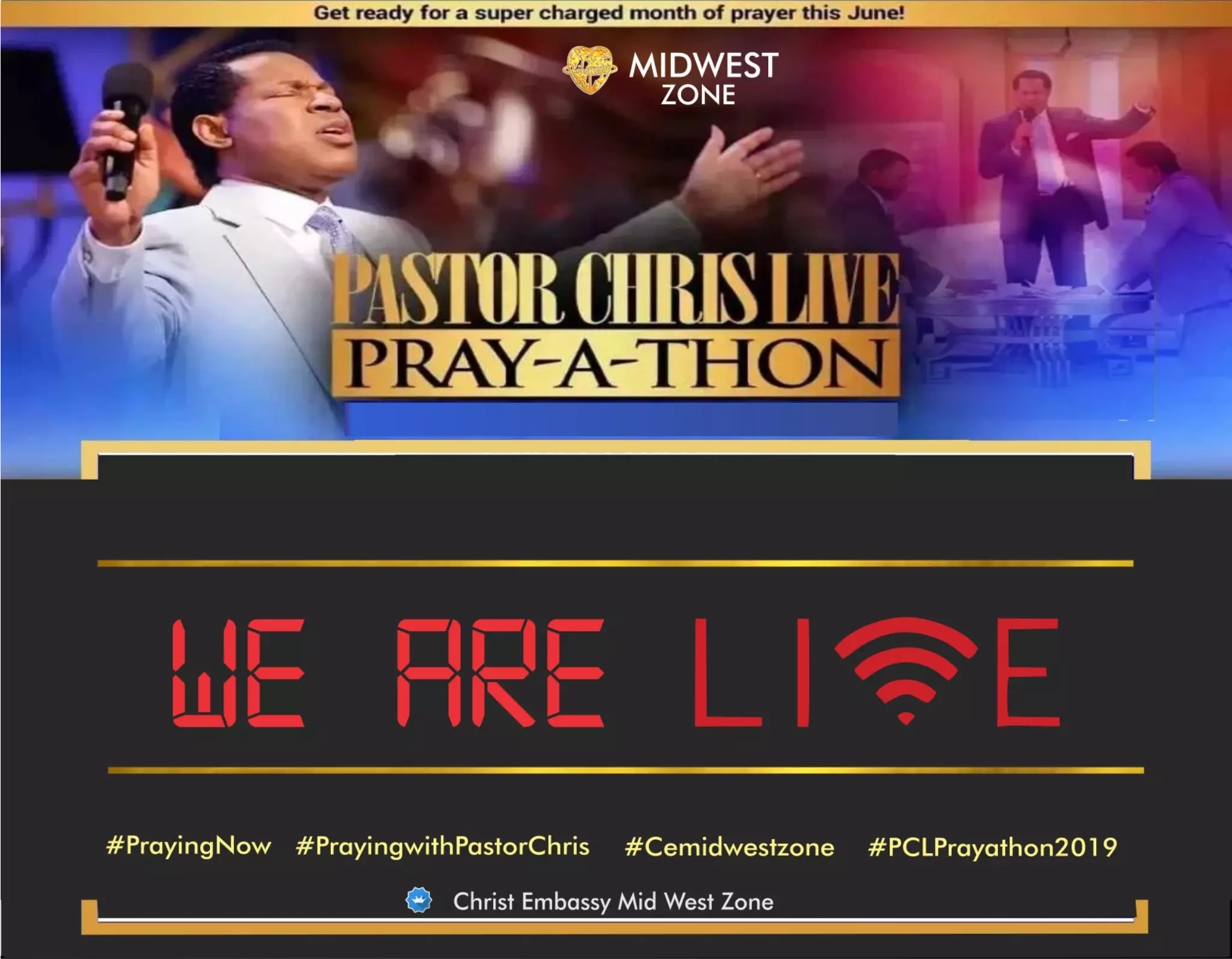 #MEGACELLOUTREACH #PRAYINGNOW #PRAYINGWITHPASTORCHRIS #PCLPRAYATHON2019 #CAMEROON #EWCAZ4 #CENDOBO #Splendour7
Part 1-Oh PTAD! There's so much to say about Pst Taiwo, sooo much. She's an inspiring minister of the gospel and a music minister too. She's a super wife, an amazing mother, who has raised and is still raising many well behaved and incredibly intelligent and talented children.
#prayingnow #pclprayathon2019 #cemidwestzone #nigeria
Shele go shele bakarata #BIBLESTUDYWITHPF #PRAYINGNOW #PRAYINGWITHPASTORCHRIS #PCLPRAYATHON2019 #CAMEROON #EWCAZ4 #CENDOBO #Splendour7
Happy birthday dear Sister Eva Thank you for being so humble, diligent,dependable and consistent. Thank you for all you do in the ministry. The Lord bless and increase you more and more. I love💖 and appreciate you.
WE ARE LIVE!!! IT'S PRAY-A-THON WITH PASTOR CHRIS Click here to join in and participate with us online. 👇👇 https://www.pastorchrislive.org/prayathon/livetv.php As you pray, remember to post on Kingschat with the hashtags below. #Prayingnow #PrayingwithPastorChris #Cemidwestzone #PCLPrayathon2019
GOD IS STILL SAYING SOMETHING #SUNDAYSERWITHPF #PRAYINGNOW #PRAYINGWITHPASTORCHRIS #PCLPRAYATHON2019 #CAMEROON #EWCAZ4 #CENDOBO #Splendour7
Wow...see what is happening in Eko Atlantic- The Lagos SMART CITY project. What do you think? #innovate #inspire #ideate