PIfeoma: Happy Birthday Esteemed Sister Nicole. on KingsChat Web
Happy Birthday Esteemed Sister Nicole. You're a priceless gem, you're for signs & seasons, and this is your season, your time to shine with magnificent brilliance. Enjoy an unprecedented year of success & victory where your exploits will dwarf the achievements of 2018. I 💖💕 U.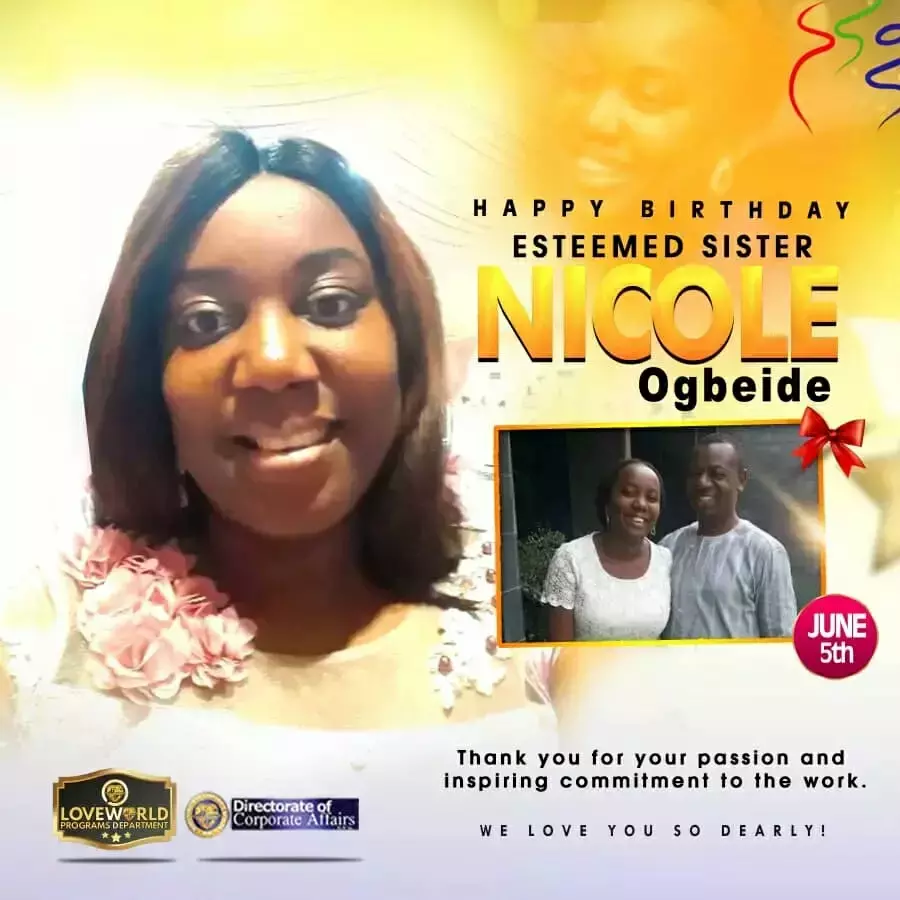 Nicole
commented:
Amen Ma!!! Thank you so so so much ma. I am so grateful for the opportunities to learn, be trained and to be loved under your grace. It's an honor to serve under you ma. I am most grateful ma. I love you ma!!!!! Thank you ma.
#prayingnow #Ceottawa #Canada #prayingwithpastorchris #pclprayathon2019
#prayingwithpastorchris; #PCLprayathon2019; #Canada #prayingnow #cebramptonwest
CELEBRATING OUR ISM ELITE PARTNERS! Thank you esteemed Apostle Kingsley & Pastor Marlien Lawend of New Creation Life Ministry International, Netherlands, for impacting the lives of millions of ministers around the world, through your financial partnership with the International School of Ministry. Your giving continues to redound in thanksgiving to the Lord. We celebrate you today and always! We treasure your partnership with the ISM! #ism #PastorChris #WEC2019
PRAY-A-THON Ensure you log in to participate and do post your comments on the website www.pastorchrislive.org and on your Kings Chat Timeline. See more details below: The PastorChrisLive Pray-A-Thon is LIVE! You can participate in any of the 15 minute Prayer Sessions through any of the following: 1. Click on the PastorChrisLive SuperUser Notification Banner from your KingsChat Timeline Page 2. Click on the @PastorChrisLive TV located at the bottom of your KingsChat settings Page 3. Click on the link below:https://pastorchrislive.org UPDATE NOW to the Latest version of KingsChat for Better Viewing Experience! #PCLprayathon #UnitedKingdom
GOLDEN JUBILEE CELEBRATION OF OUR DEAR HIGHLY ESTEEMED PASTOR MA! ...from DCNS IYOBOSA SANNI CHRIST EMBASSY KENYA ZONE #ptadlightsgoldenjubilee #2000kidsbacktoschoolcampaignwiththeinnercitymission #incomparableptad
#prayingnow #pclprayerthon2019 #prayingwithpastorchris #CANADA #Toronto
#prayingwithpastorchris; #PCLprayathon2019; #Canada #prayingnow.
Happy Wedding Anniversary Pastor Sir. Its our joy celebrating the glory of the Lord which is increased in your family Sir. We rejoice at the many blessings that comes in the Light of your home through the Gospel. congratulations Sir FROM THE IDEMUDIA'S