ITS 4 DAYS TO THE MID-YEAR THANKSGIVING SERVICE How are you preparing for this Service? POINT 1 - COUNT YOUR BLESSINGS - Give substance and content to your worship, prayers and testimonies of Thanksgiving by looking back on your journey thus far in the year and taking record of all the wonderful things the Lord has done in you and for you, the knowledge of His Word, the improvement of your person, your participation in His Kingdom, His blessings in your home and family, the increase of your finances, the seeds you've sown, the grace you've enjoyed, the miracles and testimonies you have received for yourself, and those you have witnessed in the lives of others, our amazing programs in the first half of the year...and so much more. You have more than enough to be grateful for... Count your blessings today! Watch out for point 2. #CEAMC #MYTHANKSGIVING2019 #MIDYEARTHANKSGIVING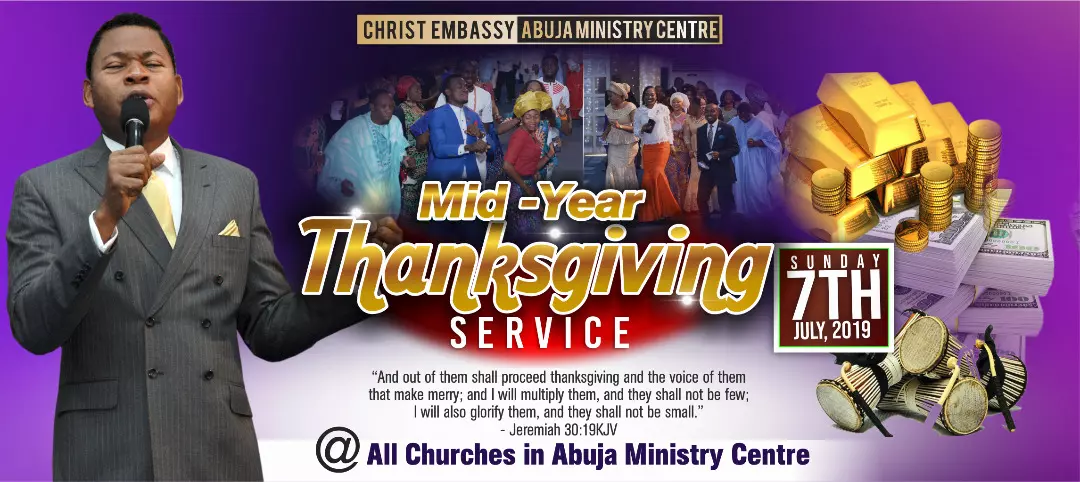 A happy and glorious birthday to my dad, my pastor and a Shepard sent for me. Your love for the master is contagious sir. I have learnt so much about ministry. I love you sir. Again Happy birthday sir..
THE LATTER RAIN SHALL BE GREATER THAN THE FORMER! POUR ON US LORD JESUS! POUR ON US...💕💕💕
Happy birthday Sir! Thank you for your leadership, love, counsel and teachings. We love you Sir and celebrate your unique grace. #PastorUche0307 #LoveworldBolton #UkZone4
*💃🏼💃🏼💃🏼... glooorrreeeyyy, Our 3 Days Global Praying & Fasting to round Onnn the month of PRAY-A-THON has commence today [ i.e. Wednesday Thursday & Friday ]. DO MAKE SURE YOU ARE NOT LEFT OUT, BECAUSE SOMETHING EXTRAORDINARY HAS BEEN BIRTHED....😃!* Gbu!
My Life is for the Glory of Almighty God. I'm not an ordinary person, for I'm a Living Epistle, written not with ink, but with the Spirit of the Living God, known and read of all men. Through me, many are coming to the knowledge of Christ, in Jesus' Mighty Name. Amen!
Happy Birthday to our Star Governor! I love you, ma! Thank you for being a doer of the Word through your love and giving. I can't say enough of how much of a positive influence you have been to me and us. In quietness and confidence shall be your strength! Many more graces, ma!
New blog post by Alexia Tshapumba. Check it out and comment, thanks. https://perspective167180350.wordpress.com/
HOW(I.E.I)WORKS₦10,000-₦20,000₦40,000-80000 50,000₦100 https://chat.whatsapp.com/GVWnBbHE6lkGGUmdujP3pc