CELVZ: 2 DAYS TO GO! MID-YEAR on KingsChat Web
2 DAYS TO GO! MID-YEAR THANKSGIVING "I will praise you, Lord! You always do right.     I will sing about you,  the Lord Most High." PSALM 7:17 (CEV) Categories of Thanksgiving - Salvation/spiritual growth - Special deliverance and promotion - Marriage/fruit of the womb/ expecting mother  - Divine healing and  health - Financial increase and material blessings - Academic progress - Thanksgiving for our Man of God - any other  Date: Sunday, July 7th, 2019 Time: 9 am Venue: The Prestigious LoveWorld Convocation Arena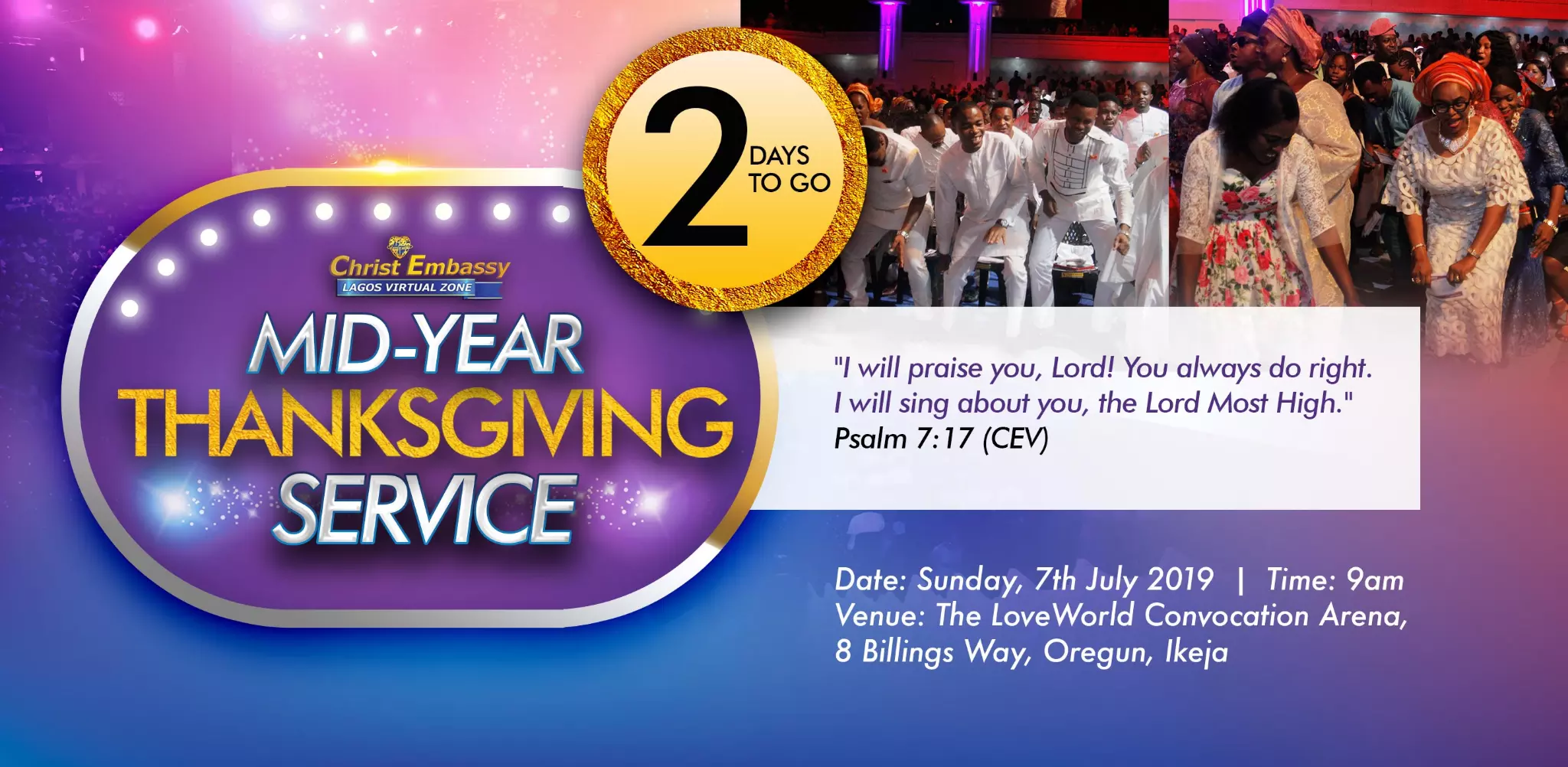 A glorious birthday to you Charissa Ibilola.
My IBI is just 5 today. Still a baby but super intelligent, extraordinary, head and shoulder above her peers. She's no ordinary royalty I tell you 😆 😍 . I love you my father's daughter. 💖💖💖 Enjoy your day our brilliant Light 😘😘😘 #HBDPrincessCharissa
Happy Happiest birthday dear CIO
#TGIF We are stepping into🦶🦶 the weekend with great news💃🕺 from CE Abakiliki 1, as they have committed to sponsor 400 children #Backtoschool 📚✏ in several indigent communities. Thank you, dear partners, for lighting up their future. #EndChildpovertynow #EveryChildisyourChild
Happy Lights birthday Princess Ibi Charissa. We celebrate with you enjoy your day. Keep shining. #EWCAZ3
REACHOUT USA!!! Christ Embassy Los Angeles had a glorious celebration of the Independence Day of the United States with Rhapsody of Realities. Several lives were impacted with our messenger angel. The harvest is truly plenteous!!!
Happy birthday dear Carissa. I love you .
Happy birthday to our very clever, pretty and beautiful Princess of our very own Zonal captain You are loved dearly. #HBDprincessCharissa