Kinging With Pastor Uyi: KINGING AGELESS "In Christ, we on KingsChat Web
KINGING AGELESS "In Christ, we grow; we don't age." -Pastor Chris IN TODAY'S RHAPSODY of July 17th, Our Man of God, Pastor Chris, declares that we grow without aging. We read that: Eternal life is the life with agelessness. When you received eternal life, you passed from death to life; from time into timelessness; from age into agelessness. In Christ, we grow; we don't age. It's important you catch this, because the generation of the Church that catches this truth is the generation of the glory. The human body wasn't made to grow old and die. In Bible accounts, some people lived to be over nine hundred years, some eight hundred, and others seven hundred and so on. But the number of years that man lived on earth progressively reduced because of sin, according to the scriptures. However, the Bible says that Jesus Christ took the punishment for our sins, and died to save us. If indeed this is true; if indeed, He laid down His life for us on account of our sins, it therefore means that the problem of sin has been dealt with. In that case, the effect of sin should no longer continue. As a result, man should no longer be a victim of age. His years should no longer be limited to 70, 80, or 120, because being born again, you've been brought into His glory and should be living a glorified life. You're supposed to be a victor everyday of your life. Nothing on earth should make you a victim; not even old age, because when you come into the zone of agelessness, you can grow without ageing. Take Moses for example, the Bible says that at a hundred and twenty years of age, his eyes weren't dim; his physical stature wasn't abated: "And Moses was an hundred and twenty years old when he died: his eye was not dim, nor his natural force abated" (Deuteronomy 34:7). Even though he could see that he was clearly an old man, his physical stature was strong. He wasn't the only one. At the age of eighty-five, Caleb said, "I am as strong today as I was when I was forty; therefore, give me this mountain" (Joshua 14:7-12). Hallelujah! Grow, but don't age! Don't be like those who are only forty-two and they say, "You know I'm not so young anymore." Christ makes you forever alive, strong, and effective. You have eternal life; meaning you're in the ageless zone. Blessed be God! Hallelujah! #KINGINGwithPastorUyi FOLLOW THIS SUPERUSER ACCOUNT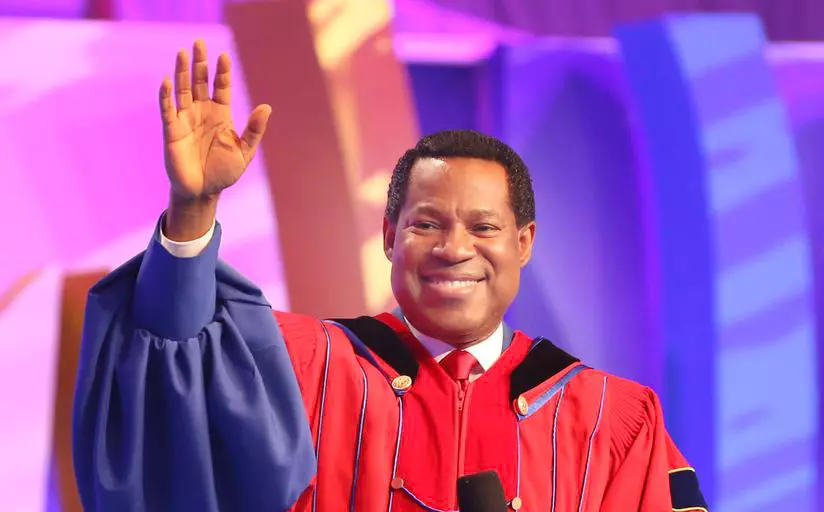 BILL GATE on FOOD DEMAND by the year 2050...the most innovative ways to help poor farmers in Africa. Learn more from this insightful video. #innovate #inspire #ideate
God sent something in your life that you care about, that you pray about, that you heard about, that you cry about, so that the divine nature of Christ can be manifested in your life. #wec2019withpastorchris #ukzone2
Register today...! Be a part of it.
When The Lord allows you to lose something, as a child of God, you have to have in your mind and in your heart and in your spirit that if God allowed me to lose it He's going to replace it with something better in my life. #wec2019withpastorchris #ukzone2
Pastor Sir thank you for sending the CGI Team to East Africa. We are so grateful Sir. Glorious things will be spoken about EAZ3 at the end of this Training indeed.
#AFFIRMATIONTRAIN 17TH JULY. I affirm that the Lord has granted me an understanding of the Gospel. I am established in righteousness, steadfast and unmovable in the Lord, filled with the knowledge of God, in all wisdom and discernment. I know all things by the Holy Spirit that is at work in me. I walk in the fullness of the blessings of the Gospel of Christ, and in the glory of my inheritance in Him. My mind is anointed to think the "God-kind" of thoughts. As I meditate on the Word, I build a wealth of thoughts that keep me in the arena of excellence, health, and prosperity, causing me to live the best life here on earth. I am well positioned to fulfil God's desire and plan for my life, as I give myself daily to the Word. The word of God is in my heart and in my mouth; I've been granted the Holy Spirit to help me become a more effective minister of the Gospel, having greater influence, reach and impact in the world. I am invigorated with divine might and ability in my spirit for the supernatural. I am empowered to do the impossible, for down in my heart is the very nature of the Father. The effect of the life and nature of God in my spirit is apparent in everything that I do. I am bold and courageous, for the Holy Spirit lives in me; in Him, I live, move and have my being! I am a God-carrying vessel, filled with the maximum load of God! Therefore, I am unconquerable and indomitable, because greater is He that is in me than he that is in the world. Blessed be God! SPEAK IN OTHER TONGUES NOW • Be bold to say the same things that God has said concerning you in His Word. That is what takes you beyond salvation, to enjoy the benefits of salvation ~ Pastor Chris Oyakhilome. You can now reach us on: • info@affirmation-train.org • www.affirmation-train.org God bless you. #july #celebrating #riches #instruction #signs #thanksgiving #reflection #influence #season #supernatural #graced #affirmationtrain #affirm #talkingsession #salvation #success #vision400
#AFFIRMATIONTRAIN 17TH JULY. I affirm that the Lord has granted me an understanding of the Gospel. I am established in righteousness, steadfast and unmovable in the Lord, filled with the knowledge of God, in all wisdom and discernment. I know all things by the Holy Spirit that is at work in me. I walk in the fullness of the blessings of the Gospel of Christ, and in the glory of my inheritance in Him. My mind is anointed to think the "God-kind" of thoughts. As I meditate on the Word, I build a wealth of thoughts that keep me in the arena of excellence, health, and prosperity, causing me to live the best life here on earth. I am well positioned to fulfil God's desire and plan for my life, as I give myself daily to the Word. The word of God is in my heart and in my mouth; I've been granted the Holy Spirit to help me become a more effective minister of the Gospel, having greater influence, reach and impact in the world. I am invigorated with divine might and ability in my spirit for the supernatural. I am empowered to do the impossible, for down in my heart is the very nature of the Father. The effect of the life and nature of God in my spirit is apparent in everything that I do. I am bold and courageous, for the Holy Spirit lives in me; in Him, I live, move and have my being! I am a God-carrying vessel, filled with the maximum load of God! Therefore, I am unconquerable and indomitable, because greater is He that is in me than he that is in the world. Blessed be God! SPEAK IN OTHER TONGUES NOW • Be bold to say the same things that God has said concerning you in His Word. That is what takes you beyond salvation, to enjoy the benefits of salvation ~ Pastor Chris Oyakhilome. You can now reach us on: • info@affirmation-train.org • www.affirmation-train.org God bless you. #july #celebrating #riches #instruction #signs #thanksgiving #reflection #influence #season #supernatural #graced #affirmationtrain #affirm #talkingsession #salvation #success #vision400