LoveWorld TV: Your Loveworld⭐⭐ Watch this inspiring on KingsChat Web
Your Loveworld⭐⭐ Watch this inspiring video showing our Man of God and Highly Esteemed ministers of the LoveWorld Nation discuss the importance of Christians preaching the gospel🌟 Watch LoveWorld TV on www.loveworldtv.co.uk/watch-live LoveWorld TV 3.0 Mobile App Sky 585 Freeview IPTV Channel 258 To Partner/Contact us Call: +442075115830 Email: sponsors@loveworldtv.co.uk; info@loveworldtv.co.uk #MostImpactfulStationofTheYear2018 #LoveWorldTVStationOfTheYear2017 #LoveWorldTVStationOfTheYear #LoveWorldTV Spreading Love, Changing the World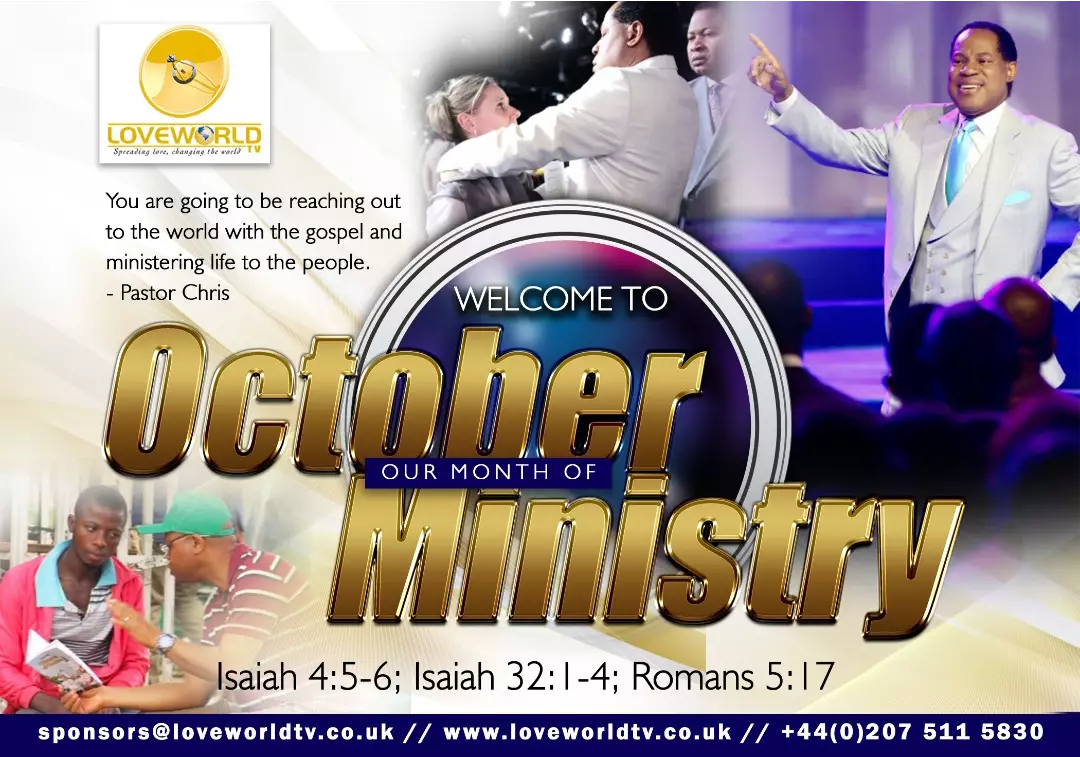 Blessings from the Highly Esteemed, the Most Reverend Tom. You're gonna have a great week and with those words, he prayed for everyone thus: The Lord bless you And everywhere you turn is blessings blessings, blessings your walk would be that of grace the Lord bless the work of your hands the Lord keep you in His love in the Name of the Lord Jesus Christ. His mighty hand rest upon you. May the Lord perfect all that concerns you His blessing rest upon your house in the Name of the Lord Jesus Christ. You walk through the doors that the Lord has opened unto you You will possess your possession with strength and courage in the Name of the Lord Jesus And may the Lord multiply back to you for every seed that you sow, a bountiful harvest in the Name of Jesus. Shout Amen!!! #ceukregion2
Visitation day. The esteemed facilitators of CGI, visiting different churches in Uganda. The esteemed Pastor Ewaen Edun visits CE Ggaba #EWCAZ3 #CGI #Uganda
Let it go. Don't carry the grudge any longer. #LetTheBadBloodGo #HappyMonday .
A Happy Luminous Birthday to our dear Esteemed Sister Stella Ofori🎂🎁🎉🎈 We love and appreciate you dearly! Kindly share your beautiful birthday greetings in the comments section. #CEPHZONE3
http://www.christembassyu kz1.org/prayer Join us as we spread the word of God to the people and Nations of the world in the language of their hearts.
#prayinnow #CEMNY #MonthofThanksiving #LightupConcert
Happy Birthday dear Sis Christy.You are indeed a blessing to the body of Christ and We love you dearly !
18 DAYS TO GO! The count up to the 2019 Summer Session with Pastor Chris in Canada continues with greater expectations. Join us to make ready for the demonstration of the power of God, through your partnership. 👉Invite someone to attend the session @ www.ethsch.org/LV 👉 Partner with us @ www.ethsch.org/D8