Godwin : #1HourToGo The GLOBAL SERVICE With on KingsChat Web
#1HourToGo The GLOBAL SERVICE With Pastor Chris WILL BE TRANSMITTED LIVE ON LOVEWORLD RADIO NETWORKS To participate download the Cetunes Mobile App from the play store via this link 👇 http://play.google.com/store/apps/details?id=org.lw.cetunes Reference Code 👉645973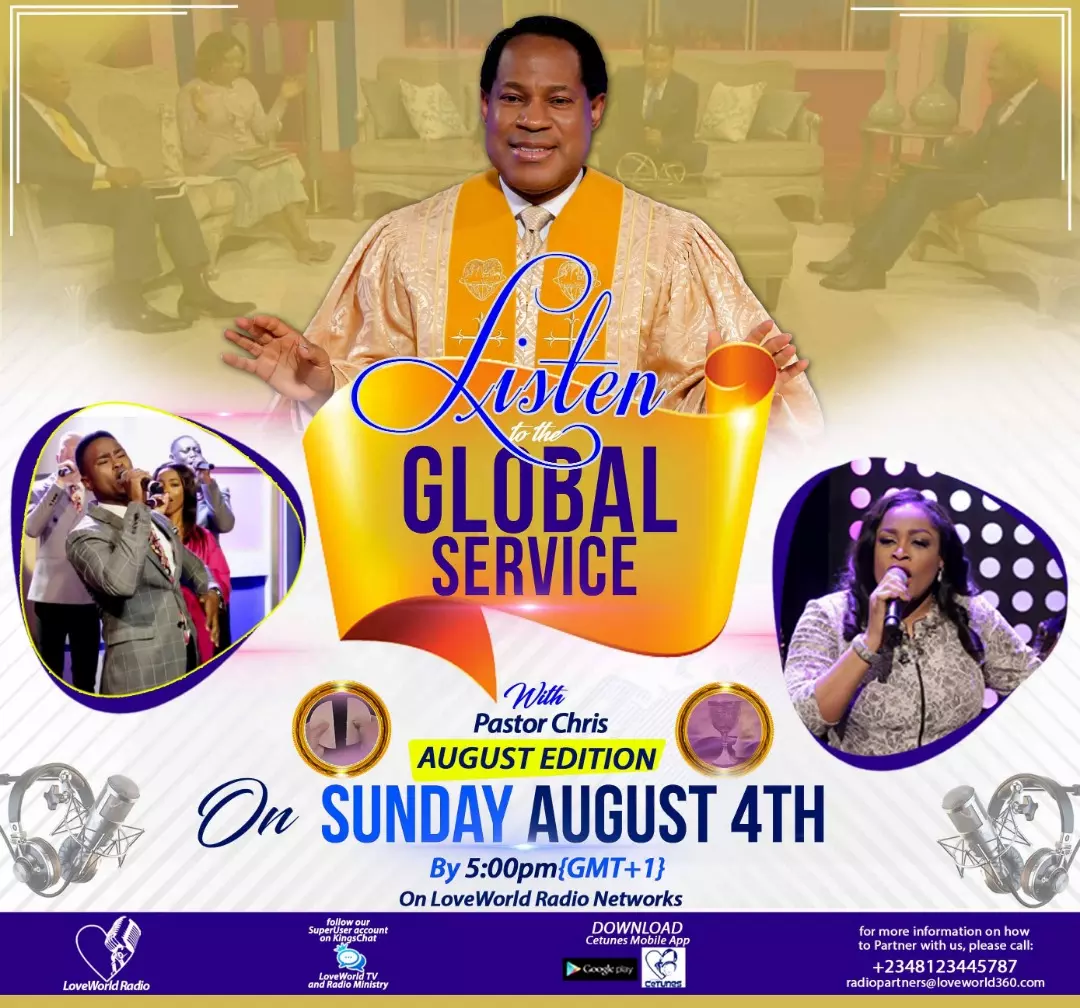 I AM NEXT AND I'M ON MY SPIRIT HIGH "SPIRIT HIGH" yesterday at the very first LOVEWORLD NEXT MUSICAL CONCERT and it came out Highly recommended for the Body of Christ- @danielmylez Featuring @mrsamjamz @protekniks #loveworldnextconference2019 #loveworldnextmusicconcert2019
#FaceofRogha #MissRogha #Contestantno2 #CeAccraGhanaZone
Happy, awesome, joyful birthday Sir! I join the host of heaven to celebrate you greatly, thank you so much for your kind disposition, for your lovely family, for Pastor Josephine and all you do in the Lord's house. It's an honour knowing you. Hip! Hip! Hip! Hurrrraaaayyyy!
#faceofrogha2019 #missrogha #contestantno2
Today we are celebrating a gem stone& a first fruit .Happy birthday my son,God has spoken concerning your future.Im grateful and thankful to Him for your life.Jesus is your life and your home.I love you so much.You are such a blessing.✨✨✨Keep shining.
Happy Birthday Mummy. We love you so much
WEC on my Mind...Catch the excitement...5 days to go...🏂⛷️🏃⚡⚡⚡ #WECUKwithPastorChris: #PastorChris#WEC2019 #UnitedKingdom#UKR2Z3
CELEBRATING THE PHENOMENAL PASTOR AMAECHI: Sights & Sounds #peeay731 #teampeeay #cephzone1 #dphenomcaptain
WEC on my Mind...Catch the excitement...5 days to go...🏂⛷️🏃⚡⚡⚡ #WECUKwithPastorChris: #PastorChris#WEC2019 #UnitedKingdom#UKR2Z3
Thank you Lord for my family and my prayer partners. God is with us mightily #birthdaythanksgiving #cephczone3 #adageorgegroup #cehigherlife