Glorrrrrrry!!!!! ITS JUST 1 DAY TO GO!!! THE HEALING SCHOOL SUMMER SESSION IN CANADA!!! Let's Pray for the intending students, that as they step into the premises, there will be instant and remarkable changes in their bodies. Jer 33:6 Behold, I will bring it health and cure, and I will cure them, and will reveal unto them the abundance of peace and truth. HALLELUJAH!!!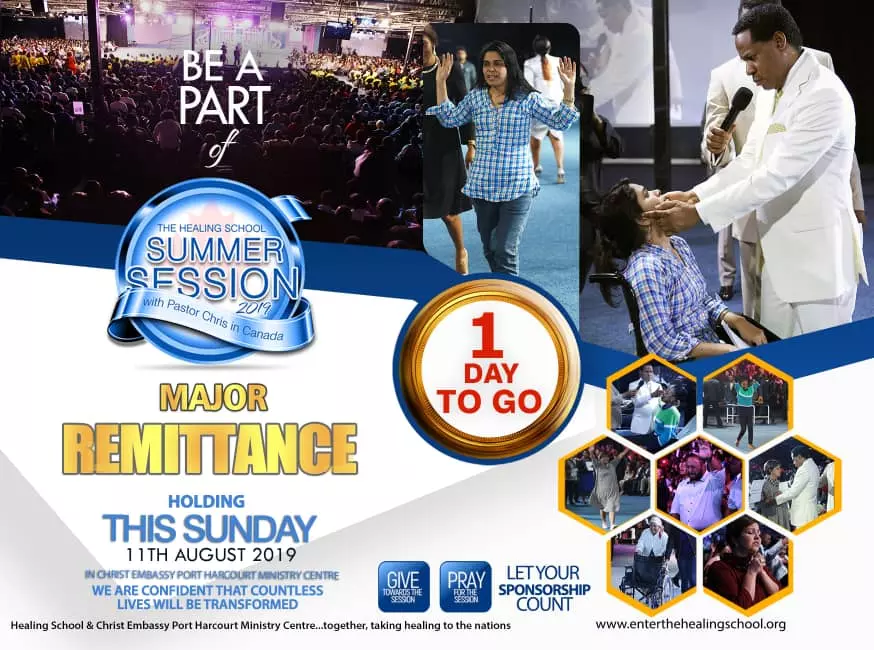 Judith Nwanisobi
commented:
Yes ! From the crown of their heads to the soles of their feet, the healing power of God is on them so strong even now, in Jesus name.
Happy Birthday Pastor Sir!! Enjoy Your Special Day Sir... 🎂🎂🎂🎂🎂🎂🎂🎂🎂🎂 #PL10 #CEMoneyFarm #SouthGroup #CESAZone2
Happy birthday Pastor Sir. I love u #Ce Springs #Sazone*
Happy Birthday to my Father, my pastor , my teacher. Pastor Sir I love you. Thank you for who you are to me my family. #Wembley London #PL10 #CESAZONE2 #LEGACY GROUP #CE WESTRAND
Happy Birthday Pastor Sir. My father, boss and teacher Celebrating you, is to celebrate the Lord, your family & ourselves because Sir, you live a surrended life in Christ and ministry. What a story of love and faith. I love you dearly Sir. #PL10 #PLawrence10 #sazone2 #cewitbank
For your season of empowerment , transportation and transformation don't miss it for anything
💥💥💥HOT & SIZZLING💥💥💥 TEEVO BIBLE FOR TEENAGERS & YOUNG ADULTS & THE RORK BIBLE FOR KIDS 💥LIMITED COPIES AVAILABLE💥 @ the HILTON HOTEL BALLROOM - 3RD FLOOR #rhapsodyofrealities
Happy birthday Pastor Lawrence Sir...i celebrate you today...my father..my mentor..I thank God for your life.
Happy birthday Pastor Sir,I love you so much. #Ce Springs #Sazone2