Teens are you ready????? This is something to shout about!!! Port Harcourt Ministry Center Teens Ministry PRESENTS : IYD WITH TEEVO ..... Featuring: Community Service, 3 Days Free skill Acquisition on Home Deco, Bag making, make over, Small chops ,Cake making etc Creative Arts (Concert,Dance, Music, spoken words, Quiz...) And lots more.... To raps it up with A Football Competition... Teens ministry... Celebrating IYD in Grand Style.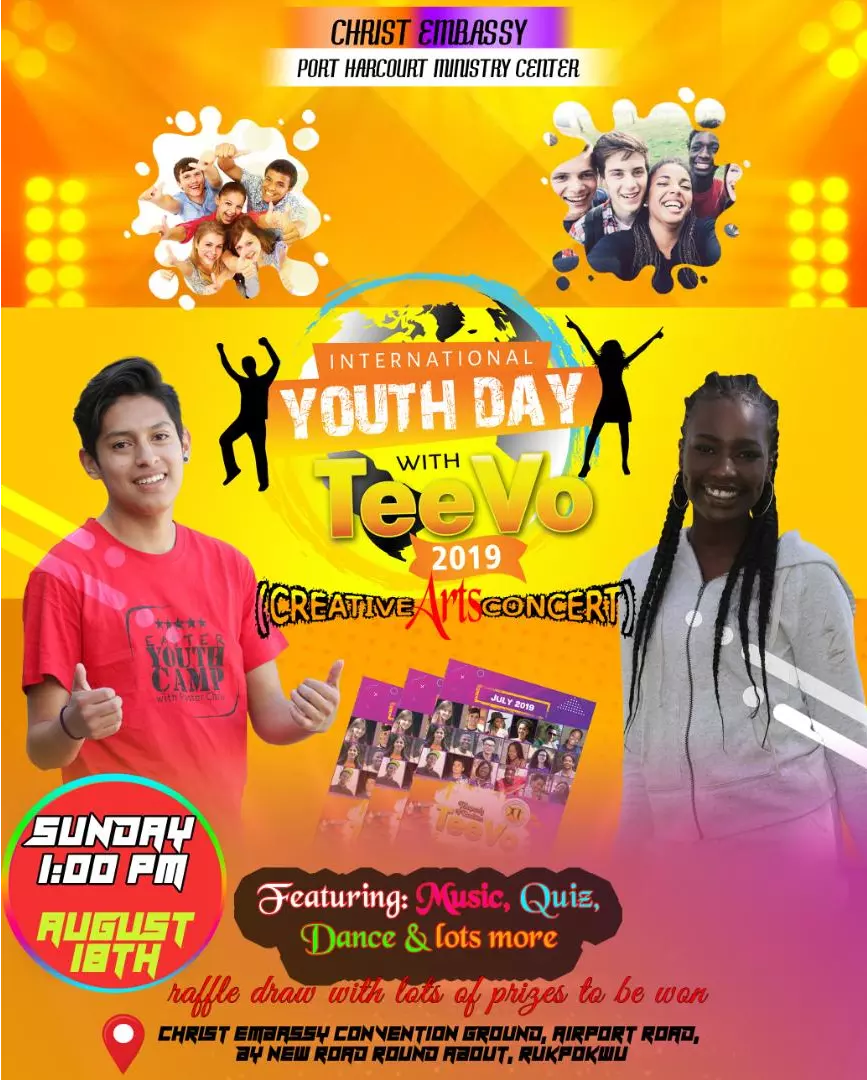 Leadership Capacity and Building Conference 2019 with Pastor Eunice (Day 3) Delegates praised and worshiped God with excitement #ceabakaliki #thanksgiving #praynow #pclprayathon2019
Happy birthday Pastor Sir. Thank you so much Sir for the investment of the word of God in my life. I love you dearly Sir 🎂 #SAZONE2 #Kengsintongroup #CECARLETONVILLE
Participate in the Lead Now Masterclass coming up August 22nd -25th, 2019. It's a self leadership masterclass designed to help young people especially ladies find clarity through life. Guess what? It is FREE! Get on via 👉 t.me/leadnow2019 #leadership #selfleadership #free
LIVE UPDATE FROM THIS MORNING SESSION OF THE " WORLD EVANGELISM CONFERENCE " DAY 2 Talkshow on the use of social media to impact the world. "We have an enemy and Jesus is coming soon... thank God for the wisdom Pastor Chris has to start up a social media for Christians." "....The book of Revelation talks about surveillance and the mark of the beast... You're traveling, your bags... everything is scanned, there are no security on other social platforms because they have access to your privacy but I encourage you all to get on this platform ( KingsChat )... - Esteemed Pastor Christine #CEPHZONE1 #WEC2019
EVANGELISM NEWS! #60DaysofHavest Sister Rose Gabanes of CE Philippines, CEPHZONE3 embarks on a Rhapsody of Realities distribution at a clinic, where several of the staff members gave their hearts to Christ. Glory to God! #60DaysofHarvest #Soulseverywhere #CEPHZONE3
🎵🎤🙌We give you the praise#WEC#CEMontreal#Canadaregion.
Happening Now at the World Evangelism Conference the Man of God is here! Praise God . . Want to get more updates from the #WEC2019 follow our superuser Phenomenal Life with Pastor Amaechi #peeayforever #peeay #pastorchris