CE EWCA Virtual Zone 2: HAPPY BIRTHDAY HIGHLY ESTEEMED PASTOR on KingsChat Web
HAPPY BIRTHDAY HIGHLY ESTEEMED PASTOR SIR. What can we more talk about?, but time will not suffice... - Your passionate and most enviable followership of and Commitment to our Man of God. - Your most exemplary life of Faith and kingdom exploits. - Your inspiring love and drive for the furtherance of the Gospel of Jesus Christ and Message of our Man of God. We salute you Sir!!!. Happy Birthday Sir. #R815 #CelebratingRevTom #ewcaz2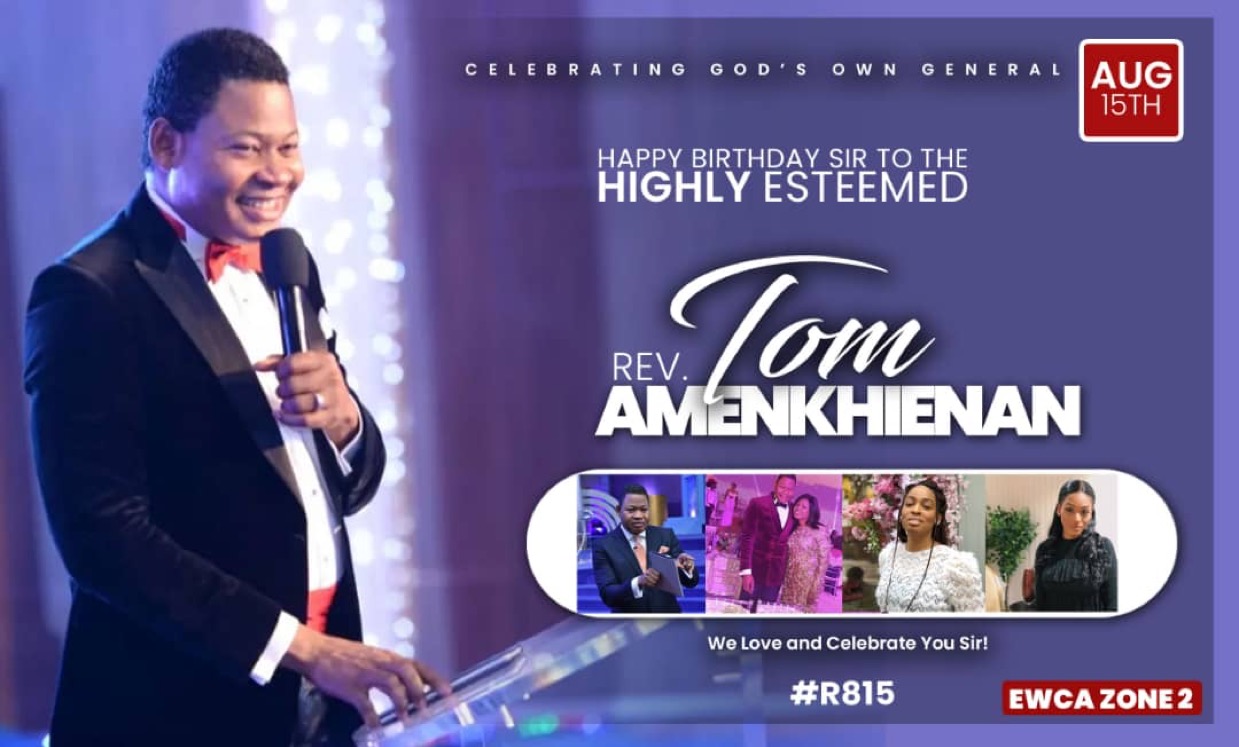 Every communication is a date with destiny communication #dwd #megacrusade #fillupnasrec #datewithdestiny #blwcampusministryrocks #datewithdestinysouthafrica
Happy birthday to the open definition of LOYALTY, HUMILITY & STEWARDSHIP. Dear Rev Tom, Thank you for your love & inspiring "follow follow" to our dear man of God, Pastor Chris Oyakhilome Dsc, DD. Thank you specially for all you do for God & His people. I LOVE YOU SIR #R815
Glorrrrrrryyyyyyyyyy!!!!! It's My beloved, Beautiful Sis Birthday. Esteemed Pastor happy Birthday. Thank you so much for all that you do in our great blw Nation. I love you Forever. Hip!!!!! Hurrrryyy.
Happy birthday Most Rev Tom Amenkhienan! If LOYALTY has a face - He's Rev Tom Amenkhienan. Thank you sir for you are the definition of LOYALTY, HUMILITY, STEWARDSHIP, a perfect example of a servant to our dear man of God, Pastor Chris Oyakhilome D.D, DSc #ceowerri #sez1 #nser
The time for change is here I am ready I am excited #TheHavenConventionwithPastorChris #THC2019 #TheHavenNation #TheHavenZoneZB1 #TheHavenErediauwa
HAPPY BIRTHDAY Most Rev Tom!! I On such a day as this, I want to tell you that I love you sir, you have been such a blessing to me and my family! Happy Birthday Sir!!
Every communication is a date with destiny communication #dwd #megacrusade #fillupnasrec #datewithdestiny #blwcampusministryrocks #datewithdestinysouthafrica
A glorious birthday to the most revered Reverend Tom. Your commitment 2 the vision of our dear man of God has given our world a standard to follow. Thank you for investing in us in the ISM network and sharing your passions of Soulwinning. We are better now. Happy birthday Rev Sir
Happy Birthday Dearest Sister Deborah. You're blessed beyond measure. God has lavishly endowed you with tremendous abilities and uncanny skills to make you fit for any task. Enjoy your special day and Year of Lights. God bless you mightily.