CELVZ: 1 (ONE) DAY TO CELVZ on KingsChat Web
1 (ONE) DAY TO CELVZ ZONAL CONVENTION ~ CAN YOU SEE THE GLORY STARTING WITH A SUMMIT STRICTLY FOR LEADERS TOMORROW THURSDAY, 29TH @ 5PM JOINED BY ILLUSTRIOUS BRETHREN FROM FRIDAY THE 30TH @ 5PM O! Glory To God. Thank You Lord For The Overflow. #CELVZ #ZONALCONVENTION #YouWillBeThere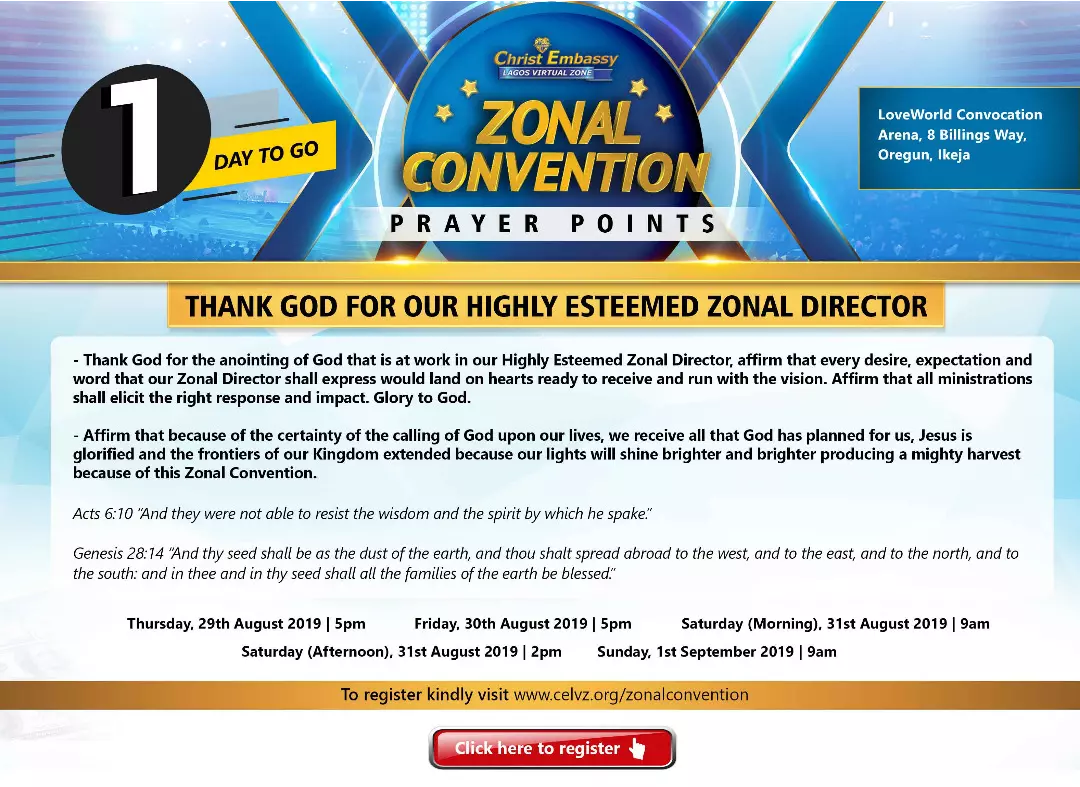 Dee
commented:
⏳ count up to 5pm, Thursday,29th of August, 2019... #Ready
Joseph Flourish
commented:
I will be turned into another MAN at the CELVZ ZONAL CONVENTION. #CELVZ #ZONALCONVENTION #IWILLBETHERE
HAPPY BIRTHDAY Esteemed Pastor Emeka! We love you Sir! 🙌🏻
Happy Birthday Ma' Cherie, We celebrate you today. Grace and wisdom is increased in your life this day. New chapters are open unto you. . The hand of God rest upon you both mightily, in Jesus name, Amen.
More picture highlights from CE Shangisha.................... Awards were given out to the soul winners and the outstanding cells and cell of the day. #SG1 #ceshangisha #CELZ1rocks
It's media connectors conference At warri ministry center on the 13th and 14th September 2019.... Venue: Central Church 1 Time: 5pm. Come expectant
If not for your grace where would I be .
we party the whole Augsut #PS2708 #PT1208 #dwd #megacrusade #fillupnasrec #datewithdestiny #datewithdestinysouthafrica #groupD
#DWD IS HERE!!!!! #dwd #megacrusade #fillupnasrec #datewithdestiny #datewithdestinysouthafrica #groupD