Hello, JOIN ME TO SPONSOR 20,000 MINUTES AIRTIME ON LOVEWORLD PLUS TV IN COMMEMORATION OF MY 50TH BIRTHDAY (GOLDEN JUBILEE) CELEBRATION. You can make my Special Day count and impact thousands of lives with the gospel of our Lord Jesus Christ in over 187 countries of the world via Loveworld Plus by sponsoring 1, or 20, or 100 minutes or more @ 1000 naira per minute Make it Count! 🙏🤗 KINDLY JOIN ME by clicking on the LINK BELOW 💙👏👇👇👇💙 👉https://www.loveworldplus.tv/joinTLB or 4492005234 Eco Bank Thank You for Your Giving. I am grateful🙏 Please use TLB for Name of Depositor/ narration. Kindly send evidence of giving if you use bank transfer to kingschat @cosba or via sms to +2347038470286 or email: projectloveworldplus@cebayelsa.com #THANKSGIVING #JOINTLB #LoveworldPlus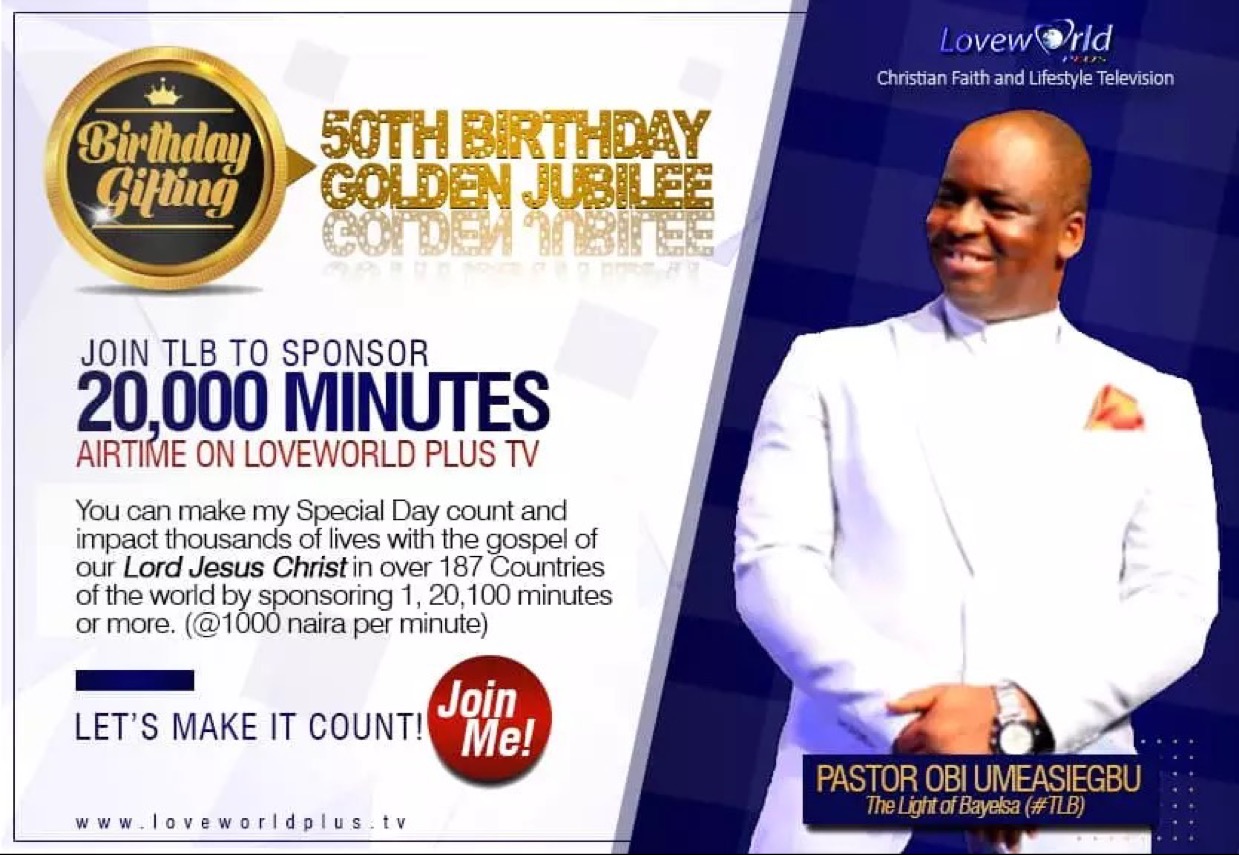 #TotalExperienceSuva #CEFijiIslands #CESuvaCentral #CESANZP After a Powerful Prayer session with our Highly Esteemed Regional Pastor, Pastor Biodun Lawal 🙏🙏🙏 Hallelujah!!!
Log in Now to Participate Live www.christembassyowerri.com Shining The Light Through Languages with Rhapsody of Realities - Christ Embassy Owerri Rhapathon Worship session with Christ Embassy Owerri Choir. #SouthEastRegion #RhapathonOwerri
Let the celebration begin....💃💃💃 #DecusDecoris #AgelessPSA
Celebrating a Mother and Love!! #PSABeauty #AgelessPSA #DecorDecoris
Still Celebrating our Esteemed Director !! #AgelessPSA #PSABeauty
#BeautyPSA #DecusDecoris #AgelessPSA
Groovzsummercamp #Groovzsummeryouthcamp #lwteensministry #celz3 #LRC GLOOORYYYY!!! THE HIGHLY ESTEEMED ZONAL DIRECTOR IS HERE WITH US AT THE CAMP. IN THE FLESH!!! OUR LIVES WILL BE CHANGED.
Its 2 days to the start of the Global Hospital Outreach week! For more information on how to participate in this week long avalanche of love and care for the sick in the hospital matt 25:36 AMP Visit www.volunteermedicalcorps.org/ghow #ghow #turnonthelights
😂 😂 😂 😂 😂 #YourLaughWorld #Memeshack
Its 2 days to the start of the Global Hospital Outreach week! For more information on how to participate in this week long avalanche of love and care for the sick in the hospital matt 25:36 AMP Visit www.volunteermedicalcorps.org/ghow #ghow #turnonthelights