HBD beautiful, & ever so lovely Pastor God. It's a wonderful thing to celebrate you on this special day. May your life continue to move from one level of glory to another. Concerning you glorious things are continually spoken. Have a great celebration.🎁🎉🎊💃 I love you😘 🥰😍♥️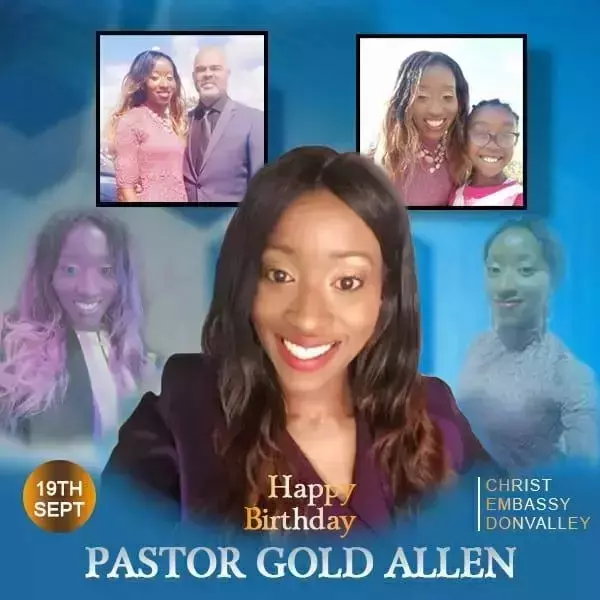 Pst Gold
commented:
Thank you so much dearest Sis Bola. I love you 💖💖💖
Just like David I perceive in Spirit that God has established his call on my life forever & obliterated any obstacles that thought to hinder me. On Transit I MET A FRIEND Imagine if This Robot Preached #TheHavenConventionwithPastorChris #THC2019 #TheHavenNation
Lifting in your economy #ADatewithDestiny #MCC4C #Campusministryrocks #CmdIsFire #blwzonei #blwATBU
#mpt0919 #illuminate19 #cewarridsc Clebrating my Pastor!!!
My fellowship with the Holy Spirit is the mst important thing in my life. He'll reveal mysteries to m concerning my life, future, famly, jb, financs and everything else related to me. He'll fly m on eagle's wings and navigat m thru life victoriously.#uplifting#upliftingchallenge
Get Ready for a time of uplifting during our upcoming Total Experience Sweden. Glory to God.
South Africa its your set time #ADatewithDestiny #MCC4C #Campusministryrocks #CmdIsFire #blwzonei #blwATBU
Why I 💗 Pst GOLD She's a faithful sevant of God #PSTGOLD0919 #cedonvalley #cecanada
#mpt0919 #illuminate19 #cewarridsc
Listen to Spotlight Show today by 1pm(GMT+1) with @awesome_trj on @loveworld_radio SpecialGuest:@officialchristiank To Listen, Download CETUNES Mobile app from your Google Playstore or simply log in to www.cetunes.org