Pastor Daba: Special Birthday greetings to you, on KingsChat Web
Special Birthday greetings to you, Bro. Femi. You're such a great blessing to us, and to me. Thanks for the many things you do. The Lord has perfected all that concerns you; your testimony will always be - from glory to glory, upward and forward only. I love you.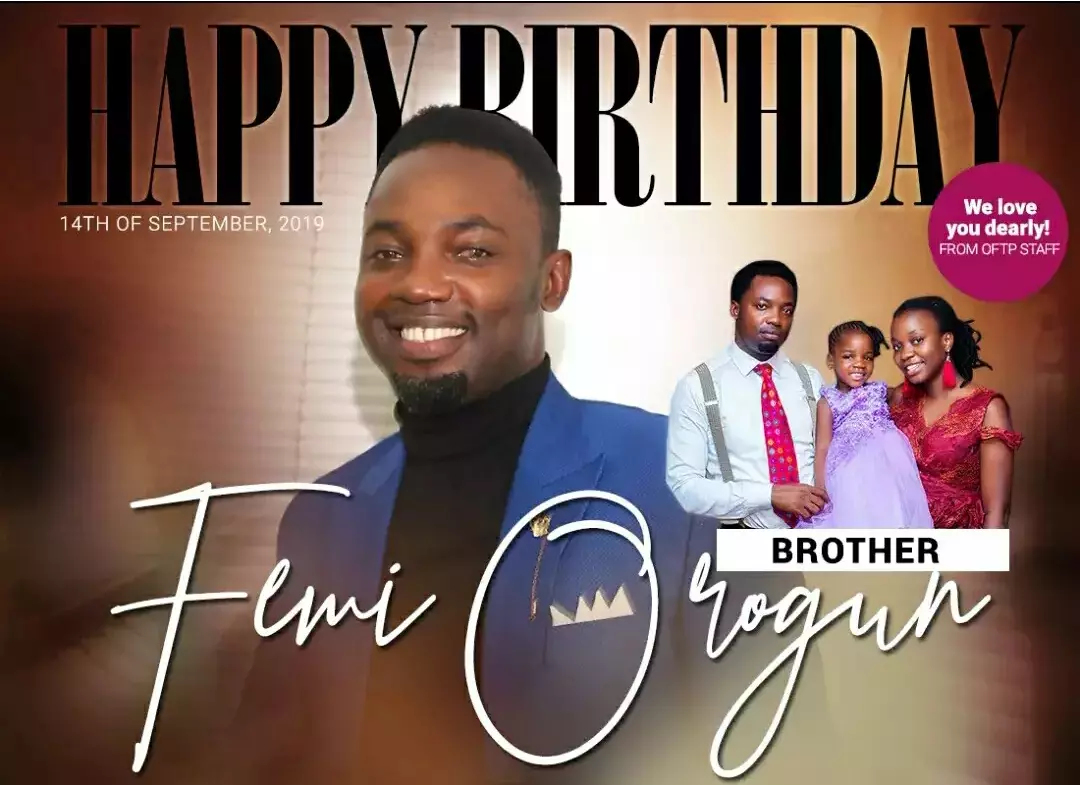 #wmcsoulwinningday #everyoneasoulwinner #warriministrycentre #CeIdama
No better place to be this coming Saturday at 11am sharp! Global Miracle Faith Seminar with the Highly Esteemed Rev Ken! Don't Miss it!!! #REVKEN #CECANADA
Haver you seen this👇? Spreading and lighting up into every man's world. #CeExtension #SUPERSUNDAYwithPastorTejiriOruma #Nov3rd2019 Gloryyyyyyy!!!!!!!!
Kindly join in the DAILY LIFT BY THE WORD CHALLENGE on PCDL and share your most inspiring thought with at least 10 friends ...also post with a note of thanksgiving on the space below and on KC Timelines Spread the word 🤸🏼‍♀🙌 🙌🏻We are having great fun with the LIFT CHALLENGE with our Man of God today. Get enthused in our Daily Lift by the Word on PCDL and Experience Uplifting as you listen to the message "GROWING SPIRITUALLY" today! Enjoy 😉 more of this Epic by Pastor Chris...available for download@ www.pcdl.co Also get yours on the Pastor Chris Digital Library app (on iOS or Android stores) and you will be in for an unprecedented uplifting experience with the word 🙌🏻🤸 Glory!!! #dailyliftbytheword #liftchallenge #monthofuplifting #blwzonej
#boldandbouyant2.0 #LEVITATION #Campusministryrocks #ZPCZONEI #blwzonei #PSisfire
#wmcsoulwinningday #everyoneasoulwinner #warriministrycentre #CeIdama
#prayingnow #nobph2019 #nobprayerthon #pathfindersPCF #PathCell2 #CEPHZONE3
https://www.adarose.com.au/ladies-perth-escorts/busty-blonde-aussie-cougar-milf-tahlia/
🔥PROGRAM ALERT🔥 📢📢📢📢📢📢📢📢📢📢📢📢📢 Pastors & Leaders Meeting Coming up this Sunday, 29th of September at the LoveWorld Conference Center Calabar, 4pm Prompt. "THE COUNT UP IS ON....3 DAYS⏰ TO GO, Get readyyyyyyy!! #PLMSeptember #CalMC #TeamCalabarRocks
#wmcsoulwinningday #everyoneasoulwinner #warriministrycentre #CeOkumagbagroup #CeIdama