ABUJA MINISTRY CENTRE : MY AFFIRMATIONS OF TRUTH #CEMCAbuja on KingsChat Web
MY AFFIRMATIONS OF TRUTH #CEMCAbuja Monday, 26th October 2020 Wisdom and grace are at work in my life. I manifest divine wisdom, always and in every place. I am distinguished by wisdom, and appointed into favour. Grace has delivered divine abilities to me, and translated me into a realm where all things are possible. My results are not by power or might but by the Spirit of God; I go beyond the limits of human ability and knowledge. I have the skill, capability, competence and aptitude to accomplish every goal, target and vision. I am divinely endued with special abilities and wisdom, that set me apart in my world. My competence and ability is not natural, but of God; therefore, I am highly skilled in all aspects of my work. I am a master because of grace! The life of my body is no longer by blood, but by the Spirit of God. That same Spirit that raised Jesus Christ from the dead dwells in me. Hallelujah! He is in my head! He is in my hands! He is in my feet! He's all over me! It is not possible for my blood to be infected, because that same Spirit causes divine vitalization in my body! From the crown of my head to the soles of my feet, the Holy Ghost vitalizes my body! My body is the temple of the Holy Ghost! I am His living tabernacle; therefore no sickness and no infirmity can share these quarters with the Holy Spirit! I'm alive!!! #myproclamations #myaffirmationsoftruth #mymonthofproclamations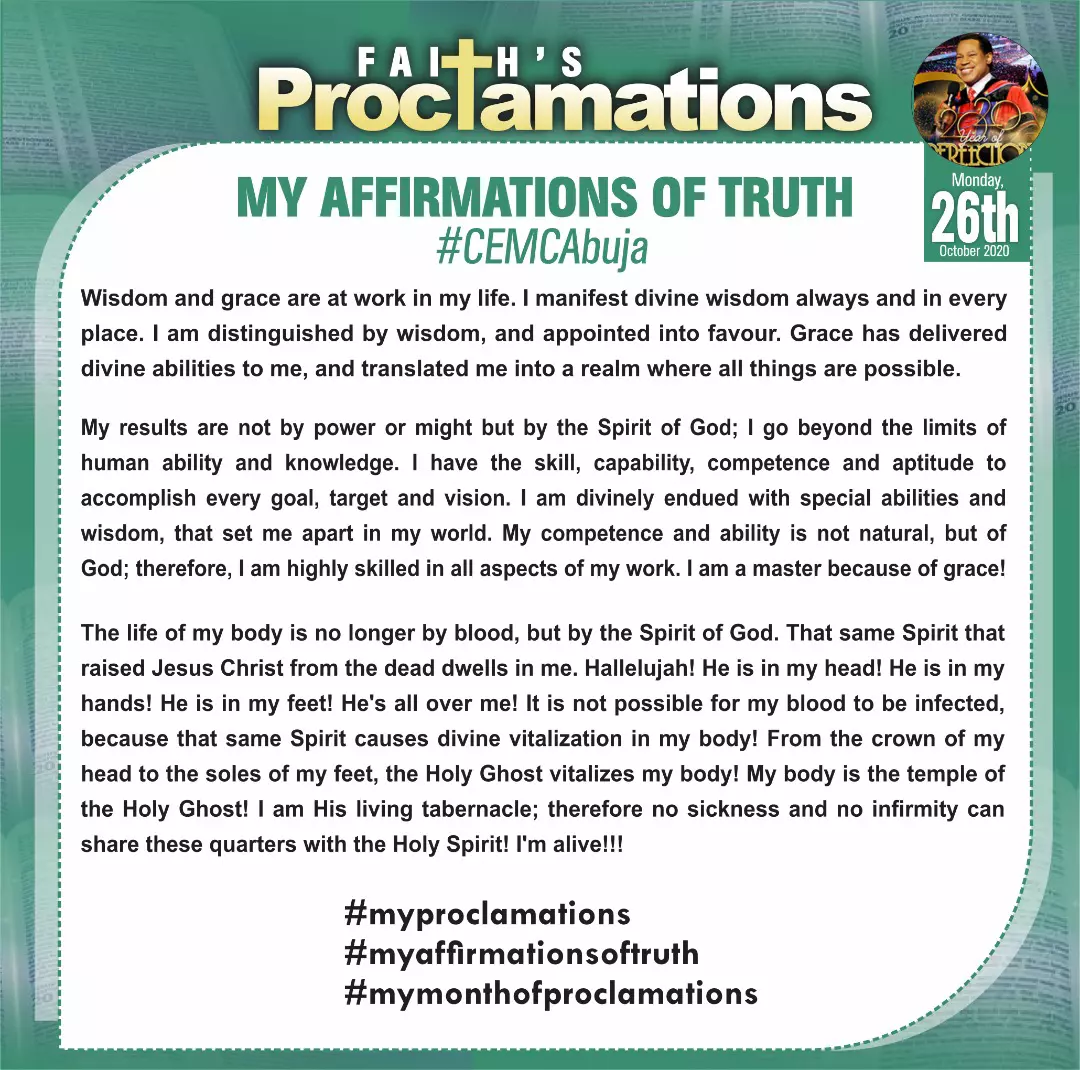 The word of God's is producing tremendous results in me
I run the world for Jesus, I am a worker together with God, kinging in life, Nations are open unto me, I have got grace in abundance...gloryy #wordatwork #wordfest2 #ceukzone3 #DSPUKZone3 #CEBRACKNELL
I declare in the name of JESUS Christ of Nazareth that I am a light to the world and a city that is set on an hill that cannot be hidden. AMEN, Hallelujah 🙌 🙌 🙌
What an amazing just ended all-in leaders retreat!!! So inspiring and full of God's Glory!!! We are so lifted to higher realms of glory by this strategically chosen meeting. #higherGlory
Happy Birthday dear Dcn Elvis Enaibre our amazing Head of Media and Producer of the award winning Winning Everyday and Livin' Dreamz. Thank you for being so exceptionally devoted and committed to the vision of our MOG Pastor Chris and our Loveworld Nation. Have a glorious year of abundant miracles, grace paved paths and the upper hand. We love you dearly.
DIVINE HEALTH CONFESSIONS 26TH OCTOBER I'm God's workmanship, recreated in Christ Jesus unto good works. I acknowledge my origin, heritage, and personality in Christ. My faith is operative and effective in the Name of Jesus! I'm God's best, His beauty, and my life is for His glory, now and forever. Amen. SPEAK IN OTHER TONGUES NOW #DailyConfessions #DivineHealth #KeepSayingIt #Health #Confessions #HealthyLiving
Esports pioneer Dino Ying talks to TechCrunch about the next phase of VSPN Founded in 2016 and headquartered in Shanghai, VSPN was one of the early pioneer in esports tournament organization and content creation out of Asia. It has since expanded into other businesses including offline venue operation. VSPN began hosting the first large-scale esport event with offline audiences in August, although tournaments now operate under strict COVID-19 […] http://feedproxy.google.com/~r/Techcrunch/~3/T-aYFjC5EhM/
Tencent leads $100M Series B funding round into China-based esport provider VSPN Further confirmation that the esports market is booming amid the pandemic comes today with the news that esports 'total solutions provider' VSPN (Versus Programming Network) has raised what it describes as 'close to' $100 million in a Series B funding round, led by Tencent Holdings . Other investors that participated in the round include Tiantu […] http://feedproxy.google.com/~r/Techcrunch/~3/xwwAG1i5Csk/
Best phones in Australia 2020: top 12 smartphones tested and ranked Need a new smartphone? We've ranked the best mobiles you can currently buy Down Under. https://www.techradar.com/news/best-phones-in-australia-2018/
Hallelujah!!! Amazing week and best days of my life...I rejoice now and ahead.