LoveWorld Media Videos: Celebrating our TEACHER #meetmyteacher #mmtcelebr on KingsChat Web
Celebrating our TEACHER #meetmyteacher #mmtcelebration #pastorchrisismyteacher #thankyoupastorchris #ilovepastorchris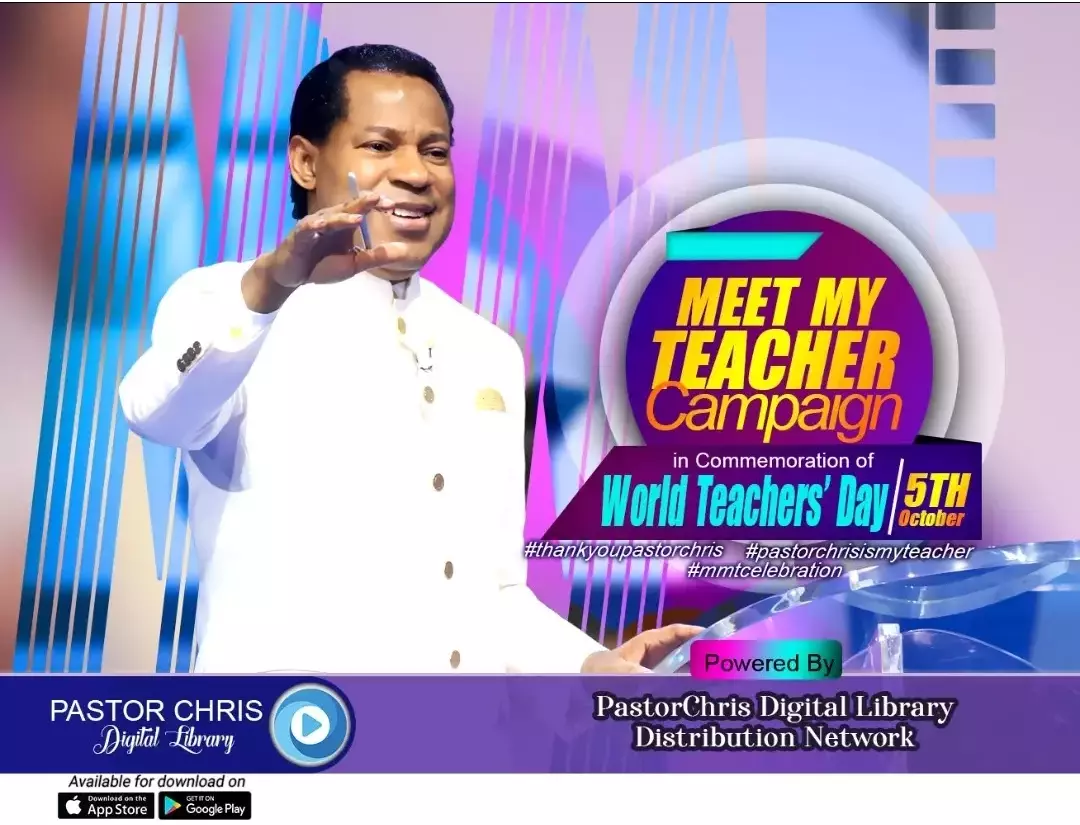 Kgalalelo Keboreng
commented:
Hallelujah the Man after God's heart. Who shown Us how to live in the Word of God by simplifying it.
olanrewaju oyetunji
commented:
🎼📖🌎🌏🌍💵💲💶💰💷 #meetmyteacher Thank You for teaching me that not all doors that open, were opened by God, that's why I'm in Christ Embassy today, not redeemed.
#celz1rocks #CEI2Group #CEIfako #celz1ronconcert
Dear Pastor Okor, Today presents an opportunity to appreciate you for the wonderful and dependable person you are; a debonair gentleman - of great integrity. Glorious things are spoken of you. More grace to you. I love you. Happy Birthday!
THANK YOU PRECIOUS HOLY SPIRIT FOR THIS SPECIAL MONTH OF OCTOBER 🙌🙌 EVERYDAY OF THIS MONTH IS A DAY OF SUPERNATURAL I AM OVERBLESS I WALK IN WISDOM, BLESSINGS, DIVINE RÉVÉLATION, JOY AND PEACE I UNSPEAKABLE. MIRACLES FOLLOW ME I BRING PEACE EVERYWHERE I GO IN THE NAME OF JESUS
#celz1rocks #CEI2Group #CEIfako #celz1ronconcert
#celz1rocks #CEI2Group #CEIfako #celz1ronconcert
🇳🇬BLW Zone J Rhapsody Distribution What Joy it was to see young persons receive Christ in their numbers as the Word was shared with them in the messenger angel. Hallelujah!! #blwzonej #ron2019 #reachoutnigeria #reachoutcampaigns
#celz1rocks #CEI2Group #CEIfako #celz1ronconcert
TODAY'S EPISODE OF THE RON LIVE SHOW HAS STARTED. Our presenter for today, Deacon Bayo Bodede is on set. Join us on Loveworld Plus or www.loveworldplus.tv for another uplifting time with our remarkable presenters and esteemed guests. You can call in on +2348031118975 or +23418888330 #RON2019 #Reachoutcampaigns
#celz1rocks #CEI2Group #CEIfako #celz1ronconcert
Ready! Ready!! Ready!!! #celz1rocks #celz1ronconcert #lcc2excels