@mySpot ROR Bible+: Meet The World's #1 Panacean on KingsChat Web
Meet The World's #1 Panacean Teacher! ~~~~~~~~~~~~~~~~~~~~~~~~~~ Hello World! My names are Rhapsody Bible Plus, popularly known as 'ROR Bible+' by my close friends & loved ones! (You can get to know more about me here - https://blog.rorbible.plus) Here's the most amazing & priceless honour to meet the World's No.1 dexterous, unqualified, & panacean teacher of our life and times, Rev. (Dr.) Chris Oyakhilome DSc. DD. He is, in fact, my writer & life-coach. You can relish a few of his life-changing classics in the: 1. Pastor Chris Digital Library App (with a FREE Gift - www.bitly.com/MMT_PCDL) 2. All-new Rhapsody of Realities Reader 3.0 (Download Now - www.bitly.com/MMT_ROR) 3. And most graciously in me - Rhapsody Bible Plus. I guess we are acquainted now. (We can get to know each other more, by downloading at www.bitly.com/MMT_RORBible) A gazillion 10Q's to the World's No.1 teacher, and my dexterous writer Pastor Chris for the unqualified opportunity to be READ, STUDIED, and be of service to those who will MEDITATE on my Words! Dearest Man of God, meeting you is a destiny-changing classic!!! With all my 💗, ROR Bible+, Read. Listen. Study. Meditate. Triumph. #MMTCelebration #100ThingsWithRORBible #ImPowered #thankYouPastorChris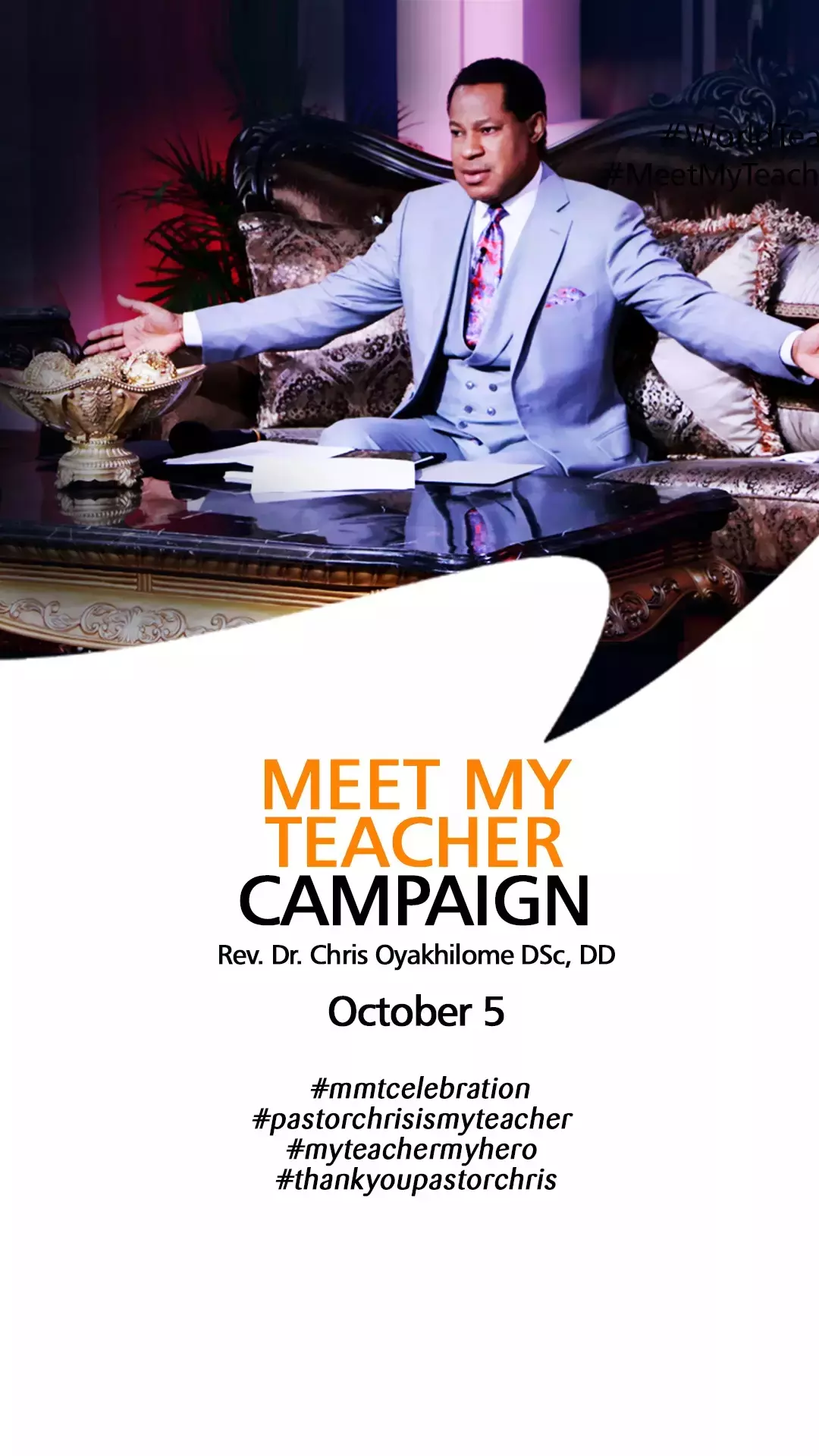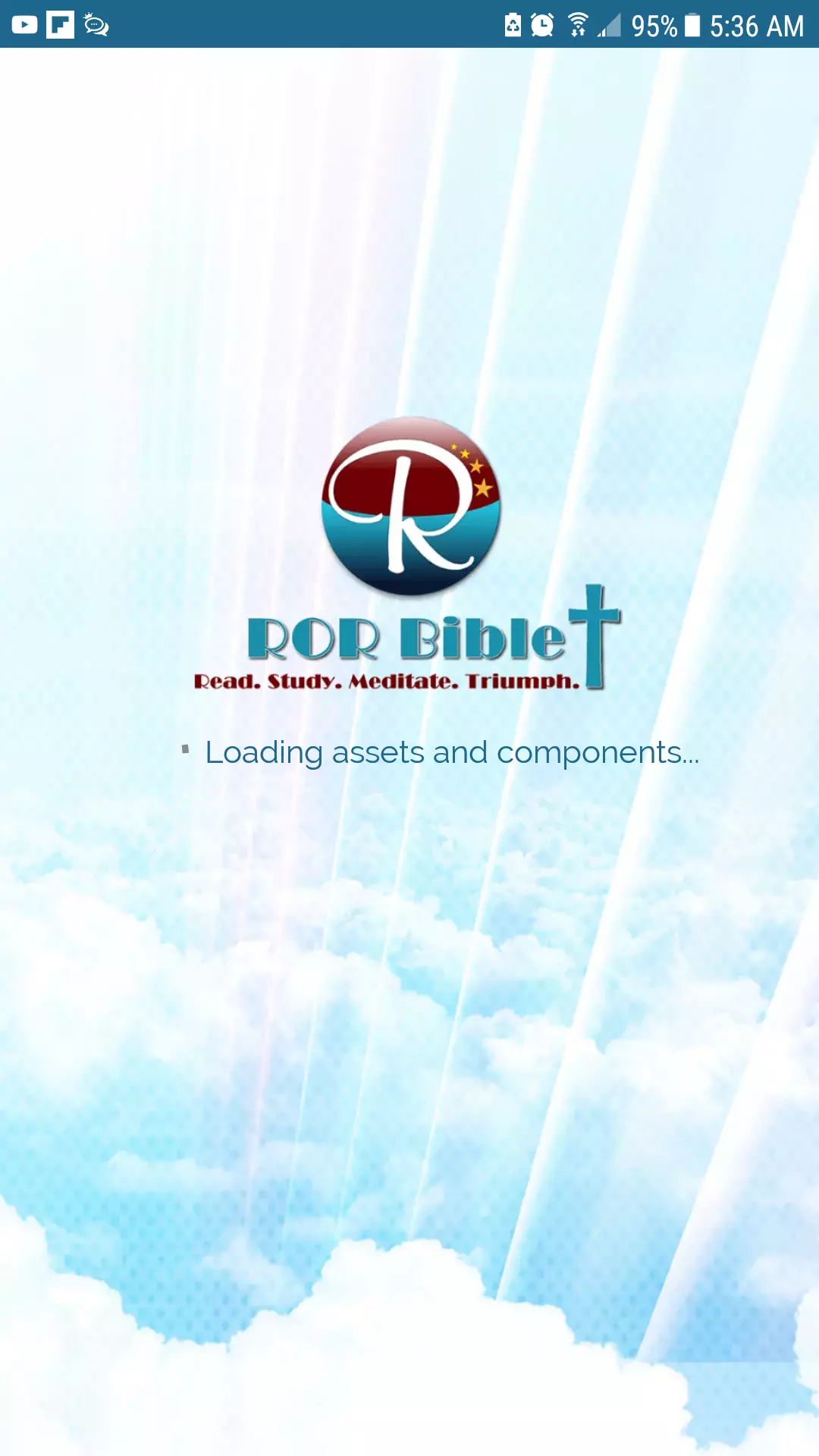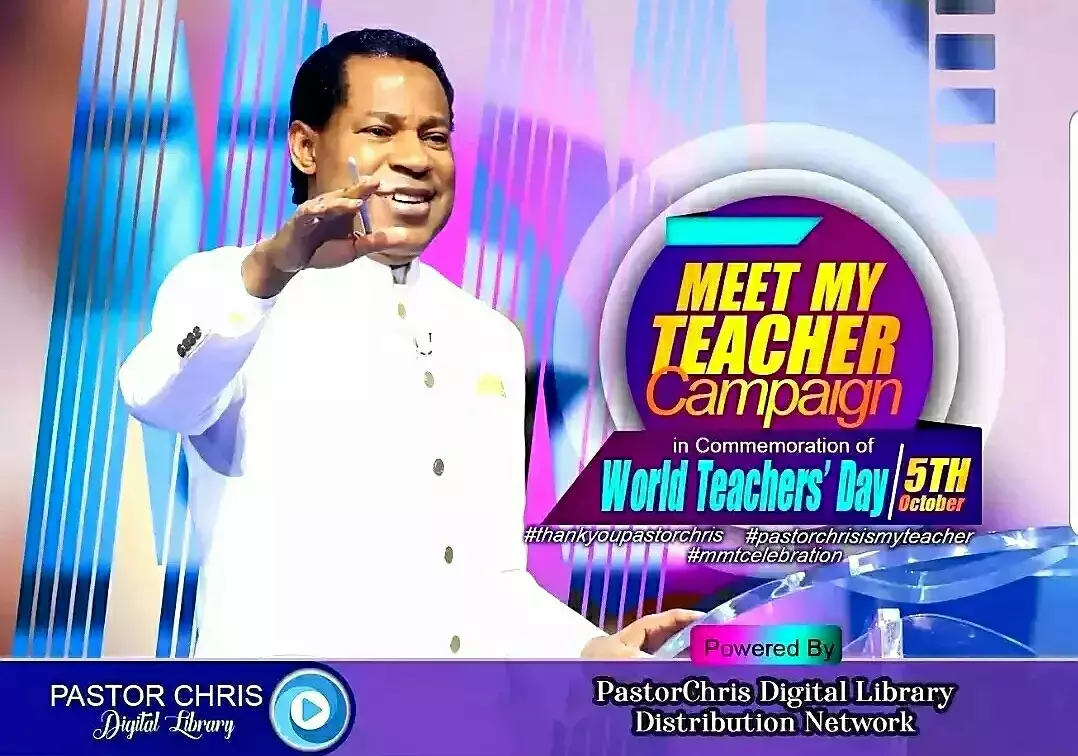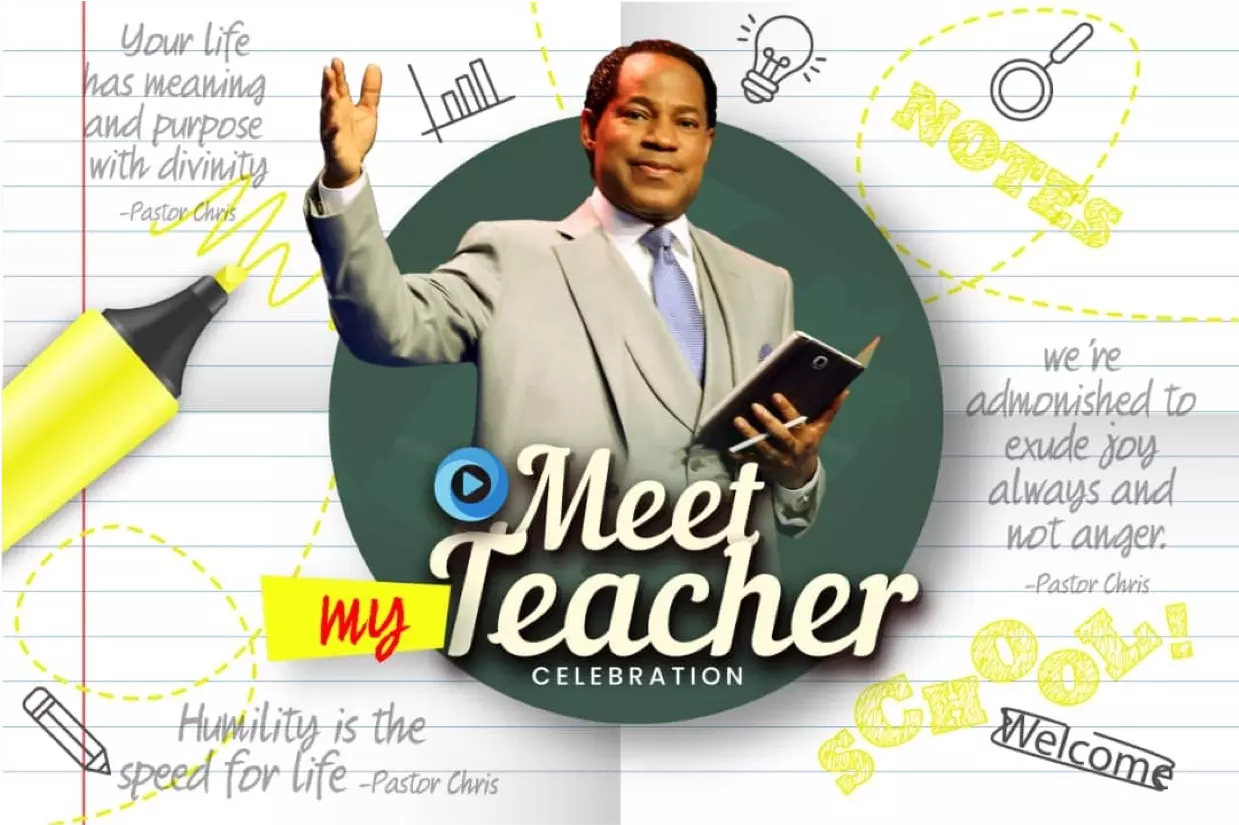 💃💃🤸🏼‍♀️🤸🏼‍♀️🤸🏼‍♀️🤸🏼‍♀️It's finally here ....🙌🏻🙌🏻🙌🏻🙌🏻 👉🏻👉🏻👉🏻The MEET MY TEACHER celebration kicks off officially today OCTOBER 5TH in commemoration of the World Teachers ' Day🤗🤗🤗🤗 ...and it's that unique opportunity to appreciate the Extraordinary teacher we have in our beloved Man of God Rev. Dr. Chris Oyakhilome DSc. DD...🙌🏻🙌🏻🙌🏻👌🕺 Here is how to participate ....👍🏽👍🏽👌 👉🏻Make and share a short video testimonial of the impact of messages that pastor taught over the years ( highlight titles )that changed your life 👉🏻...Lavishly express your profound appreciation to Pastor for his insightful and life-transforming teachings especially on PCDL. 👉🏻Introduce any 10 people to the PCDL app daily and help them download and watch a teaching message by Pastor Chris from Today 5th - 31st October 👉🏻Take and post pictures on KingsChat timelines of them watching pastor on PCDL 👉🏻Gift a message voucher on PCDL to as many as you possibly can 👉🏻Spread the Word till everyone is aboard the MMT CELEBRATION 🚂  #pastorchrisismyteacher #mmtcelebration #myteachermyhero #thankyoupastorchris #pastorchrisworthhearing #CEJos #NCZ1
#MMTCelebration #Pastorchrisismyteacher #ThankyouPastorChris. #Abujazone
Rhapaton and RON Concert!! Be there! #celz1rocks #celz1ronconcert #sg1grpofinfluence #ceshangisha
Happy Birthday dearest Parents Chiedu. Thank you for saying YES to God. 😍 you endlessly sir. #Pst Chiedu510 #CEALUU #GPHG #CEPHZONE3
Happy birthday to the esteemed Pastor Chuka. Thanks for all your labour of love and dedication for many years. You are truly an amazing person and I love you dearly. God bless you.
Celebrating an Ultimate Teacher! Our Life Coach Rev. Dr. Chris Oyakhilome, THANK SO MUCH SIR for your investment in me. #PastorChrisismyteacher  #mmtcelebration  #myteachermyhero  #thankyoupastorchris #CEJos #NCZ1
HAPPY BIRTHDAY TO MY ROLE MODEL, MENTOR AND MOTHER. LOVE YOU PLENTY MY DEAR DEACONESS.