Pastor Choolwe: Because you are my teacher on KingsChat Web
Because you are my teacher I have: 1. Absolute success 2. Clarity of purpose 3. An error free life 4. Influence everywhere I go Never teacher ever taught like you. I will thank you eternally. Happy Teachers' day daddy #MMTCelebration #pastorchrisismyteacher #ThankyouPastorChris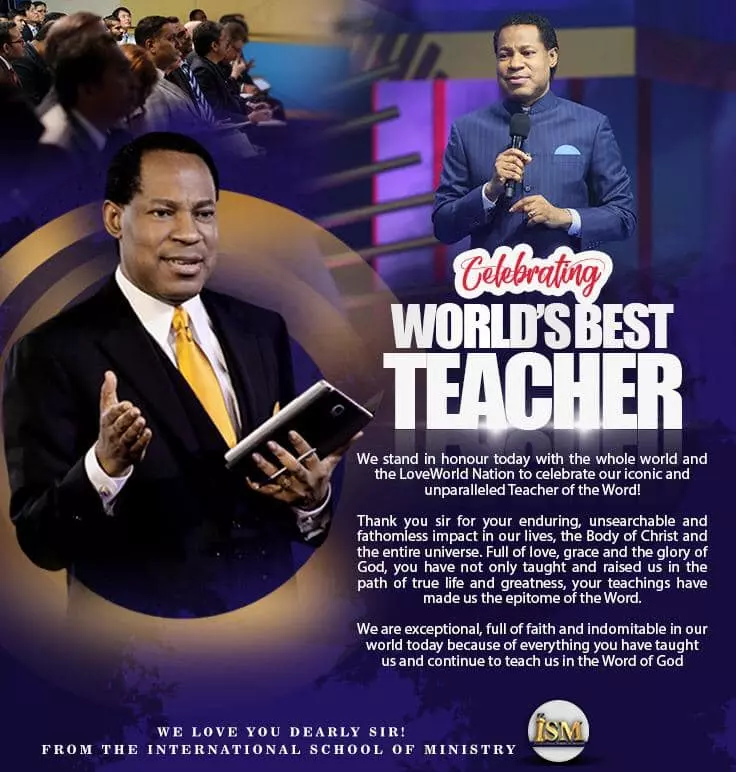 When you're conscious that God lives in you, you will not know fear, failures or disappointments #mmtcelebration #thankyoupastorchris
#mmtcelebration #myteachermyhero #thankyoupastorchris #pastorchrisismyteacher
😍😍😍❤❤❤🔥🔥🔥 Happy Teacher's Day Sir!
In the path that I walk, there is no death. My life is upward and forward only. My confessions have changed and I see my life moving forward. Why? I have the most loving teacher in the world. #mmtcelebration #pastorchrisismyteacher #blwzonej #myteachermyhero #thankyoupastorchris
CELEBRATING MY TEACHER!! THE WORLD'S BEST TEACHER! REV. DR CHRIS OYAKHILOME DSC...DD I LOVE DAD.. #MMTCHALLANGE #PASTORCHRISMYTEACHER #CEAMC
Happy birthday dearest Pastor Sola. Thank you for all that you do in the kingdom of God. I love you sir!#christembassymilton#
Thank you Pastor Chris for always impacting us with the tremendous word of God. We have grown in so many ways to become the spiritual giants we are today. Thank you so much sir, I love you Pastor Chris. #MMTCelebration #PastorChrisismyteacher #ThankyouPastorChris #CEStCatharines
Thank you teachers of the BLW generation next
#pastorchrisismyteacher #ThankyouPastorChris#cemidwestzone #ceugbowogroup #ceugbowo2 Thank you Sir for the books; 7 Things the Holy Spirit would do for you & Join this Chariot! Also for the message I consider an all-time classic "Anything is possible"!