Celebrating an amazing LW CGI Facilitator, Pastor Emeka Eze! Thank you for your inspiring passion and commitment to the vision of our Man of God for unstoppable Church Growth. We will do more together. We love you! #CGI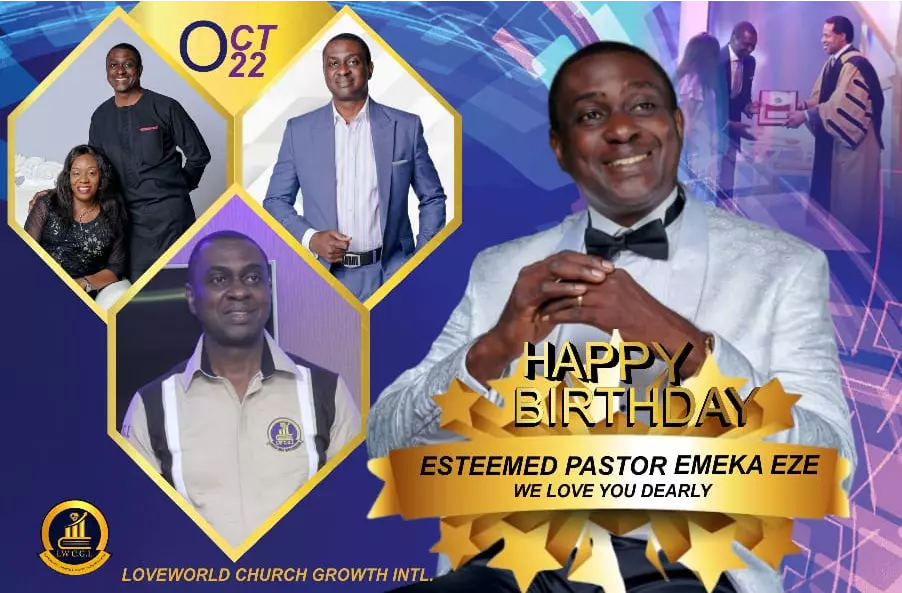 Neba Gladys
commented:
Happy Birthday Padtor Sir. We love you. Thank you for your labor of Love
John
commented:
Happy birthday pastor sir.
anita lumnwi
commented:
Happy birthday sir, your teachings inspire me the most. Love u sir
3 DAYS TO GO...💃 👆Count Up to 👉TOTAL EXPERIENCE👈 with Esteemed Pastor Praise Aloaye. WE ARE READY💃✌😎 #CEUGHELLI #PRAISEPEE #UGHELLITHELANDOFLOVE❤
#pastoremekaeze2019 To My Teacher per Exellence, highly esteemed Pastor, Master Professor of Scriptures and Inspiring Leader, Happy Birthday Sir.!
3 DAYS TO GO...💃 👆Count Up to 👉TOTAL EXPERIENCE👈 with Esteemed Pastor Praise Aloaye. WE ARE READY💃✌😎 #CEUGHELLI #PRAISEPEE #UGHELLITHELANDOFLOVE❤
Happy birthday day pastor sir A symbol of strength God bless you sir today and always
3 DAYS TO GO...💃 👆Count Up to 👉TOTAL EXPERIENCE👈 with Esteemed Pastor Praise Aloaye. WE ARE READY💃✌😎 #CEUGHELLI #PRAISEPEE #UGHELLITHELANDOFLOVE❤
3 DAYS TO GO...💃 👆Count Up to 👉TOTAL EXPERIENCE👈 with Esteemed Pastor Praise Aloaye. WE ARE READY💃✌😎 #CEUGHELLI #PRAISEPEE #UGHELLITHELANDOFLOVE❤
3 DAYS TO GO...💃 👆Count Up to 👉TOTAL EXPERIENCE👈 with Esteemed Pastor Praise Aloaye. WE ARE READY💃✌😎 #CEUGHELLI #PRAISEPEE #UGHELLITHELANDOFLOVE❤