GLOBAL P.E.E DAY 🕺🏽 . All over CeLagoszone2 we are celebrating a special gift frm God to us.Our Esteemed Zonal Pastor. Pastor Emeka Eze.Thank you so much Pastor Sir for everything u've done for us inTeens Ministry.I love you so much. you are one in a million #pastoremekaeze2019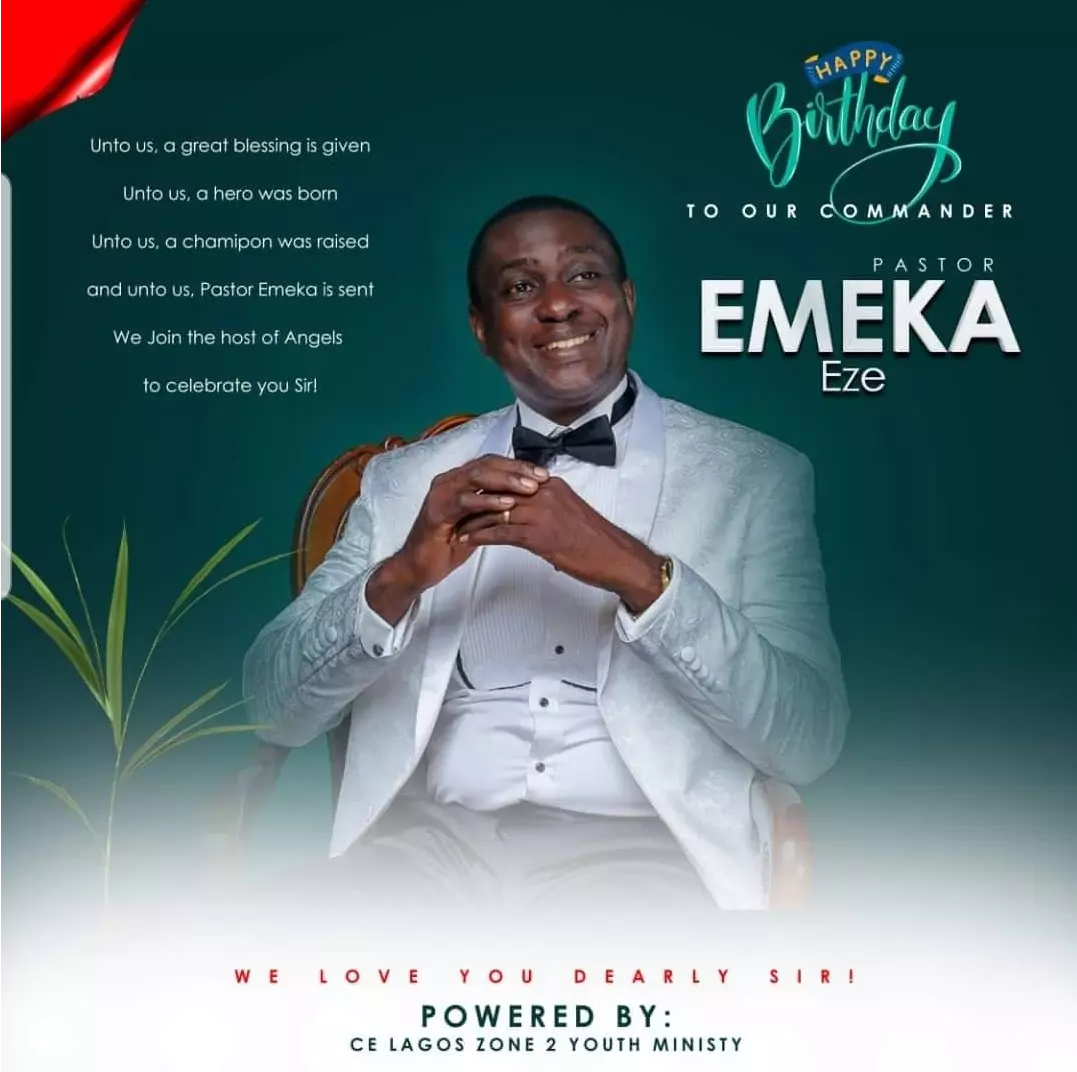 You were that specimen God placed ahead of me to prove that the future will always be brighter. Thank you for also believing in me and for the minor and major consultations - It tells me I turned out right☺ I love you dearly ma😍 Happy birthday again and again!!!
Happy birthday lovelies😍😍😍😘 You are truly a special gift from God. I love you both dearly
Happy birthday to our pastor and daddy, thank you for your care and love for us in the Children's church .we love you. #pee2210 #Zone2ChildrensMinistry
I AM GOD'S UNIQUE MASTERPIECE!!! #AffirmationsForKids #SpeakingIntentionally #WordsMatter #EmpoweringKidsWithWords #PowerofWords #MinistryinProgress AFFIRM IT!!!!!!!! Let's get the children speaking right into their own lives!!!!! It's not too early or too late!!!!!!!!
Celebrating my Highly Esteemed Amiable Director.... It's been 12yrs counting now . Thank you for believing in me for this long and giving me opportunities to shine How I love you so. #celebratingincredibililux #pcy2210
LEADERSHIP INITIATIVE AWARD NAMIBIA :LEVEL 1 CATEGORY Amazing! It's happening already! Over a million young Africans who have demonstrated exceptional leadership qualities and involvement in socio-economic development of African communities are awarded certificates, having completed Level 1 of the Leadership Initiative Award (LIA). #LIA #FALF #IMPACTAFRICA
The secret of Christianity is responding to God...Rev.Dr. Chris Oyakhilome, DSC, D.D (Your Loveworld, 22-10-2019) Are you watching Your LoveWorld right now? I beseech thee tune in now. #wordsoflife
Celebrating An Extraordinary Light!!! A light of lights #celebratingincredibililux #pcy2210