3 days to go! A Night of Supernatural Help. A Night of Blessings with Pastor Chris @ the Black Star Square. #Thisisit #ANOBwithPastorChris #CeAccraGhanaZone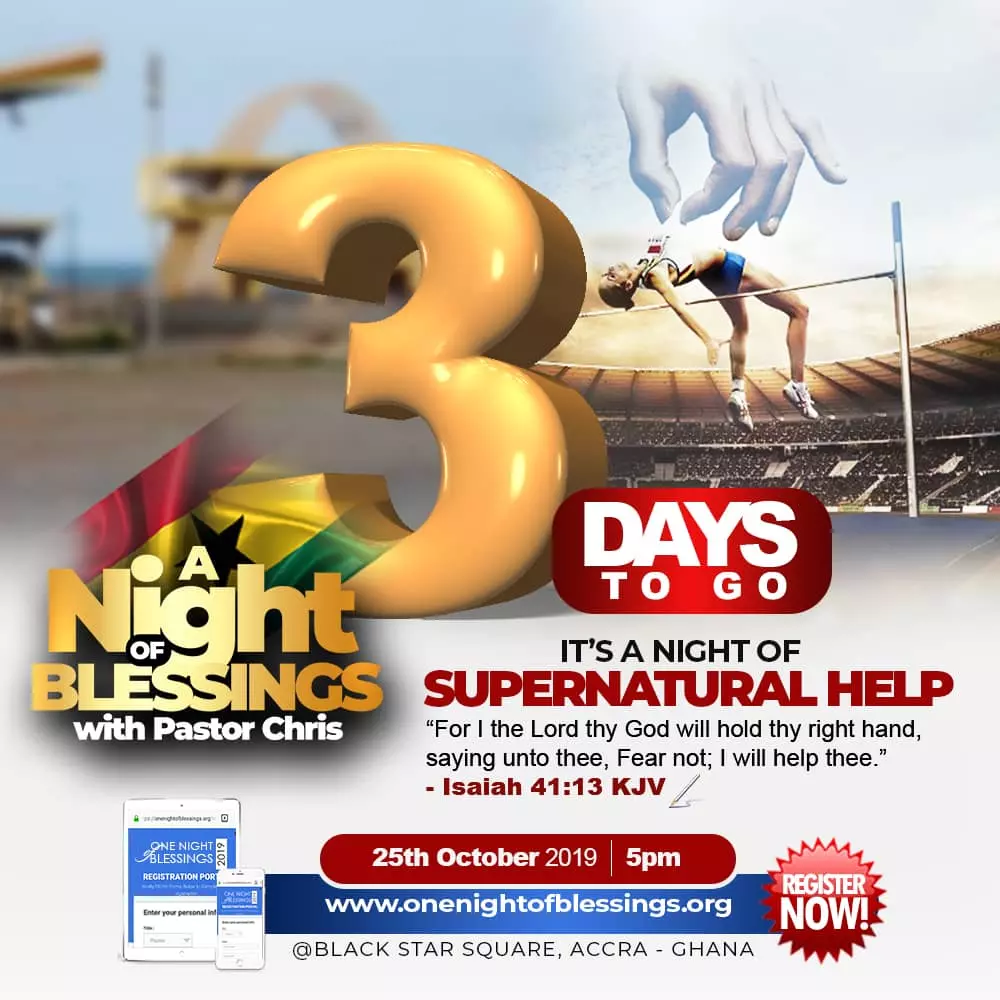 Phyllis TV
commented:
NEW EPISODE ALERT ⚠️⚠️ WHAT IS THE RELEVANCE OF PRAYER IN A CHRISTIAN'S LIFE ? ON PHYLLIS TV/YOUTUBE..CLICK THE LINK BELOW TO WATCH IT ⬇️⬇️⬇️⬇️⬇️ https://youtu.be/SSXFZ05mOMo #PHYLLISTV #LETSDISCCUSS #PRAYINGNOW #anobwithpastorchris
jerry James
commented:
Glory to God. #Thisisit #ANOBwithpastorChris #CeAccraGhanaZone #CeBolgatanga
My Father..My Father.. I can't love you less and i can't thank you enough for all you have done and still doing for me.. #CelebratingOurDivineAccess #LuminaryPtt #Ptt2610
3 DAYS TO GO...💃 👆Count Up to 👉TOTAL EXPERIENCE👈 with Esteemed Pastor Praise Aloaye. WE ARE READY💃✌😎 #CEUGHELLI #PRAISEPEE #UGHELLITHELANDOFLOVE❤
Happy Birthday Pastor Sir, Thank you Sir for the opportunity to celebrate you Today,thank you Sir for your Teachings that inspire my Life,God Bless You Sir,I Love You SPECIALLY.
3 DAYS TO GO...💃 👆Count Up to 👉TOTAL EXPERIENCE👈 with Esteemed Pastor Praise Aloaye. WE ARE READY💃✌😎 #CEUGHELLI #PRAISEPEE #UGHELLITHELANDOFLOVE❤
Happy birthday sir,more abundant increase,love you sir
Happy birthday to you Sir. #pastorEmekaEze #celagoszone2 #havenzoneA4
Happy Birthday Pastor Sir....Thank you for Teaching me God's Word. That acting on the word of God is what produce result. I love and appreciate Sir.⭐⭐⭐⭐⭐⭐⭐⭐⭐ #PastorEmekaEze2019 #celagosezone2 #havenzoneA4
Happy birthday to a wonderful father, great teacher, awesome pastor... We love u so much sir.. From the whole member of Zonal Youth Church we love u sir #pastoremekaeze #pastoremekaeze2019 #Celagoszone2
Happy Birthday Pastor Sir, you are Gods choice for the world, the grace upon your life is in increase measure each second, we are blessed to have you especially me and my house hold, keep shinning Sir