Pastor Bisola Adeyemi: PART B....post contd We are on KingsChat Web
PART B....post contd We are grateful to God for sending you into our Aion. Thank you ma, for your exemplary leadership, inspiring life of faith and unalloyed followership of our man of God. You are truly phenomenal ma. We 😍😘love U ma. From: Loveworld Media Productions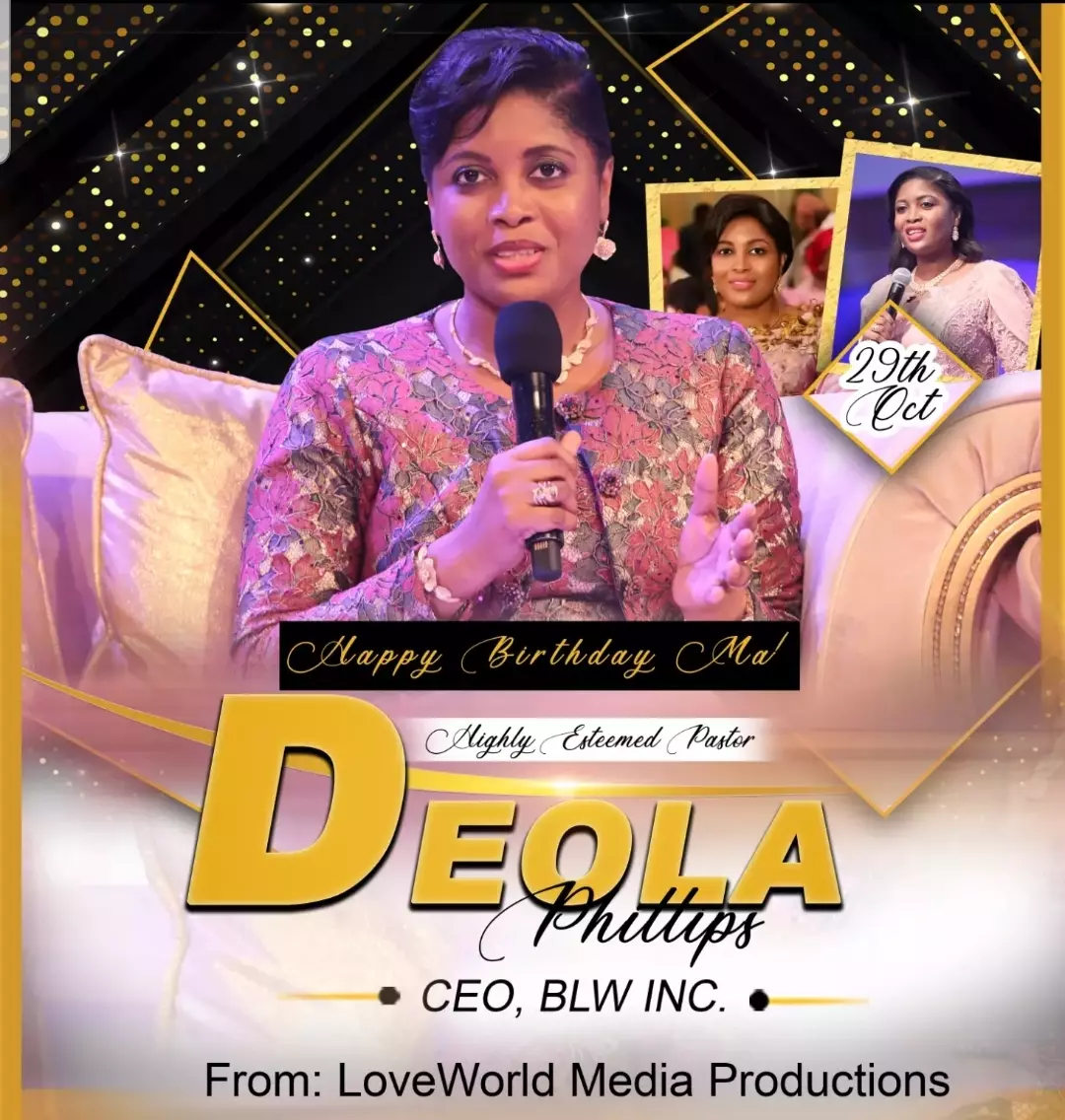 PART A: Dear Pastor Dee ma You are indeed God's Masterpiece! An embodiment of the Precious Holy Spirit. In you,we find manifestations of the Lord without measure:Love,Wisdom,Excellence Insight,Grace Kindness,Prudence, Innovations,Assurance,Integrity,Strength, Focus,Consistency...
His love encompasses you round about!! #magnumlumen #2910 #HowIseetheCEO #deptofAdminOCEO
Happy glorious birthday Highly Esteemed CEO, Pastor Deola Phillips! We join the host of heaven and BLW Nation to celebrate your examplary Leadership and passion for the gospel. We love you dearly Ma! #magnumlumen #ceusaregion2 #cemilwaukee
CELZ5 Special Deriso Concert happening on Wednesday October 30th 2019 @ LEKKI CHURCH. Let's make more Joyful noise to the Lord.
Pastor Sir, its an honour to worship along with you. This is my favourite track. He is Lord, no buts, no ifs, He is lord of my spirit, soul & body Blessed be God🙏😃 #pastorchrislive #yearoflights #preaching #life #zoe #evangelism #blessed #anointed
FOUNDATION SCHOOL GRADUATION Four of the people who I brought into BLW within the space of one year recently graduated from the Foundation School 2019. For real, these 4 inspire me & using all the tools God has given me, I'll always out do my past. AMEN! #DOB #DOV2019 #UKR2Z1
You cant think failure You can never be broke, You are a haver(PASTOR FLOW) Gloreyyy I am a HAVER💃💃💃💃💃 #graced4greatness #sez2 #inspiringpastorflow #Pflow1031
https://www.kingsch.at/p/cHhQM1Z
#endchildpovertynow #watchchallenge Click on the link below and take the watch challenge https://theinnercitymission.ngo/endchildpovertynow/joy/ Thanks so much Pastor Glory for taking the watch challenge.she just took the watch challenge what are you waiting for?