Volunteer Medical Corps: #MAGNUMLUMEN The members of the on KingsChat Web
#MAGNUMLUMEN The members of the Volunteer Medical Corps today are celebrating the birthday of our highly esteemed Executive Director; Pastor Dr. Deola Phillips. Thank you Ma for your phenomenal prowess in guiding the VMC to attain supernatural accomplishments! Through your outstanding support and proven leadership, we have provided love, inspired faith and delivered health care services and relief support to many underserved communities and affected millions of lives around the world. We love you dearly Ma.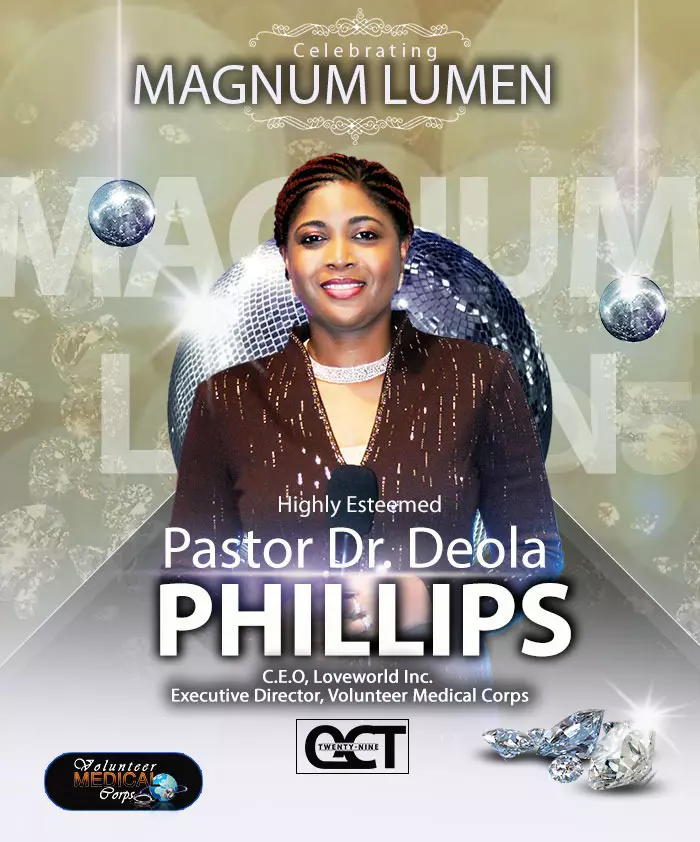 #magnumlumen #2910 #HowIseetheCEO #deptofAdminOCEO
Celebrating a CEO like no other. Esteemed Pastor Deola Philips. Love you ma
WE JOYOUSLY JOIN THE HOST OF HEAVEN AND OUR GREAT LOVEWORLD NATION TO CELEBRATE 'MAGNUM LUMEN', THE INDEFATIGABLE CEO OF THIS NATION, THE HIGHLY ESTEEMED PASTOR DEOLA PHILLIPS! Thank you ma for your unquantifiable impact in millions of people all around the world through the work you do. Thank you ma for saying yes to our Father, Rev. Dr. Chris Oyakhilome and for exemplifying true Discipleship in every sense of the Word. We thank you again and again for so many things but most especially for yielding yourself to the Holy Spirit and letting Him accomplish His manifold Ministries through you! We love you super abundantly ma! #magnumlumen  #celebratingceo #CalMC #TeamCalabarRocks
#MAGNUMLUMEN The partners, stakeholders and voluntary blood donors of the Trauma Care International Foundation felicitate with our highly esteemed Executive Director Pastor Dr. Deola Phillips on the occasion of her birthday. Through your inspiring leadership and innovative drive, we have attained global recognition and received commendations for our various humanitarian projects, all of which are aimed at improving trauma care and emergency response in our member nations. Thank you ma for inspiring in us the vision to make every life count. We love and celebrate you always Ma.
#magnumlumen #2910 #HowIseetheCEO #deptofAdminOCEO
Happiest birthday to highly esteemed CEO of our beloved nation. Thank you Pastor ma for being a great inspiration to me. Watching from afar has tremendous impacted my life. I love you dearly ma #magnulumen #ceasaba #sev2
https://www.facebook.com/notes/nadine-faith-zo%C3%AB-rukatsi/remembering-my-dad-my-hero/10158110512311015/ We remember you... and the sacrifice you made for us. We love and miss you dad, our hero. #Oct28th #UnsungHero
Happy birthday dear PST Chris Agu, I celebrate you now and always. Thanks for being a great blessing to the work in CE Gabon. It's a new level of Grace and Glory in your life. Keep shining. I love you