#IPPC2019 A gathering of global heroes & heroines of the Gospel of our Lord 👑 Jesus Christ, is just 7 days away-a special time of impartation and blessings. Glory!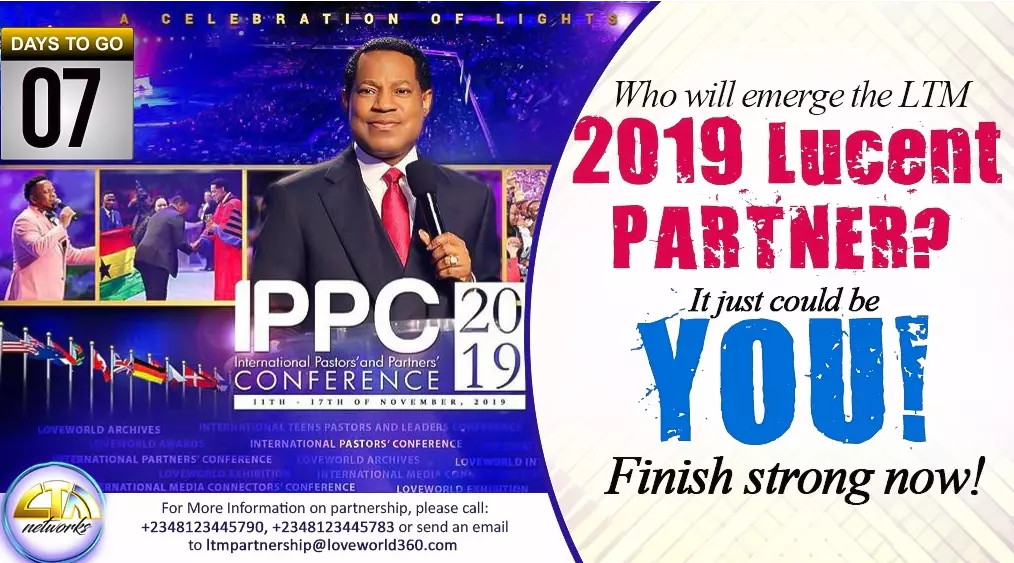 DAY OF BLISS SPECIAL WITH ESTEEMED PASTOR CHIKA ALEX Electrified atmosphere as the Man of God comes up the stage #CEUMUAHIA
Pastor Tutu Balogun & Deaconess Lizzy Agada are the anchors on today's edition of Prayer @ Pastor Chris Live! Join us and let's cause changes in our world together! Showing now on Loveworld Plus Channel www.loveworldplus.tv/watch For prayer & counseling, please call: +234803 1118975, +234806903448
DAY OF BLISS SPECIAL WITH ESTEEMED PASTOR CHIKA ALEX Inspiring talk show section on cell ministry #CEUMUAHIA
Happy wedding anniversary to my ever radiant Dad and Mum. Your union has impacted the lives of many around the world...brought hope, comfort, joy, and future to many through the Gospel of our lord jesus and I'm so privileged to be a beneficiary.
Wow! What a blessed time in Church yesterday at the #celz1, #ceagege Deriso Concert. We all had so much fun worshipping God. We have moved!
#PRAYINGNOW🛐 *@12pmGMT🇦🇪* #PastorChrisLive...! #enter2019withPastorChris #PstChrisInUAE2019 #MEASIA #CEAbuDhabi-1🇦🇪 #CEUAE🇦🇪 #NewOutreaches *#PoliticalLeaders/RulersInThisLand* *#PstChrisInUAEFeb2020* #NewGraces #NewRegionsOfTheSpirit *#MyMonthOfBLESDINGS* *#IAmInOffice*
2 Encounters! 2 Meetings!! 2 Opportunities!!! Limitless and Boundaryless Blessings!!!!