IT'S 24 DAYS TO GO! SAVE THE DATE! "No matter what you preach or teach, it must be Christ Jesus; and you can't preach or minister Christ without the power of the Spirit. Therefore, get yourself immersed in Him; soak your spirit more in the Holy Spirit through fellowship. Study and meditate on the Word, so you can walk and talk in sync with Him, and His glory and power will always be revealed in, and through you," - Rev. Chris Oyakhilome DSc., D.D.  The 2019 ISM Global Ministers' Classroom with Pastor Chris holds on Saturday, 30th of November 2019. Save the date! #GMC2019 #PastorChris #ism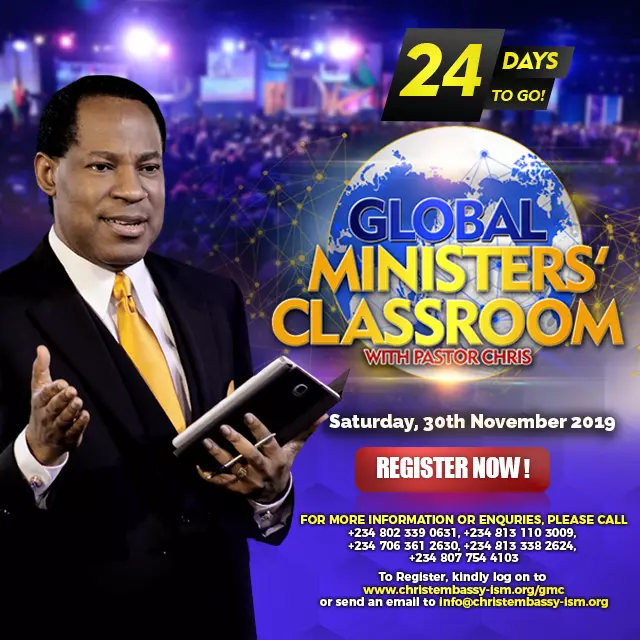 Happy Birthday Esteemed Pastor Andrew Anakhu Celebrating GRACE. . . _Thank you so much Pastor Sir for bringing me this far & being relevant in ministry_
Happy birthday to my wonderful, husband , my father,,my darling .To me you are like the Jesus I see. You are full of love , care and gentleness. l cebrate you today . Happy birthday loving father. l love you always and so much .l celebrate you today !
#HotDeals🔥 #Lagos-#Paris return 20- 30 Nov. Qatar N240,920, Ethiopian N333,310 Call to book+234(0)14542837 #IPPC2019 #ewcavz3 #WEC2019
Happy birthday sweetheart You are such a unique personality. Your love and passion for God is unwavering. Your commitment and discipline is worth emulating. Thank you for being so dependable, ever loving and caring for me and the kids specially. I love endlessly.
Happy Birthday heartwarming Pastor De-ola!!We love you lavishly!!!
BOOK or View amazing 🔥 #HotelDiscount in #Paris starting N17,000 per night. BOOK here and help RT link: https://goo.gl/sbh8iY