CE UK Virtual Zone 3: Happy wedding anniversary to Dr on KingsChat Web
Happy wedding anniversary to Dr Kunle and beloved Deaconess Sandra. Thank God for the beautiful union that is such a blessing to all in your world. 24years and going stronger daily and your union continues to bring glory to God as you shine everywhere you go. We love you! We celebrate you! #UKR2Z3 #UKR2ZONE3 #THELOVEZONE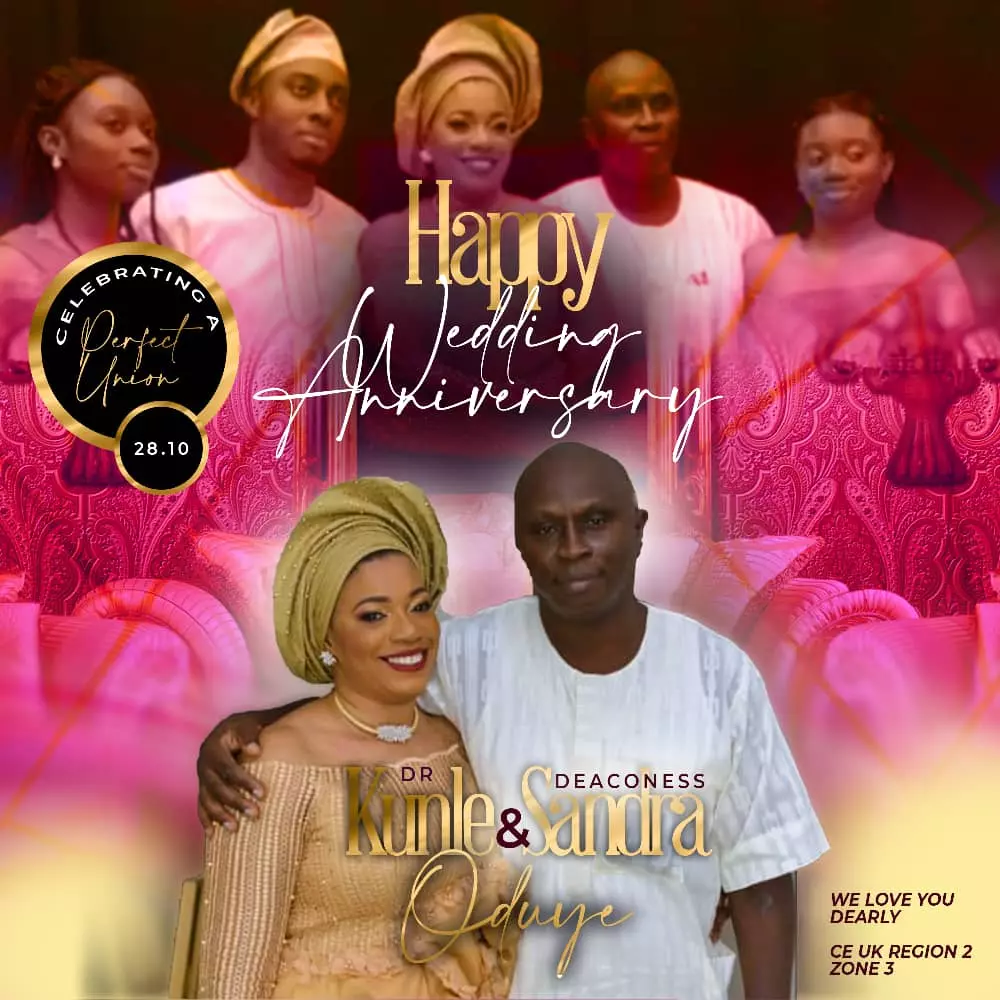 Smile Konomanyi
commented:
Happy Wedding anniversary to Dr Kunle&Dcns Sandra,God will surely continue to prosper you and your family,more grace Dcns keep shining because you are a shining star in a mest of darkness, love you ma
Pastor Laura Efemuai
commented:
Happy wedding anniversary. Grace and perfection in every area. Glory to God!
WORD EXPRESSIONS OCTOBER 28TH KEEP SAYING IT, DON'T STOP TALKING IT. http://cloveworld.org/post?id=5f991150b709bh3a80vl7dtzi Download CloveWorld 👇 Android https://goo.gl/Zww1Ap iOS https://apps.apple.com/us/app/cloveworld/id1411456906
LIVE ABOVE THE SYSTEMS Learn in today's online mid-week service; click here https://cevirtualchurch.org/live-service/ceomouZP. "Not that I speak in respect of want: for I have learned, in whatsoever state I am, therewith to be content" (Philippians 4:11). The life the Master lived here on earth was so impressive. Jesus was far removed from the decadence of the world, the penury around Him and the corruption and failure of His society. He lived far above, and beyond the government and systems of the day when He walked the earth. We don't find Jesus interfering with their politics or trying to do something about their economy. In other words, He did not bring some strange or heavenly currency into their system, yet He was never limited by money. Money was His slave. He was self-sufficient. Whatever He required, He didn't need to call out to heaven; He brought it forth from within. There's more… Read the full article here 👉👉 https://onlinemissions.christembassy.org/2020/10/28/live-above-the-systems/. Help share with others. God bless you.
Can i hear you ROAR #RoRROAR2020 #DSPUKZ3ROAR2020
'A Day of Bliss' is a day of Praise, Worship & Joyous Fellowship in God's presence Register:👇 https://cutt.ly/a-day-of-bliss Like & Share:👇 Facebook: https://cutt.ly/adob  KingsChat: https://cutt.ly/ukzn2 Click the 'Going' button.👇 https://cutt.ly/adob-event #ukzone2#adob
PROSPERITY CONVICTIONS I affirm that, this is my set time to be favoured in my finances. I am strategically positioned and spiritually prepared for the exponential growth that is happening in my wealth. I am full of expectation every day to be interrupted by monies, big contracts, great income generating ideas and my expectation materialises. I have grace for money and fortunes. My bank accounts are filled with plenty and my investments are flourishing. None of my projects, business ideas or entrepreneurial endeavours shall die prematurely, they are bringing the desired return and harvest. Hallelujah! Be part of #ChristEmbassy. Org Online Mission's work in spreading the gospel all over the internet, Click here 👇http://bit.ly/partnerwithCEOMS2impactnations to make a donation today Encourage others by sharing this post with them. God bless you.
WORD EXPRESSIONS OCTOBER 28TH KEEP SAYING IT, DON'T STOP TALKING IT. http://cloveworld.org/post?id=5f991150b709bh3a80vl7dtzi Download CloveWorld 👇 Android https://goo.gl/Zww1Ap iOS https://apps.apple.com/us/app/cloveworld/id1411456906
#RoRROAR2020 #DSPUKZ3ROAR2020 Our great leaders setting a good example of soul winning like our pastor Peter Atuma, i am so glad i follow him as he follow pastor Obi Chiemeka who follows Pastor Chris Oyakhilome who follows our Lord Jesus Christ. 💃💃💃💃💃💃🔥🔥🔥🔥