The Haven Nation: Celebrating a Legendary Icon! Happy on KingsChat Web
Celebrating a Legendary Icon! Happy birthday Pastor Sir from the Haven Zone A2. Wodds cannot express the immense gratitude in our hearts for your life. We love you Pastor #Offer7 #TheHavenNation #TheHavenZoneA2 #HappyBirthdayPastorChris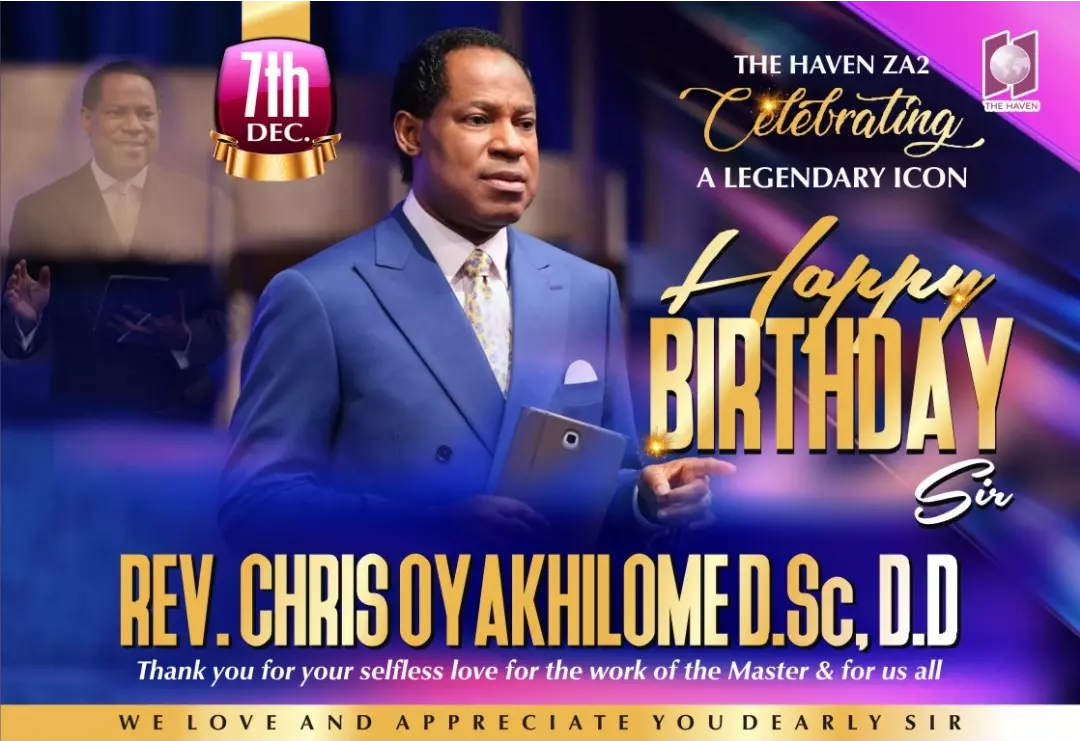 Helen Uko
commented:
Happy birthday Pastor I love you so much and thank you for all you have given me...the WORD. Am eternally grateful Sir.
Dcn Chuks Uzoka
commented:
Thank you so much Pastor Sir for your unequivocal love for the Master and for all that you do for and in the kingdom to win mankind back to Christ. Sir, your strength is continually renewed like the eagles and the embers of your wisdom is eternally fashioned after Christ. We love you so much Sir.
Deacon Fungisai Ngorima
commented:
Happy birthday my father and the greatest teacher of all times. I love you Sir. Happy birthday
Happy Birthday Pastor Sir from the Island Nation of Mauritius. We love you Our Father!
Int'l Day of Service, we are illuminating our World! Pastor Sir, thank you for making us living epistles that the world read!! Pics of CEBW providing assistance at a foodbank. cecanada;#cebramptonwest;#IDS2019
International Day of Service. Lusaka 2 Christ embassy conducted an open air clinic in Chawama in honor of our Man of God Pastor Chris birthday. Rhapsody of realities were also distributed in the community. Happy birthday Pastor Sir. We love you 🎉🎉 #ids2019 #cezambia #cesazone3
HAPPY BIRTHDAY PASTOR SIR 💃 🎊 We celebrate zealous passion today. You are the perfect cynosure for this generation. Your unflinching commitment has caused you to defy the barrier of languages, race, color, policies and taken the gospel all around the world, and hence birthed us and produced Champions in us. Thank you sir for taking time to teach, correct, guard and instruct us in the infallible word of God. We own the world because you showed us how to. We love you dearly Sir #blwghanazoneA #blwcampusministryrocks #Dec7 #Offer7
HAPPY BIRTHDAY PASTOR SIR 🎊 💃 Thank you for teaching us the undiluted Word of God and for building us up in Christ We love you dearly Sir #blwghanazoneA #blwcampusministryzoneA #Offer7 #Dec7