Listening to the New year message has been a sublime experience and everyone needs to listen to it. Have you shared the New Year message with anyone? #loveworldmediavideos #PCDL #newyearmessage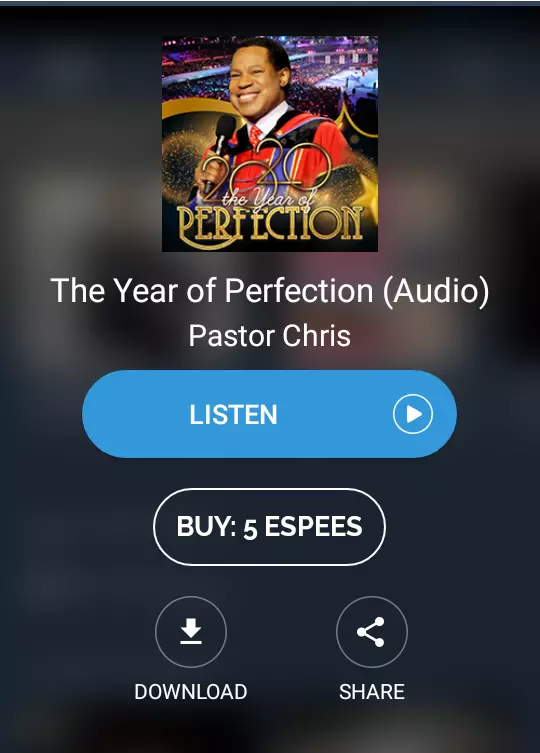 LoveWorld Media Videos
commented:
Watch this space. We will share the news as soon as it drops. Have you listened to the audio?
Assa Joel
commented:
Please when is the video coming out? Thanks.
This is our year of perfection. We are walking in alignment with the Purpose of God, In Completeness and Excellence, bringing our goals and aspirations to Fruition. Glory be to God. Hallelujah! #VisionConference2020 #UKZ1R2 #YearOfPerfection
#HARVESTSUNDAY #PERFECTION #TOOMUCHFIRE #BETHERE #2020WEREADY #CEJABULANI #SAZONE1 #PASTORRON
10 DAYS TO GO!!! THE GLOBAL RHAPATHON WITH PASTOR CHRIS IS HERE. Taking place on all LoveWorld Networks, the Rhapsody App and Rhapsody websites, the 5-day epochal program will hold on Monday, Jan 20th to Friday, Jan 24th, by 10 am & 5 pm (GMT+ 1) respectively, each day. These life-changing meetings will showcase and celebrate the impact, spread and influence of Rhapsody fo Realities in every continent on earth. Here's how you can start preparing for the Rhapathon with Pastor Chris: ✍ Joining the publicity: Spread the Word! ✍ Pray along with us. Visit prayer.rhapsodyofrealities.org for more information. ✍  Send us your Rhapsody testimonies or your experience with Rhapsody of Realities within the past 20 years on testimony.rhapsodyofrealities.org And also post on kingschat using the following hashtags: #MyRhapsodyStory #YourZone #Yourcity To download the Rhapsody App now, visit bit.ly/getrhapsodyapp Let's have an early start as we take advantage of the grace in this year of Perfection!  God bless you. #rhapsody #rhapathon2020 www.rhapsodyofrealities.org
THANK YOU of Shaeperth in name Jesus Christ my for the God Word for Jesus Christ. My Love . My your our very very very forever big Love forever
#VisionConference2020 #UKZ1R2 #Alignment #Completeness #Excellence #Fruition Gloryyy!! Hallelujah!
WHO ARE YOU? #IPERFECTION And he will love thee, and bless thee, and multiply thee: he will also bless the fruit of thy womb, and the fruit of thy land, thy corn, and thy wine, and thine oil, the increase of thy kine, and the flocks of thy sheep, ..... Deuteronomy 7:13‭-‬15 KJV