20 THINGS TO DO BEFORE RHAPATHON With Pastor Chris: No. 12:  SPREAD THE WORD ON YOUR SOCIAL SPACE... Let Everyone Know And Participate!! DATE: 20th -24th January 2020. TIME: 10 am & 5 pm (GMT+1) daily. Rhapathon will broadcast on the Rhapsody platforms below as well as across all LoveWorld Networks. Rhapsody Website: http://rhapsodyofrealities.org   Rhapsody App: http://bit.ly/getrhapsodyapp  REON Website: http://reoninternational.org  Rhapsody Web TV: http://rorwebtv.rhapsodyofrealities.org Spread the news! Create your picture e-card (avatar) now on http://rhapsodyofrealities.org and share it on all your networks. God bless you. #rhapsody #rhapathon2020 #Celebrating20YeasrofImpactwithRhapsodyofRealities http://rhapsodyofrealities.org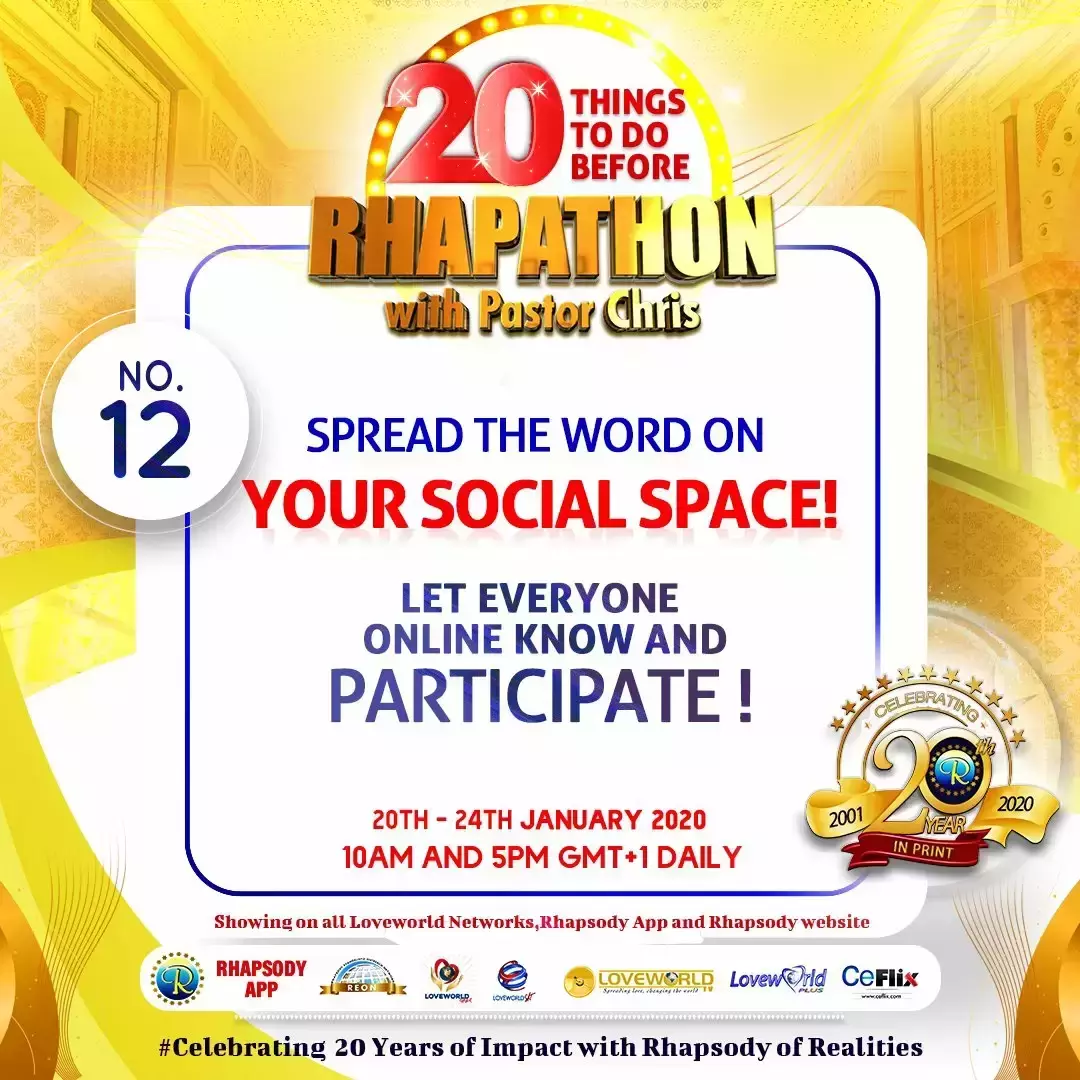 Happening now #pastorchris special global church program #cejahi #amc
20 THINGS TO DO BEFORE RHAPATHON With Pastor Chris: No. 11:  SPREAD THE WORD TO FAMILY & FRIENDS... AND ENSURE THEY PARTICIPATE! DATE: 20th -24th January 2020. TIME: 10 am & 5 pm (GMT+1) daily. Rhapathon will broadcast on the Rhapsody platforms below as well as across all LoveWorld Networks. Rhapsody Website: http://rhapsodyofrealities.org  Rhapsody App: http://bit.ly/getrhapsodyapp REON Website: http://reoninternational.org   Rhapsody Web TV: http://rorwebtv.rhapsodyofrealities.org  Spread the news! Create your picture e-card (avatar) now on http://rhapsodyofrealities.org and share it on all your networks. God bless you. #rhapsody #rhapathon2020 #Celebrating20YeasrofImpactwithRhapsodyofRealities http://rhapsodyofrealities.org #LWPM
The Christian life is lived spritually through the Holyspirit. Without the Holyspirit you can't live the Christian Life.
Happy birthday dearest dcns,Full of the Holy ghost. Dearest to me now and always. We love you loads.
20 THINGS TO DO BEFORE RHAPATHON With Pastor Chris: No. 12:  SPREAD THE WORD ON YOUR SOCIAL SPACE... Let Everyone Know And Participate!! DATE: 20th -24th January 2020. TIME: 10 am & 5 pm (GMT+1) daily. Rhapathon will broadcast on the Rhapsody platforms below as well as across all LoveWorld Networks. Rhapsody Website: http://rhapsodyofrealities.org   Rhapsody App: http://bit.ly/getrhapsodyapp  REON Website: http://reoninternational.org  Rhapsody Web TV: http://rorwebtv.rhapsodyofrealities.org Spread the news! Create your picture e-card (avatar) now on http://rhapsodyofrealities.org and share it on all your networks. God bless you. #rhapsody #rhapathon2020 #Celebrating20YeasrofImpactwithRhapsodyofRealities http://rhapsodyofrealities.org
Happy Sunday to you all this is a day with great man of God the group pastor Francis at gbrigbe christ embassy the chosen group.
Live @Cejahi with our man of God. #cejahi #amc