There are 3 kinds of sin: 1. The inherited sin…….death passed upon all men and all nature 2. The inputted sin… committed because of law… e.g Achan who made Israel loose the battle against Ai 3. Personal Sin Jesus is the only salvation from the three kinds of sins Titus1:1-3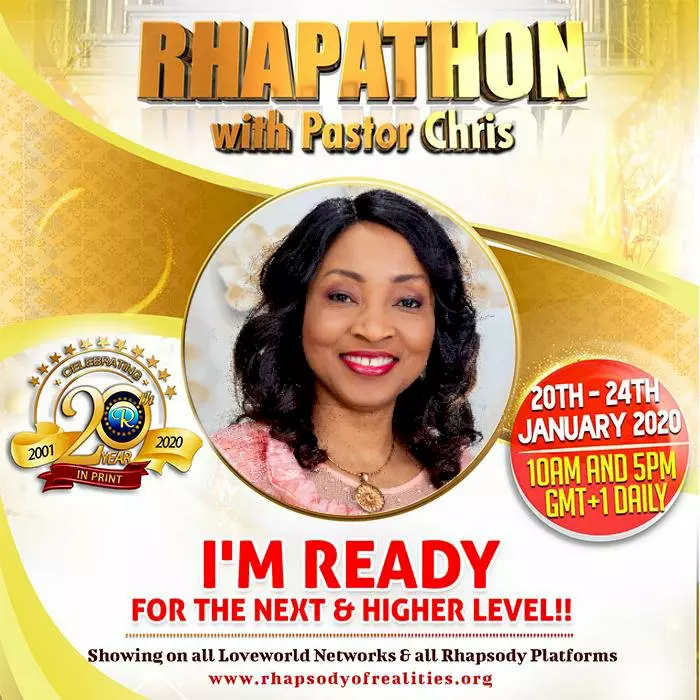 christiana Nagbons
commented:
Your page is lovely , I have a business proposition for you ! If you are interested just give it a shot by sending me a dm 🤝
Connected to the Live Stream of Rhaphathon with Pastor Chris. Hallelujah🙌🙌 #rhapathonwithpastorchris #rhapathon2020 #Rhapsodyineverystreet #Rhapsodyineveryhome #Rhapsodyineveryhand #Rhapsodyineverycity #Rhapsodyineverynation #cesazone1 #cerandburg #southafrica #Austria #Vienna
RHAPATHON QUOTES: "When you read Rhapsody of Realities, you love Jesus more. When you study Rhapsody, you love the Bible more. Rhapsody is all about the Bible. Without the Bible, you cannot study Rhapsody." - Rev. Chris Oyakhilome Give NOW: www.rhapsodyofrealities.org  Take action: http://rhapsodyofrealities.org/action/kc Stay tuned for more updates on all Rhapsody of Realities Platforms below: Rhapsody Website: http://rhapsodyofrealities.org  Rhapsody App: http://bit.ly/getrhapsodyapp  #RHAPATHONWITHPASTORCHRIS #PERFECTION
I am loaded with God🙌🏽 I'm unstoppable #mypresenthourcogitations #rhapathon
HAPPENING LIVE!!! DAY 2 (EVENING SESSION) GLOBAL RHAPATHON WITH PASTOR CHRIS Participating Live from CE Upper Erejuwa Church Kindly connect via https://www.rhapsodyalive.cewmc.org/live-program/ to participate.... #warriministrycentre #RhapathonwithPastorChris #Rhapathon2020
😳😳😳😳 POWERFUL!!! YOU CAN PREACH TO EVERYTHING AND ANYTHING; your clothes, car, house, pet etc.EVERYTHING!!!!!!! -Romans 8:21-22(KJV) Words so priceless, worth hearing. #ceenugu1 #GlobalRhapathon
QUOTES FROM RHAPATHON LIVE TRANSMISSION. Eternal life is the God type of life - the very content of His person. - Pastor Chris Listen live on Cetunes Android http://play.google.com/store/apps/details?id=org.lw .cetunes iOS https://apps.apple.com/us/app/cetunes/id1470300487?ls=1 Reference Code 👉 007 or log on to www.cetunes.org
Be of good cheer, no matter what is going on around you. Cheer up!!