BLW UKZONE2: LOVEWORLD CENTRAL CHURCH: A NIGHT on KingsChat Web
LOVEWORLD CENTRAL CHURCH: A NIGHT OF BLESSINGS WITH THE ESTEEMED PASTOR TONY ADUROJA Announcing UK Zone 2 LoveWorld Central Church 'A Night of Blessings' programme with Pastor Tony Aduroja - a special evening full of power. Date: Friday, 31st January 2020 Time: 9pm Venue: 100 - 106 Westmoor Street, Charlton, London SE7 8NQ Don't miss it! #LWCentral #UKZone2 #OurYearOfPerfection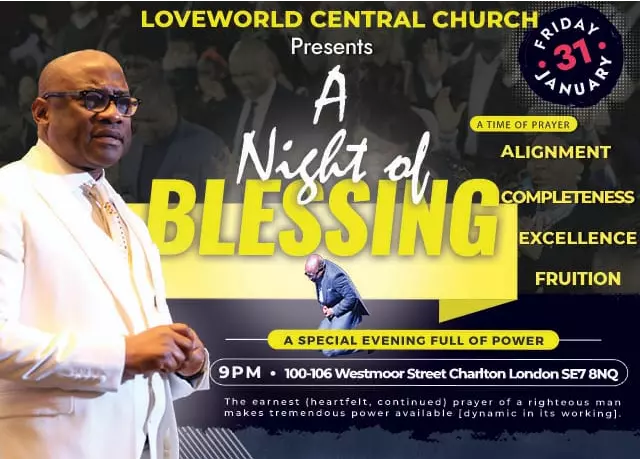 victoriaolawole
commented:
Your page is lovely , I have a business proposition for you ! If you are interested just give it a shot by sending me a dm 🤝
Best graduating student, Making disciple out of men Auxano rocks #perfectingsoulwinning #calcm #teamcalabarrocks
ONE STAGE ONE MIC MULTIPLE PLATFORMS MULTIPLE LANGUAGES It's the February edition of the Global Service with our Man of God on the 2nd of February, 2020 GMT+1 Stay connected to CETunes on www.cetunes.org as we bring you the LIVE broadcast of the service in multiple languages. Download the Cetunes Mobile app now from Google playstore and the IOS store. #cetunes #loveworld_radio #global_service
Mark the perfect man, and behold the upright: for the end of that man is peace. - Psalms 37:37 Thank you for always being a friendly friend. Happy Birthday Pastor Wale Odufalo!
ANOTHER OPPORTUNITY TO PARTICIPATE IN RHAPATHON RELOADED WITH PASTOR CHRIS. If you miss it, this is another opportunity for you. For those that Participated another opportunity to make the impression of the Words of the Spirit deep and lasting in your spirit. #RHAPATHON2020 #RHAPATHONOUTREACHES #CALMC #TeamCalabarRocks
: #prayingnow, #PCLprayathon2020;  #prayathon2020, #Iamapriestinoffice, #CE Barking, #UK2Z4, #UK.
SPECIAL HAPPY BIRTHDAY TO YOU BROTHER USEN USEN. MAY GOD'S FAVOR AND GRACE CONTINUE TO FLOW YOUR WAY AND MAY HIS MANIFOLD WISDOM BE MANIFESTED IN ALL YOUR ENDEAVORS. GOD BLESS YOU.
We increase by the numbers of firsttimers we win to church. #perfectingsoulwinning #calmc #teamcalabarrocks