📢📢📢Coming Up In This Month of Songs🎵🎵🎵 👇👇👇👇👇👇👇 THE GLOBAL ONLINE TEACHERS CERTIFICATION COURSE 👉CLASS OF 2020👈 📢📢Class Opens 10th of February 2020 And closes 24th of February 2020 Pastors Kindly, Enroll Your children's church teachers and team leaders TODAY!! 📢📢The training is FREEEE!! For more information Email:childrensministry@loveworld360.com Phone No: ±2348123445243 #loveworldchildrensministry #childrenschurchrocks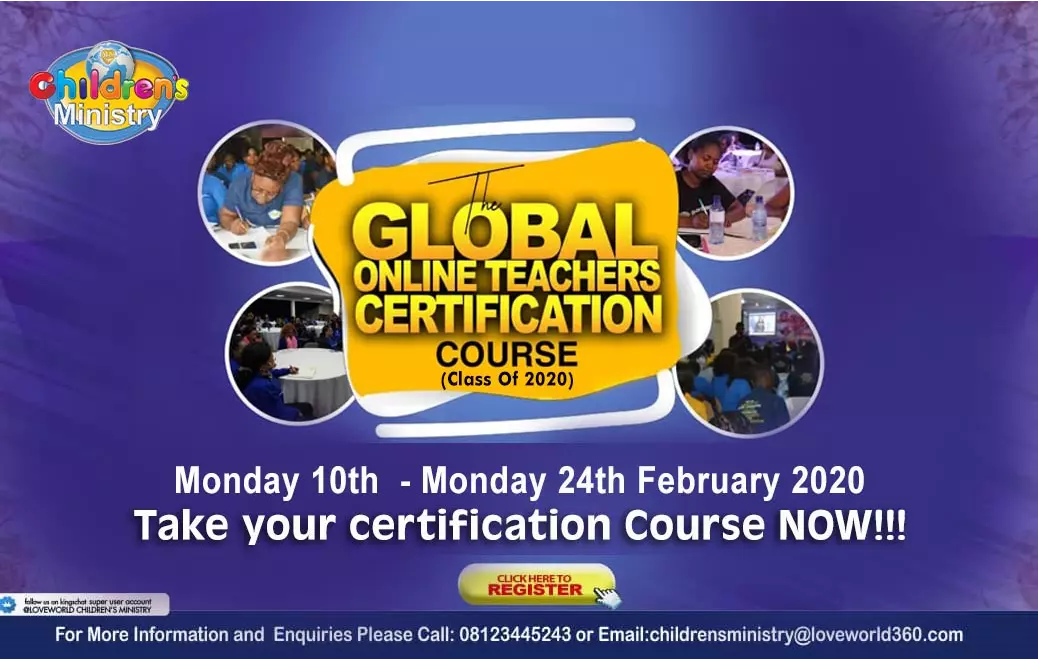 Pray a thon 2020. Christ Embassy Lagos Zone 1 Praying now. #CELZ1Rocks
https://www.facebook.com/112271646790641/posts/179581083393030/
Happy Birthday esteemed Pst. Lorraine, a great minister & dedicated helper of the war. Ur passion for God, ministry & excellence is most inspiring. Thanks for all u do for us quietly. I join the hosts of heaven to celebrate a perfect personality like u. The best is yet to come.
❣️🎉Celebrating Love: Happy Wedding Anniversary, Our Dear Esteemed Regional Pastor, Pastor Aloy Okei & Pastor Modupe Okei! Thank you for raising us in love & inspiring us to do great things for the master! From all of us in USA Region 1, we say 'Happy Anniversary!' We love & appreciate you dearly. ❤️ #USAREGION1 #USAZ1 #USAZ2
Happy birthday Tiffany...its a new level for you.....Your light shines everywhere in this year of perfection and your heart desires are granted you speedily....Enjoy your day!
Thank you Holy Spirit for the revelation of the word that you have done in Philippine.Thank you so much Pastor Joy for the Love in my Country. #perfectly20 #perfectlysongs
📍CE SAPELE ZONAL REFRESHER COURSE FOR ALL CELL MINISTRY LEADERS!! More from our Highly Esteemed Zonal Pastor's plenary session with the leaders. It's been an amazing, power-packed meeting. #ZRC #TLB #CEBAYELSA #CEUGHELLI #CESAPELE #NSSZONE1