CE Port Harcourt Zone 3: PRAYER GUIDE FOR SATURDAY 15TH on KingsChat Web
PRAYER GUIDE FOR SATURDAY 15TH FEBRUARY,2020 *Prayer Times: 5:00am- 5:30am and 9:30pm -10:00pm* 🔘 IMPACT OF SUCCESS MOTIVATION YOUTH PROGRAM. Joel 2:28 And it shall come to pass afterward, that I will pour out my spirit upon all flesh; and your sons and your daughters shall prophesy, your old men shall dream dreams, your young men shall see visions: Success Motivation for the teenagers and youths holds today. Pray that the impartation, strength, zeal and passion received from this program would mark the beginning of a new and greater move of God's Spirit in the lives of the teenagers and young people, all across Rivers State and beyond. Declare that through this program, they would be aligned with God's will, plans and purposes for their lives. 🔘 ROR OUTREACHES John 15:16 Ye have not chosen me, but I have chosen you, and ordained you, that ye should go and bring forth fruit, and that your fruit should remain: that whatsoever ye shall ask of the Father in my name, he may give it you. Pray that all the souls won through our ROR outreaches will remain with us and be established in our cells and churches. 🔘 LIFE CONFERENCE Luke 4:37 WEB News about him went out into every place of the surrounding region. Pray for the different forms of publicity strategies we have deployed for this program, that they are fruitful and effective, yielding unparalleled results, and bringing about a massive turnout of participants for the online conference. #prayingnow #yourchurch #yourpcf #cephzone3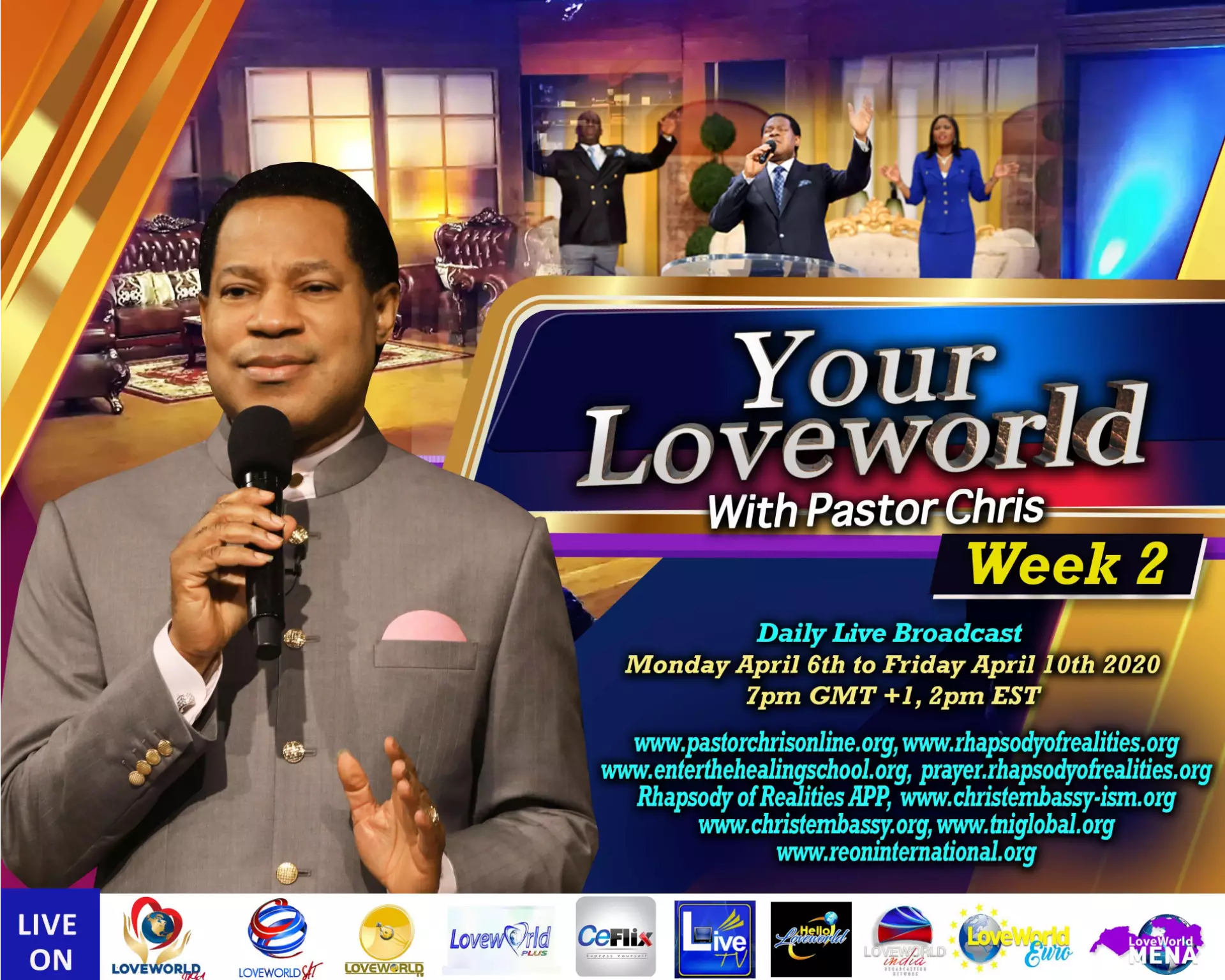 This is going to be EXPLOSIVE. Watch this space for details. https://tinyurl.com/y9sqaabd #yearofperfection #perfection #monthofsongs
#adayofblisswithpastortony2020 #ukzone2 #northamptongroup #LWMiltonkeynes The Gospel is the Power of God for the salvation, healing and deliverance of many from the dominion of darkness.
TWO DAYS OF GLORY IN DUBAI 💃💃💃💃💃💃💃💃💃💃💃 This is going to be one historic meeting that will cause a shift in the UAE regions and beyond for generations to come. Click on the link below for details of how you can be a part of changing lives at this meeting. https://tinyurl.com/wg9xnux #twodaysofglorydubai #twodaysofglory #2daysofglory #yearofperfection #perfection #monthofsongs
My name is Alison really like to say hi to everyone
Prayer of intercession is the selfless principal thing for a born again Christian. It's how you make power available for the weak, sick and oppressed. To change destinies and perfect all the concerns you. Glory to God. Hallelujah 🙏🏾
Mimshach cell holds her February Mega cell outreach today, the 15th Feb. 2020. Tagged : LOVE & RHAPSODY CONCERT... Do not miss it for anything. Come and be blessed. #1millionoutreaches, #celagoszone2, #celagzone2, #celgz2, #celagz2, #celgzone2, #ceajegunlegroup,#ceajegunle.