* Pray-A-Thon 2020 - Mo 9. November * In der Rhapsodie dieses Montags werden wir ermahnt, seine Wahrheiten im Glauben zu bekräftigen. Studiere es und teile es mit anderen. Besuchen Sie http://bit.ly/RORsponsorship oder https://installs.rhapsodyofrealities.org/?id=sundayalawode Informationen zur Partnerschaft mit Rhapsody of Realities. In Psalm 9,11 sagt: "Singet dem HERRN, der in Zion wohnt, ein Lob! Erkläre unter den Menschen seine Taten." In Psalm 89: 13-14 sagt "Du hast einen mächtigen Arm; stark ist deine Hand und hoch ist deine rechte Hand. Gerechtigkeit und Gericht sind die Behausungen deines Throns: Barmherzigkeit und Wahrheit werden vor dein Angesicht gehen. " In unseren heutigen Gebetszeiten werden wir inbrünstig in Zungen des Geistes beten. Bete gemäß 1. Timotheus 2: 1-4 für alle Nationen der Menschen und ihre Führer; und verkünde die Herrschaft der Wahrheit, Gerechtigkeit und Gerechtigkeit über sie zur Ehre Gottes. Bete speziell für dein Land, dass das Evangelium freien Lauf hat und verherrlicht wird. Amen. Gott segne dich. AUSZUG AUS: http://bit.ly/KingsChatPastorChrisLive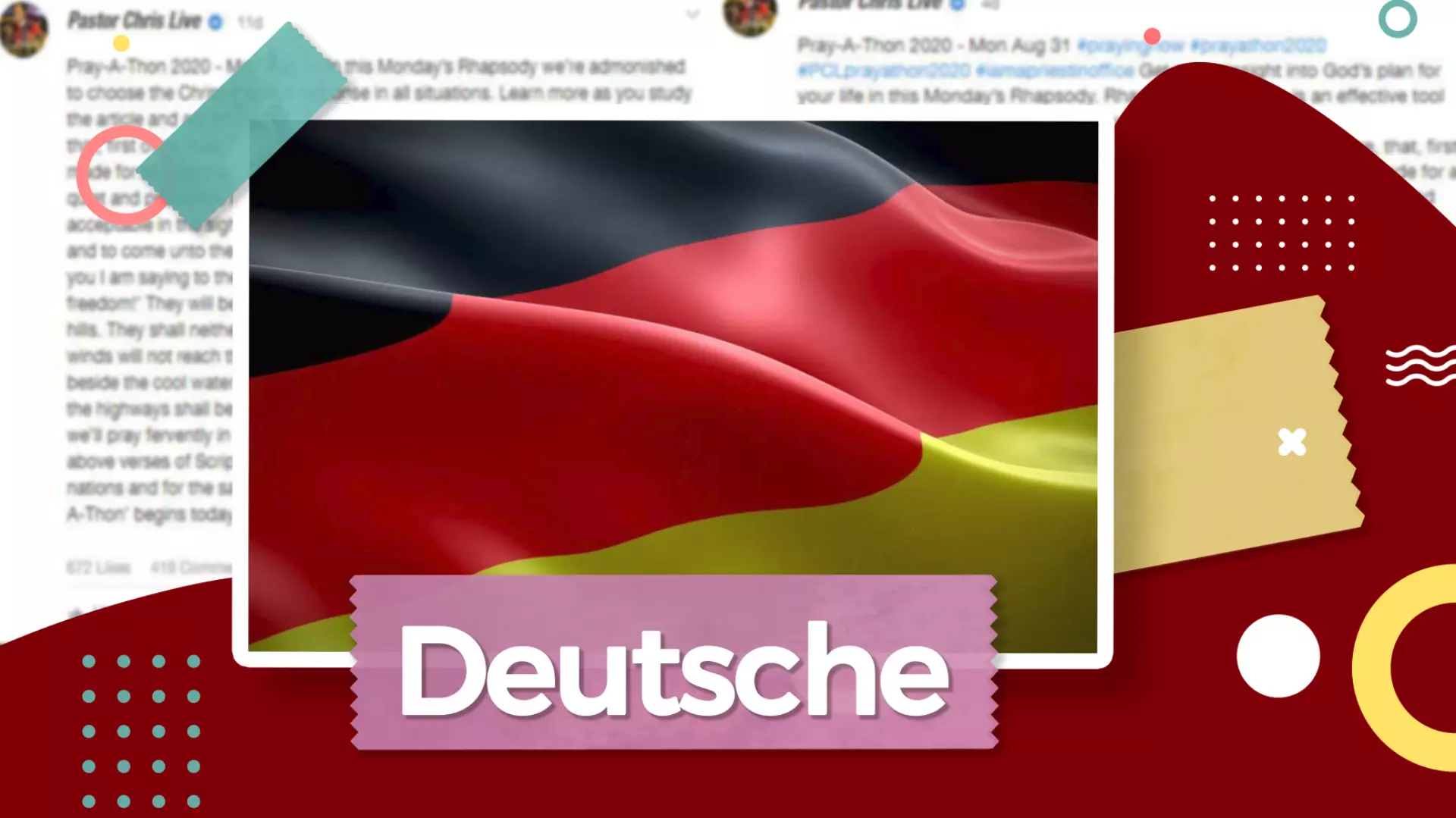 7 days to go for the Long awaited IPPC 2020.... Hope you are registered and fully prepared for an exciting experience in the International Pastors and Partners Conference 2020 #IPPC2020 #LWZONEI #LWCAMPUSMINISTRYROCKS
Am so excited in my spirit to go nd receive d WORD for d NOW to change World.
1001 Ways To Win #008 from Pastor Chris Teaching airing now on www.pcdl.tv #PastorChris #watchonpcdltv
#yookosprayertime #prayingnow #prayathon2020 #thegreat28 *Pray-A-Thon 2020 - Mon Nov 9th* In this Monday's Rhapsody, we're admonished to affirm His truths in faith. Study it and share with others. *Visit* htyp://rhapsodyofrealities.org for information on Partnership with Rhapsody of Realities. *Psalm 9:11 says* , 'Sing praises to the LORD, which dwelleth in Zion: declare among the people his doings'. *Psalm 89:13-14 says* , 'Thou hast a mighty arm: strong is thy hand, and high is thy right hand. Justice and judgment are the habitations of thy throne: mercy and truth shall go before thy face'. *At our times of prayer today* , we'll pray fervidly in tongues of the Spirit. Pray according to *1 Timothy 2:1-4* for all nations of men and their leaders; and, proclaim the reign of truth, justice and righteousness over them, to the glory of God. Pray specially for your country, that the gospel may have free course and be glorified. Amen. *God bless you* .
7 days to go!!! #ippc2020 #thegreat28
7 days to go for the Long awaited IPPC 2020.... Hope you are registered and fully prepared for an exciting experience in the International Pastors and Partners Conference 2020 #IPPC2020 #LWZONEI #LWCAMPUSMINISTRYROCKS
Am so excited in my Spirit to receive d WORD for d NOW to go nd change my World.
My spirit, soul and body are enditing a perfect matter. my expectations are loading........
#POSE1115 #HBDPASTOR #Stalwartoffaith #CESAREGION
bit.ly/ceflixtvweb ⬜◼◻◾◽▪️▫️🔶 FAITH IS THE ESSENCE Faith is a leap on the Word of God. How strong is your faith? Click ◾ Watch ◾ Share 👇 https://ceflix.org/videos/watch/1850105 DOWNLOAD CeFlix mobile app for your one-stop social webtv XPERIENCE!👇 https://bit.ly/download-ceflix-tv-android https://bit.ly/download-ceflix-tv-ios 🛎🛎🛎🛎🛎🛎 Follow @ceflix on Kingschat  and join CeFlix TV community on Yookos TODAY!!! http://bit.ly/ceflixtvweb 👆👆👆👆👆👆👆👆 #sharepost #YLW #Jesus #ronfiesta2020 #healingstreams #globaldayofprayer #globalimpactoutreach2020 #myproclamations #wordfest2 #loveworldladiesnetwork2020 #pclprayathon2020 #ippc2020 #God #Mondayvibes #MondayMotivation #ippc #ChurchOnline #subscribetoachannelonceflix #ceflixtv #entertainment #information #inspiration #vogue #tech #lifestyle #beauty #maillox #kingsconference #Prayingwithpastorchris #kingschat