LoveWorld SAT: CELEBRATING LOVEWORLDSAT STAFF MEMBERS✨🌟🥳 💫✨🎉 on KingsChat Web
CELEBRATING LOVEWORLDSAT STAFF MEMBERS✨🌟🥳 💫✨🎉HAPPY BIRTHDAY BRO THUMA MWANDLA - SPORTS PRESENTER💫✨🎉 Thank you for the excellent work you do in LoveWorldSAT. We celebrate with you today and thank God for your tireless commitment to the vision of our Man of God. We love you and appreciate you dearly. God bless you. #loveworldsatcelebrates #loveworldsat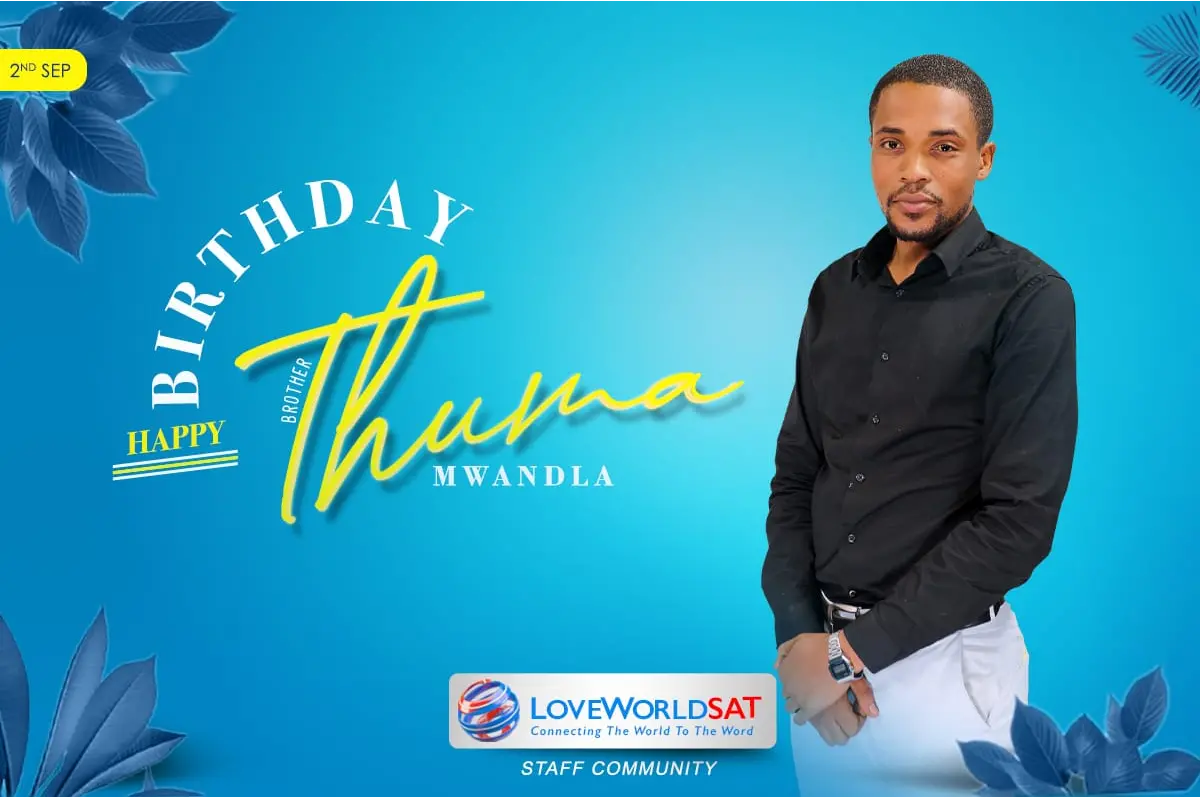 HBD dear Pastor. I join the host of the LW Nation to celebrate you today&always. Thank you for your beautiful spirit ma. Thank you for your inspiring life of faith and for making a difference with&through the Gospel. Glorious things are spoken of you. I 💖 you ma!
🎊🎉🎊🎉HAPPY PERFECT BIRTHDAY SIR🎊🎉🎊🎉 WE LOVE YOU DEARLY SIR... #PEA904 #CEBZ2
TAKE NOTE! Stay Woke!! #WeAreStillInPrayer!!!
STILL ON- RIN ADVANCE SUMMIT The Rhapsody of Realities is the best app in the world.~ Pastor Emeka Eze~ #celagoszone2
🎊🎉🎊🎉CELEBRATING YOU IS CELEBRATING FAITH🎊🎉🎊🎉 HAPPY BIRTHDAY Sir WE LOVE YOU DEARLY SIR... #PEA904 #CEBZ2
WE ARE LIVE!!🎊🤗RIN ADVANCE! SUMMIT DAY 2!!!🔥😘 rin.rhapsodyofrealities.org Rhapsody of Realities has changed my life, and that's the reason I can't stop pushing out the message on the Mobile App - Bro Michael Ezeadichie 🎯Join the Rhapsody Influencers today!! 🙌 The RIN Advance! Summit is your golden opportunity to equip yourself with everything you need to effectively impact more people in your world and beyond! ♨️♨️♨️💃💃 Don't miss it!🙆 🙆 PARTICIPATE ON: rin.rhapsodyofrealities.org 🎤Spread the news! God bless you.🙏 💓❣️ #iamregisteredandactive #digitalrevolutionreloaded #rinadvancesummit #forcefuladvancement rin.rhapsodyofrealities.org
🎊🎉🎊🎉HAPPY BIRTHDAY TO A SERIAL CHAMPION🎊🎉🎊🎉 WE LOVE YOU DEARLY SIR... #PEA904 #CEBZ2
#UKZone2 GLORY! GLORY! #UKZONE2 With Zonal Pastor Tony Aduroja 🇬🇧🇬🇧🇬🇧🇬🇧🇬🇧🇬🇧🇬🇧🇬🇧🇬🇧🇬🇧🇬🇧 #UKZONE2 #teevolution #IYD2020 #Lwteensministry #Ukzone2 #LWBATTERSEA #watchmanconference
Congratulations !!! Esteemed Bro Cy Priest for your exceptional work in the Rhapsody Influencer Network. He has distributed over 29,000 Rhapsody Of Realities Mobile App Online across the nations of the world. Rhapsody of Realities is a limit breaker. #celagoszone2