🙏🇺🇸 IT'S LESS THAN 3 HOURS TO GO!!! Are You Readyyyyyyy??? GOOD FRIDAY MIRACLE SERVICE WITH PASTOR ALOY🙏🇺🇸 It's another opportunity to experience the miraculous! Get ready to to receive your miracles tonight! You can participate live Today @ 6:00PM EST | 3:00PM PST Zonal Website: https://christembassyusa.com/live-stream/ VCP: http://bit.ly/myvirtualchurch #USAZ1 #USAREGION1 #GOODFRIDAY #EASTERCELEBRATION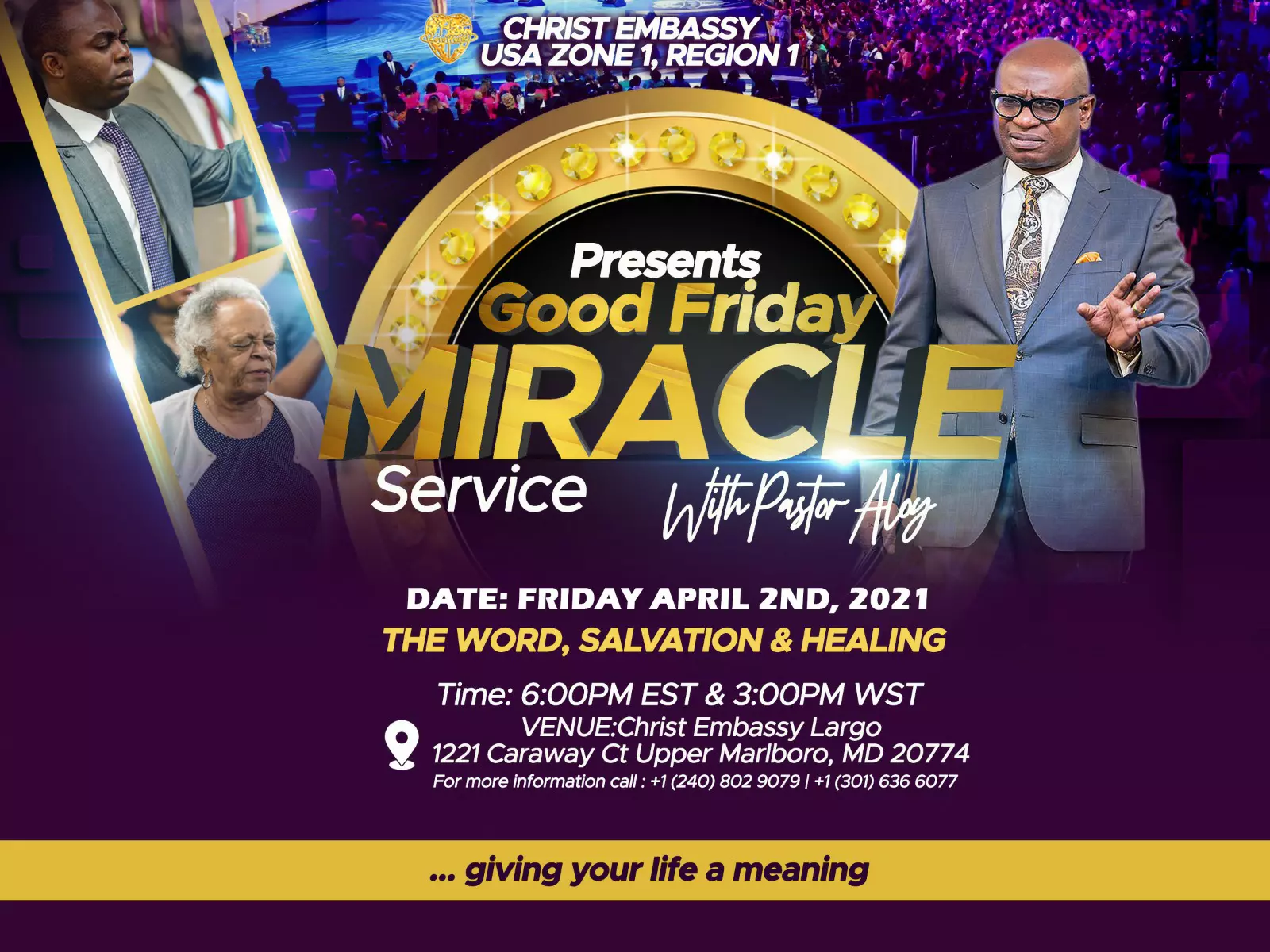 Troy
commented:
Earn better and quite your office stressful job, With the minimum investment of $300 you can get profits of about $3,000+ with my fast and trusted platform ... $300 to get $3,000 weekly. $400 to get $4,000 weekly. $500 to get $5,000 weekly. $600 to get $6,000 weekly. $800 to get $8,000 weekly. $900 to get $9,000 weekly. $1000 to get $10,000 weekly. Whatsap me on +17575206719 for more info
akando
commented:
If you have bank account or Bitcoins wallet, I can teach you how to earn $5000+ with minimum start up amount of $500 just 7DAYS without sending money to me 100%percent legit profit secure, fast widraw with out no delay Ask me how....hity me up on WhatsApp+1 (678) 834-9786 and let's start winning... remember you're not paying any money to me, I only own 10% of your profits recoverd...
Pastor Gary izola lornar
commented:
This is how it works..join our hfx crypto currency trading, winning is the best option.. our church members are benefiting from it 1. You set up your trading account. 2. You fund your trade account with your investment capital. 3. Once the whole process is done and account is set for trading you've  full access to your trading account and you can see everything yourself as the process are going. 4. You get your profit after upgrading process is done, the end of the days trade. 5. Clink on your withdrawal process on your account, when you choose to withdraw, your trading profit..Congratulations to everyone who benefited from my company yesterday @cryptochin. I still want more people to benefit. Ask me how. without sending money to anyone 100% legit..for more information contact me on WhatsAp +1 (740) 651-1971
It doesn't matter how long it takes, faith will win! - Pastor Biodun Lawal @pastorbl @shinepbl Precious thoughts!
EASTER MEGA FIESTA!!!!! HAPPENING IN CENTRAL GROUP. THE REAL MAN Conference with the Highly Esteemed Evang, Dr. Eddy Owase. #ministrycentrewarri
Happening Now! EASTER FIESTA DAY 1 EVENING SESSION Christ Embassy Effurun Group Easter Fiesta with the Esteemed Pastor Yomi Morakinyo #ministrycentrewarri #ceeffurungroup
📷#PhotoHighlights: HOW TO BE A SUCCESS FOR JESUS' Easter Youth Program with our Highly Esteemed Zonal Director Several teens and youths received the gift of the Holy Spirit and many others were healed and delivered by the power of God. Glorrrrry!!! #EasterSunday21 #HowToBeASuccessForJesus #lwteensministry #cephzone3
Happy Birthday dear Brother Afolabi, It's a new season of overflowing  blessings for you. Keep winninng and shinning. God bless you richly.
Happening live Now.... 👉EASTER PRAISE GRATITUDE CONCERT The LoveWorld Artist St.Ken #spreadingpastoruche #katalambano #ukzone4 #loveworldukzone4 #lwccm #easterconcert
EASTER MEGA FIESTA!!!!! HAPPENING IN CENTRAL GROUP. THE REAL MAN Conference with the Highly Esteemed Evang, Dr. Eddy Owase. #ministrycentrewarri
📸 Special Easter Soul Winning Campaign - Charis PCF of CE Zonal Church Avenor .💢 #CeAccraGhanaZone #CellMinistry #SoulTracker #EasterSoulwinningCampaign #EasterSunday21
📷#PhotoHighlights: HOW TO BE A SUCCESS FOR JESUS' Easter Youth Program with our Highly Esteemed Zonal Director First Timers and new converts displaying their free copies of the book 'How To Pray Effectively' distributed at the program. Hallelujah! #EasterSunday21 #HowToBeASuccessForJesus #lwteensministry #cephzone3