CE Lagos Zone 2: 🙏🙏🙏PRAYER POINTS FOR TODAY THURSDAY on KingsChat Web
🙏🙏🙏PRAYER POINTS FOR TODAY THURSDAY SEPTEMBER 24, 2020 PRAYER TIMES - 5.00AM, 12.15PM AND 10.15PM WE ARE PRAYING FOR SAFETY ALL OVER THE NATIONS OF THE WORLD 🙏Declare safety in every city and town in every nation as people go about their business and jobs. Pray against satanic activities or plots to kill or cause massive destruction in places, through our payers we put a stop to such evil and declare them null and void. We dispatch angels on the streets in every nation, frustrating and overwhelming the evil works of darkness and exposing all men of violence. Declare that their instruments of violence have failed; people will live their lives and conduct their affairs in peace and safety without fear. Psalm 55:16-17. WE ARE PRAYING FOR OUR 1 MILLION RHAPSODY OUTREACHES FIESTA & REACHOUT NIGERIA PROJECT 4 MILLION ROR COPIES 🙏Pray concerning our 1 Million Rhapsody Outreaches Fiesta and Reachout Nigeria Project 4 million copies target; thank the Lord profusely for the faith responses of all our brethren, and declare that according to the Word of the Spirit each one has an overflow of financial supply to give continually, and we hit and surpass our target with speed. WE ARE PRAYING CONCERNING ALL OUR UPCOMING MINISTRY & ZONAL PROGRAMS 🙏Pray for all our upcoming ministry and Zonal programs holding this weekend (the Global Day of Prayer, Zonal Pastors and Leaders Meeting, September Mega Outreach, September Mega Water Baptism). Declare that the impact of these programs will be evident and long lasting, as we record massive salvation and retention of souls, multiplied membership of our churches, and greater spread of our Ministry vision and influence in our catchment and beyond, exceeding the accomplishments of our previous programs. Acts 19:20. #CELAGOSZONE2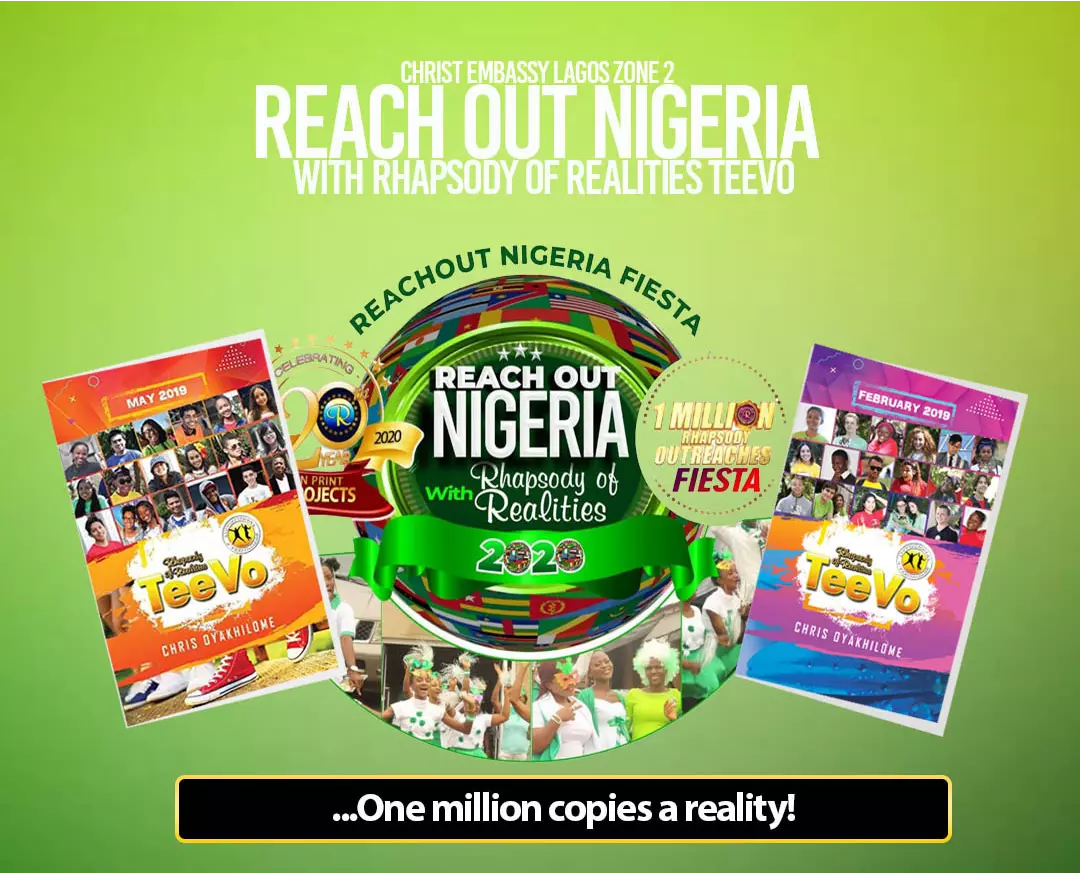 1 Timothy 2:8 I will therefore that men pray every where, lifting up holy hands, without wrath and doubting
Happy birthday Pastor Bisola Ma. I love you so much. God bless you @pba1 @pba2 #perfection #excellent
Glory to God for a New Year. New Exploits, New Victories. No dull moments. Am Breaking New Grounds. Gloryyyyy!!!
God's daily love notes to all people! Rhapsody of Realities 24th September 2020 YOUR MOMENT TO SHINE PRAYER I'm the light of the world, a city set on a hill to bring illumination to my world. The glory and righteousness of Christ are manifested in and through me; I walk in prosperity and blessings, soundness of mind and body, in Jesus' Name. Amen 😊 Learn more in today's Rhapsody and share with your world. 🎁 Download the Rhapsody App 3.0 using link 💡 https://installs.rhapsodyofrealities.org/?id=mzi1598924267 #SocialMediaStratiomi #MonthOfWisdom #MEASIA #CEABUDHABI1 #UnitedArabEmirates 🇦🇪🇧🇭🇦🇪🇮🇱🇺🇲🇧🇭🇦🇪🇮🇱🇺🇲🇧🇭🇦🇪🇮🇱🇺🇲
#dbu0928 #THNIgosa #midwestsubzone #thehavenzoneb1 #thehavennation
PRAYER GUIDE FOR THURSDAY 24TH SEPTEMBER, 2020 Prayer Times: 5:00am - 5:30am, 12:00noon - 12:15pm and 9:30pm - 10:00pm MORNING PRAYER SESSION (5:00am-5:30am) 🛑 PRAYING FOR OUR RON 2020 TARGET:- Thank God for the ongoing Reach Out Nigeria pledge redemption from all our brethren across the zone. Thank God for our targets as a zone. Declare that we have the grace advantage to achieve speedy and quantitative results in accordance with our set targets by the power of the Holy Spirit. PSALMS 68:11 The Lord gave the word: great was the company of those that published it. PHILIPPIANS 1:6 Being confident of this very thing, that he which hath begun a good work in you will perform it until the day of Jesus Christ: 🛑 PRAYING FOR SALVATION OF SOULS AND THEIR RETAINERSHIP Pray for the salvation of souls in our church and Cell catchments and locations. Pray that our evangelistic activities through the churches and the cells will result in salvation of souls. Declare that we receive more souls into our churches and they remain with us. 2 CORINTHIANS 4:3-5 But if our gospel be hid, it is hid to them that are lost: In whom the god of this world hath blinded the minds of them which believe not, lest the light of the glorious gospel of Christ, who is the image of God, should shine unto them, for we preach not ourselves, but Christ Jesus the Lord 🛑 PRAYING FOR OUR FIRST TIMERS AND NEW CONVERTS:- Thank the Lord for the first timers and new converts that have joined us in our churches. Declare that the Word would take firm root in their hearts, causing them to grow up speedily into maturity in Christ. Pray that every effort to retain them produces the desired results.  JOHN 21:11 Simon Peter went up, and drew the net to land full of great fishes, an hundred and fifty and three: and for all there were so many, yet was not the net broken 🛑 MIDDAY PRAYER POINT (12:15pm - 12:30pm) Jesus said in John 17:20-23, 'Neither pray I for these alone, but for them also which shall believe on me through their word; That they all may be one; as thou, Father, art in me, and I in thee, that they also may be one in us: that the world may believe that thou hast sent me. And the glory which thou gavest me I have given them; that they may be one, even as we are one: I in them, and thou in me, that they may be made perfect in one; and that the world may know that thou hast sent me, and hast loved them, as thou hast loved me'. We will pray mostly in tongues of the Spirit, and pray for Christian's the world over, that they grow into maturity and to the realisation of the life and union we have in and with Christ. Pray also for the unsaved, for the understanding and knowledge of the love of Christ, receiving the Word of salvation unhindered. Amen. God bless you. NIGHT PRAYER SESSION 🛑 PRAYING FOR OUR BRETHREN:- We are praying for all our brethren, especially for those we have not been seeing for some time, that they stand perfect in the will of the Father, fulfilling the call of God upon their lives without reproach. COLOSSIANS 1:10 That ye might walk worthy of the Lord unto all pleasing, being fruitful in every good work, and increasing in the knowledge of God; 🛑 Pray for the spread of the gospel in Rivers State and Nigeria. In the name of Jesus, we cut off, and dispossess the spirits of darkness that have held sway over cities, regions and nations, preventing men from receiving the gospel, and we reassign angels in their place. Declare that even now the hearts of men are open to receive the gospel gladly and heed the call to salvation. ISAIAH 49:8-9 Thus saith the Lord, In an acceptable time have I heard thee, and in a day of salvation have I helped thee: and I will preserve thee, and give thee for a covenant of the people, to establish the earth, to cause to inherit the desolate heritages;that thou mayest say to the prisoners, Go forth; to them that are in darkness, Shew yourselves. They shall feed in the ways, and their pastures shall be in all high places #prayingnow #yourchurch #cephzone3
Are you ready to make power available for the world? Hallelujah!!!!
#dbu0928 #THNIgosa #midwestsubzone #thehavenzoneb1 #thehavennation