Christ Embassy Harlow: Happy wedding anniversary to the on KingsChat Web
Happy wedding anniversary to the blessed citizens of Zion.You union remains gloriously blessed. Glorious things are continuously spoken of you. The fruits of marriage that God has given you are mighty upon the earth. Continue to be the delight of your heavenly father. We ♥️ you💫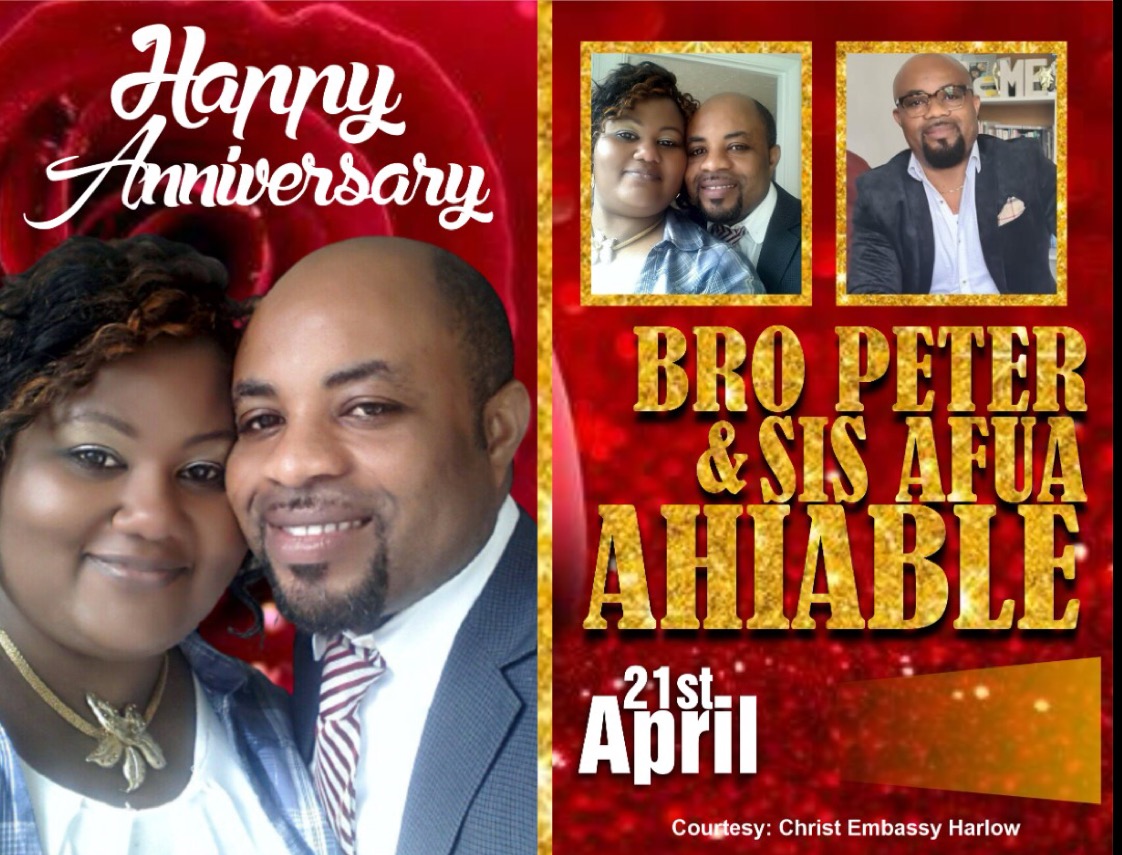 Ellen kunonga
commented:
Happy anniversary may God continue to bless you you are a blessing to the body of christ we love you so much appreciate everything you do
Memory Akenbo
commented:
‪Happy wedding anniversary Mr and Mrs Ahiable 😘🎉🥳❤️may God perfect all that concerns you. Enjoy your day today.I love you 😘 🥰‬
Pastor Nat
commented:
Happy Happy Anniversary God bless your union and grant you the desires of your heart
#𝐖𝐎𝐑𝐃𝐀𝐋𝐈𝐕𝐄 APRIL 21ST I declare that this is my time and my season of productivity, I am exalted by the Spirit of God. I've been raised to a higher realm of prosperity, increase, and success. I am anointed by the Spirit of God for such a time as this! I am well positioned in the right place and as the seed of Abraham, my mind is seasoned with supernatural ideas, thoughts, and visions. I am imbued with divine might, and wisdom to bless and impact my world. I am renewed, refreshed and strengthened in my inner man for the glorious life in Christ. I am seated together with Christ in the heavenly realms—a place of authority, victory, and safety —far removed from all earthly distractions. My steps are ordered and positioned, and I do the right things at all time. Glory! God has given unto me the hidden treasures of the earth, and my gates are continually open to receive. I experience increase on every side and a mighty harvest of blessings and miracles from the seeds I have sown. I receive good measure, pressed down and shaken together this day, even as the Lord has made all grace available to me, to have all sufficiency in all things. Blessed Be God! 𝑻𝒉𝒆 𝒘𝒐𝒓𝒅 𝒊𝒔 𝒂𝒍𝒊𝒗𝒆 𝒊𝒏 𝒎𝒆!
Fresh Dew Have you been Quilty of over-preparing these days? We can all easily find ourselves in our overprotective state of mind, wanting to collect and hold on tightly to everything that brings us comfort and security in the midst of uncertainty. As you are isolated in your own thoughts, you are flooded with accusations about your past, or you are feeling like you don't know how to approach God, I want to encourage you to take the things that you find yourself holding most tightly to, and lay them at the feet of Jesus. We can take the Alabaster Box of our family, our dreams, Careers, fears and works, and pour them out at the feet of Jesus.
It's still on and it's getting hotter and hotter 🔥🔥🔥 Grace is being released, capacity is being built! This is war God just needs that one person who says YES, just one who says what He says Is; Is! It's Day 4 of 8 DAYS OF GLORY Rhapsody Conference, BLW SA Zone A! What are you waiting for? I mean; don't be left out! Hook up with us, its been a glorious time of inspiration and we still at it 🔥🔥🔥 #8DOG #8daysofglory #blwcampusministryrocks #blwsazonea
Wednesday April 21st - Caring For Your Body Rhapsody of Realities for Early Readers. Share! Share!! Share!!!
The Word of God contained in the Rhapsody of Realities is changing lives and nations all around the world and we are blessed to be the first partakers of this grace. Remember that through the Rhapsody, there is a Rhema-Word for each day. Study Your Rhapsody Today with your cell members! https://rhapsodyofrealities/read-devotional #cellministry #rhapsodyofrealities #rhapsody
It's that special time of the year where we Celebrate the world greatest Author! World Book Day on my Mind #worldbookday #worldchanger #worldsno1author