TeeVo2go: And in the 5TH POSITION, on KingsChat Web
And in the 5TH POSITION, Top 10 outstanding ZONES/MINISTRY CENTERS with the highest sponsorship and distribution of the TeeVo Bible in the month of August 2020. Give it up for CHRIST EMBASSY PORT HARCOURT ZONE 2!!! Thank you Esteemed Pastor Linda Okocha and the members of Christ Embassy Port Harcourt Zone 2 for your outstanding sponsorship and distribution of the TeeVo Bible. We love you dearly Ma. #teevolution #everyteenagerateevobible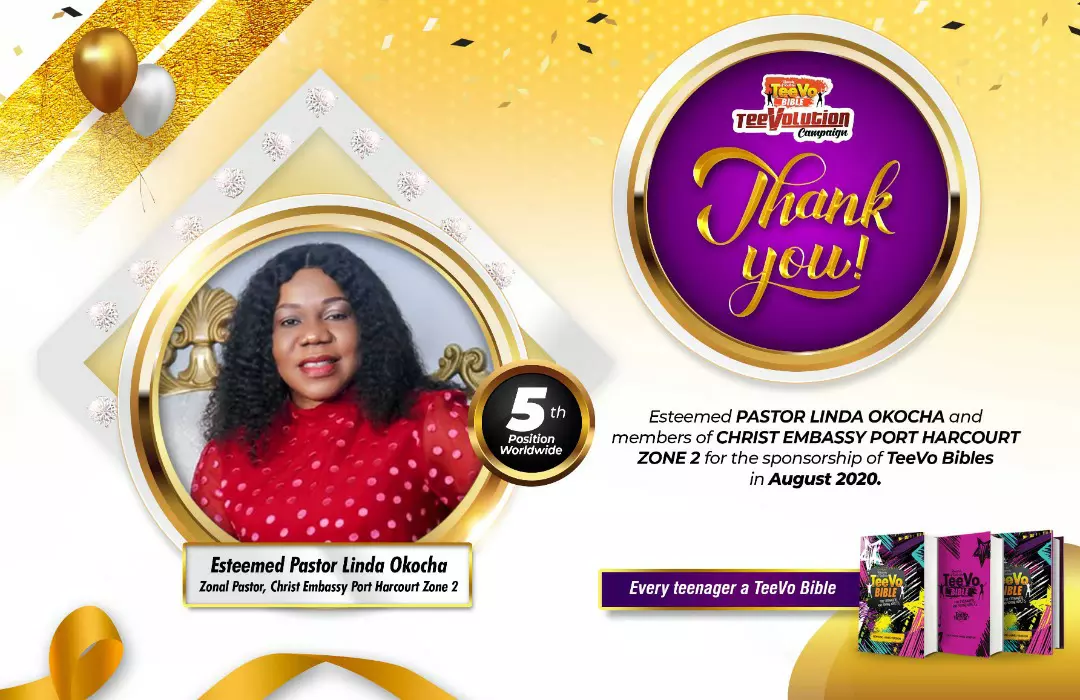 PSOb
commented:
Congratulations dear Pastor💃💃
Kindly register with me for the global impact outreach with our man of God Pastor Chris .click on the link https://www.globalimpactoutreach.org/gimpact/invite/austacity
Welcome to Day 2 of our Praying and Fasting. Today we will pray at 9am and 3pm for 10 mins each as follows. 1. Pray for those in authority all around the world to have the boldness to remove any remaining restrictions. Declare all borders open and international travels restored and economies functional. 1 Pet 2:1-4 2. Pray about the Ministry of the Word at GIO. Declare that salvation, healing, restoration, direction, impartation of gifts etc will be manifest as the Word of God meets each attendee at their point of need. Acts 20:32, 2 Thess 3:1, Heb 4:12 Send the link for registration to all your contacts. www.globalimpactoutreach.org God bless you
THIS FRIDAY: 4PM GMT+1 SATURDAY(morning session): 8AM GMT+1 SATURDAY (evening session): 4:30PM GMT+1 #LGGC #GlobalConnect #LGNRules #NetworkingSuccess #LNGZambiaCenter www.lwgraduatenetwork.com
8 days left. ..celebrating my Group Pastor
#4DAYSTO GLOBAL IMPACT OUTREACH Are You Ready? Register today at and invite others to do the same http://www.globalimpactoutreach.org/gimpact/enlist/ceencz  #eneczone #SEregion #GlobalImpactOutreach  #GIO2020 #CGI  #unstoppableChurchGrowth
WHY ASIA AT THIS TIME? More than every other continent, Asia has the largest number of idol worshippers! With over 2.4 billion men and women bowing to lifeless gods and spirits with so much commitment! Asia is in urgent need of salvation. Would you join us?