ABUJA MINISTRY CENTRE : 7 DAYS PRAYER AND FASTING on KingsChat Web
7 DAYS PRAYER AND FASTING WITH REV. TOM PRAYER POINTS FOR DAY 4 - WEDNESDAY JULY 4TH 2018 DAILY PRAYER TIMES: 5:30am-6:00am 12:00noon (following @PastorChrisLive) 4:00pm-4:15pm 6:00pm in Church PRAYER POINTS FOR DAY 4 - WEDNESDAY JULY 4TH 2018 📣Meditate prayerfully on the Word for the month; see the pictures of your new level of ability, prosperity and success as you function by the Spirit throughout this month of Laughter. ROMANS 8:14 - For as many as are led by the Spirit of God, these are sons of God. 📣Pray for all our children and teenagers in church; declare their protection from all forms of evil and negative influences. Declare that through our prayers, their lives are set on course for God's purpose and they filled and guided by His Spirit right from their youth. PSALM 144:12 - 12That our sons may be as plants grown up in their youth; That our daughters may be as corner stones, polished after the similitude of a palace: 📣Speak intensely in tongues for yourself; pray and prophesy concerning all your goals, visions and expectations for this month of July and for the rest of the year; declare that the testimony of the supernatural is your daily experience, you walk in increasing grace and favour each day, and all that you set your heart and hands to do this year is accomplished gloriously without delay. ZECHARIAH 4:6-8 - Who art thou, O great mountain? before Zerubbabel thou shalt become a plain: and he shall bring forth the headstone thereof with shoutings, crying, Grace, grace unto it. 8Moreover the word of the LORD came unto me, saying, 9The hands of Zerubbabel have laid the foundation of this house; his hands shall also finish it; #ceabuja #MonthOfLaughter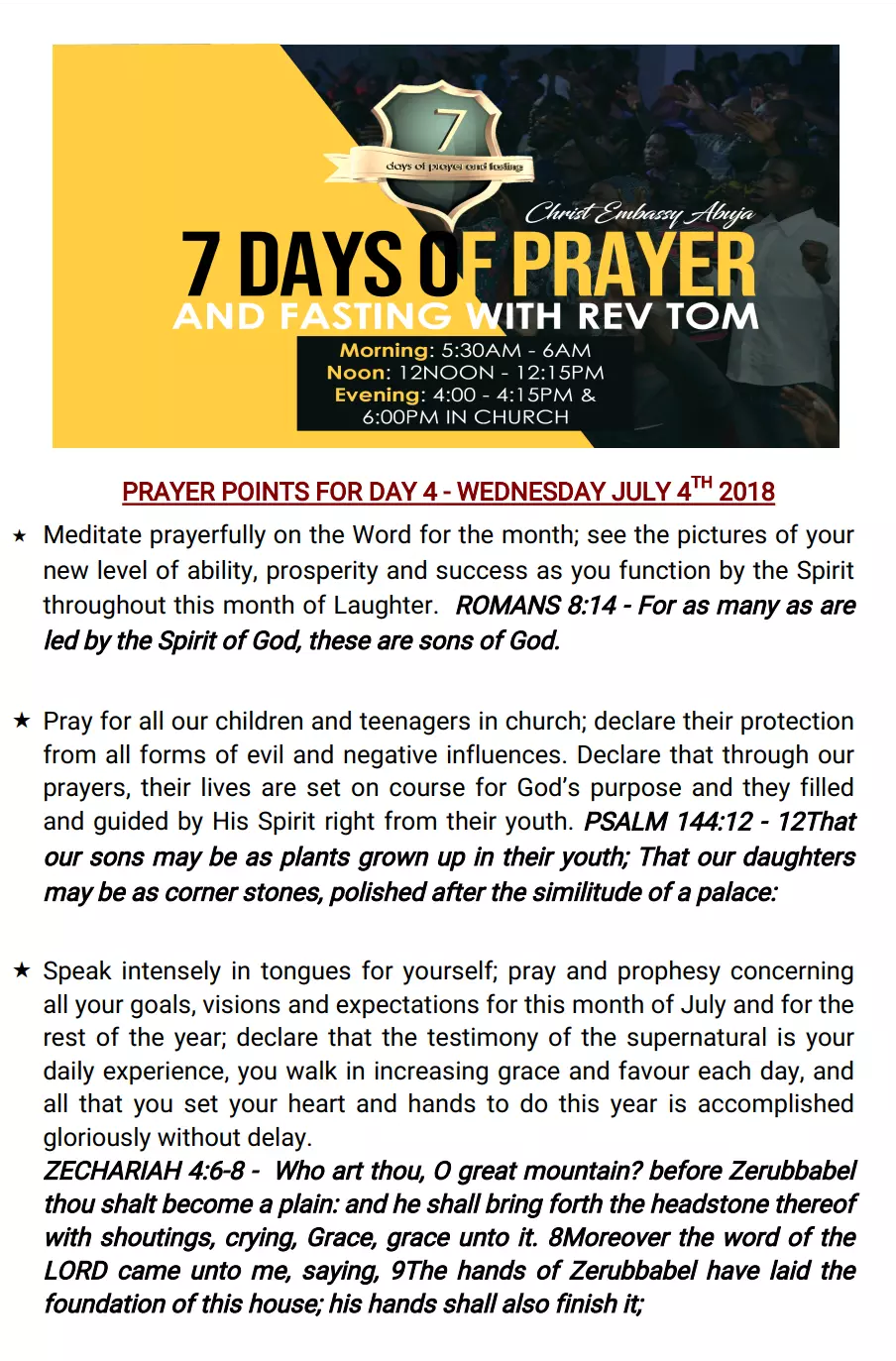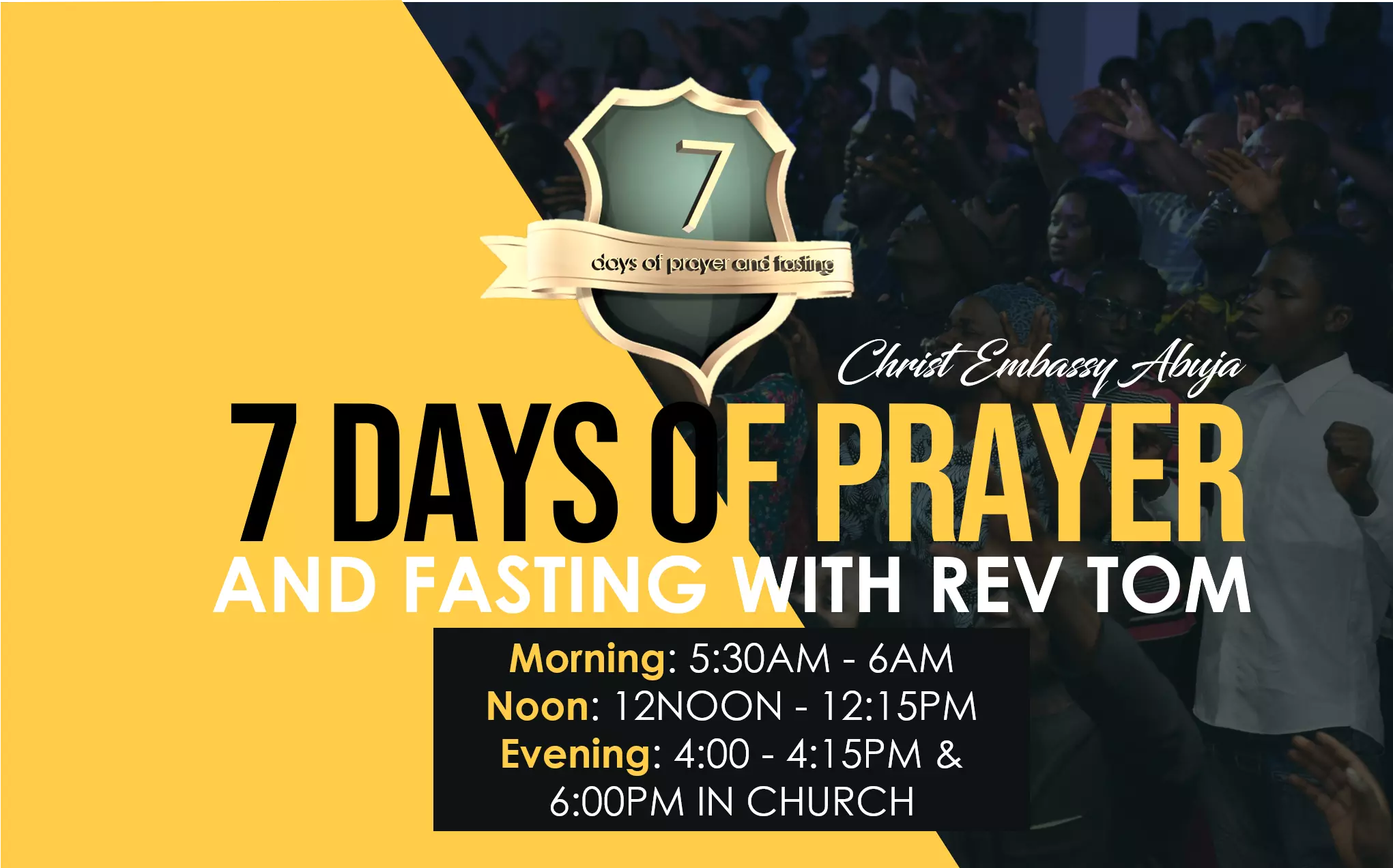 From the LMAM usa Pastor, We Thank you for all you do for us sir! We are very grateful! We love you dearly pastor!
La la la lala la 🎶🎶🎼🎼🎼🎷🎷🎷🎹🎸🎸🎸my dancing shoes are ready it's loading Its here # E707 #warriministrycenter
7 DAYS PRAYER AND FASTING WITH REV. TOM PRAYER POINTS FOR DAY 4 - WEDNESDAY JULY 4TH 2018 DAILY PRAYER TIMES: 5:30am-6:00am 12:00noon (following @PastorChrisLive) 4:00pm-4:15pm 6:00pm in Church PRAYER POINTS FOR DAY 4 - WEDNESDAY JULY 4TH 2018 📣Meditate prayerfully on the Word for the month; see the pictures of your new level of ability, prosperity and success as you function by the Spirit throughout this month of Laughter. ROMANS 8:14 - For as many as are led by the Spirit of God, these are sons of God. 📣Pray for all our children and teenagers in church; declare their protection from all forms of evil and negative influences. Declare that through our prayers, their lives are set on course for God's purpose and they filled and guided by His Spirit right from their youth. PSALM 144:12 - 12That our sons may be as plants grown up in their youth; That our daughters may be as corner stones, polished after the similitude of a palace: 📣Speak intensely in tongues for yourself; pray and prophesy concerning all your goals, visions and expectations for this month of July and for the rest of the year; declare that the testimony of the supernatural is your daily experience, you walk in increasing grace and favour each day, and all that you set your heart and hands to do this year is accomplished gloriously without delay. ZECHARIAH 4:6-8 - Who art thou, O great mountain? before Zerubbabel thou shalt become a plain: and he shall bring forth the headstone thereof with shoutings, crying, Grace, grace unto it. 8Moreover the word of the LORD came unto me, saying, 9The hands of Zerubbabel have laid the foundation of this house; his hands shall also finish it; #cedurumi
Celebrating our Hero, Coach, Pastor, and our Super Star number one, our Highly Esteemed Pastor Uche Onubogu. Sir, we love you load.
.... making of the #ROUSA2018 Arlington parade float #ROUSA2018 #TXVIRTUALZONE2 #CEArlington
#ROUSA2018 #CELARGO #USAVZ1 #USAREG1
HALLELUJAH!!! for Children Ministry, our children was an integral part of evangelizing at Colombia lake on Sunday. GLORY!! #ROCAN2018 #Canada #CEKITCHENER
Am Alive !!!!!!!!!! #CEWarriministrycenter #E707
#LPCUK2018 I just can't keep quiet