Affirmation Train: #TALKINGSESSION 19TH APRIL. KINDLY SAY on KingsChat Web
#TALKINGSESSION 19TH APRIL. KINDLY SAY THESE WORDS OUT LOUD. Dear Heavenly Father, I rejoice, knowing that the Lord Jesus paid the ultimate sacrifice for sin, and I now stand justified in your presence. Thank you for ushering me into this new life of righteousness, where I reign and rule with Christ forever! I'm washed, sanctified, glorified, and justified; I'm the righteousness of God in Christ Jesus. Now, I'm an associate of the God-kind; a participator in the divine experience, walking in newness of life, and in the light of my righteousness in Christ. Father, I thank You for the rich and beautiful life You've brought me into in Christ. I am created in Your image, and in likeness, for beauty and glory! I recognize myself as Your peculiar treasure and pearl of great price, fashioned for good works; I show forth Your wonderful deeds and display Your virtues and perfections today. I am blessed with all spiritual blessings in heavenly places in Christ; I'm conscious of this truth and the authority I have over all principality, power, and the rulers of the darkness of this world! I walk in blessings only; I'm secure in Christ, fortified against all machinations and stratagems of the adversary, in Jesus' Name. Amen. • Keep saying it, publish it everywhere; noise it abroad! In Christ, we've got something to shout about. Let's flood the airwaves, internet and print media with the reality of Christ. Speak in other tongues now. ~ Pastor Chris Oyakhilome. #themonthoftruth #wehavemoved #hspc #rhemafortoday #yourloveworldspecials #affirmationtrain #wordfest2021 #8DOM #8daysofmeditation #prayathon2021 #thankyoupastorchris #prayingnow #theyearofpreparation #healingstreams #wordfest3 #stillpraying #yourloveworld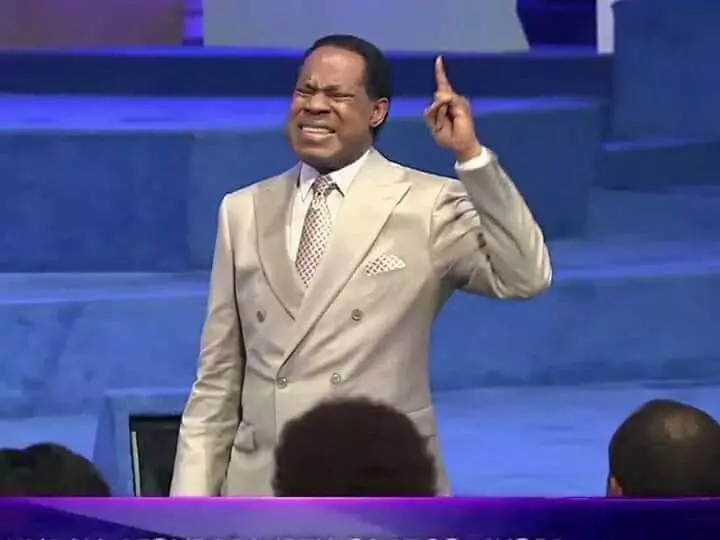 Happy birthday ma God bless your new age
We are still praying... 🙇🙇THE GLOBAL PRAYER HOUR/PASTOR CHRIS LIVE GLOBAL PRAY-A-THON 2021🙇🙇 📖📖Matthew 16:18. "…. I will build my church; and the gates of hell shall not prevail against it."📖📖 Christ Embassy Lagos Zone 5 is currently leading the world in prayers through the Pastor Chris Live Global Pray-a-thon. Kindly join now in this non-stop prayer chain by using this link: www.pastorchrislive.org or the PastorChrisLive TV on KingsChat. God bless you! #PCLPrayathon2021 #Iamapriestinoffice #IPraywithPastorChris #MonthofTruth #2021YearofPreparation #CELZ5
The Fitness for Duty Training is off to a L.O.A.D.E.D Start‼️‼️🚀🚀 Live Participation from BLW USA GROUP 4 ...Day 2 begins by 5pm GMT+1.... Don't miss this‼️ #FitnessforDuty #Training #Blwcampusministryrocks™️
Perfect Morning Sir/ Ma'am. This week, you will go out in joy and be led forth in peace. Great Week Ahead! From All Of Us @ OLIVER-UGWI GLOBAL SERVICES LTD. * Clearing & Forwarding. * Haulage & Storage. * General Merchandise. ... Think Import/ Export, Think Us!
Happy birthday to my esteemed group pastor & father. I love you sir
We Are Still Marching On and Now in Day 9 on Our Special Expose' on Truth Listen and get inspired by The Audio Message titled The Wisdom of the Just by Pastor Chris airing now on www.pcdl.tv The Week 2 Study Guide is now available for download to make your Daily Study more exciting and impactful 🥳💯🥳 #ExposeonTruth #HappeninginApril #A21DayStudy #watchonpcdltv
DIVINE HEALTH CONFESSIONS 19th April I'm a product of God's Word and I walk in the light of His Word. Visit:www.enterthehealingschool.org/dhr to listen to the daily divine health confessions podcast #Faithproclamations #Dhconfessiones #healingtothenations
RHAPSODY OF REALITIES DAILY DEVOTIONAL MONDAY 19 THE POWER AND CHARACTER OF THE SCRIPTURES PASTOR CHRIS OYAKHILOME For the scripture saith unto Pharaoh, Even for this same purpose have I raised thee up, that I might shew my power in thee… (Romans 9:17). Some years ago, after a certain programme which had several ministers in attendance, one of them said to me, "You talk about the Scripture as though it's a person." I said, "Oh, yes; it is!" It matters that you know this: the Scripture has personality and character. This is what Jesus revealed in the various things He said about the Scripture. His apostles captured the same truth, and propagated it. For example, our theme verse says, "For the scripture saith unto Pharaoh…." He could have said, "For God saith unto Pharaoh…" and that'd be right, because we know that God did talk to Pharaoh; that's what the Scripture tells us. The Bible says Moses went to Pharaoh and said, "...Thus saith the LORD God of Israel, Let my people go…" (Exodus 5:1). Again, we find Paul echoing the same truth in his writing to the Galatians in Galatians 3:8. He said, "And the scripture, foreseeing that God would justify the heathen through faith, preached before the gospel unto Abraham, saying, In thee shall all nations be blessed." It doesn't say the Spirit preached to Abraham, or the Lord preached to Abraham. It says the Scripture preached to Abraham. The Scripture "talked" to him. Galatians 3:22 says, "But the scripture hath concluded all under sin, that the promise by faith of Jesus Christ might be given to them that believe." Also, look at Galatians 4:30; it doesn't say, "What saith God?" Rather, it says, "…what saith the scripture?" It's so important that you put a premium on the Scriptures. When you want to know anything, get into the Bible to find out what God says about it. Whatever God says about it is what should matter to you. Build your life on the Scripture, for they're able to make you wise unto salvation (2 Timothy 3:15), and make you an absolute success; complete and proficient, well-fitted and thoroughly equipped for every good work (Read 2 Timothy 3:16 AMPC). Hallelujah! PRAYER Thank you Father, for the blessings and impartations I receive from studying the Scriptures, and the deeper insight into the past, present and future of your plans and purpose for the Church, for me, and for the world. I'm transformed from glory to glory—complete and proficient, well-fitted and thoroughly equipped for every good work as I walk in your preordained path for my life, in Jesus' Name. Amen. FURTHER STUDY 2 Timothy 3:14-17; Romans 15:4; Romans 9:17 ESV 1 YEAR BIBLE READING PLAN: Luke 17:20-18:1-14 & 1 Samuel 8-10 2 YEAR BIBLE READING PLAN: Mark 3:20-35 & Leviticus 19 https://enterthehealingschool.org/imagazine/Phortizo *CALL TO SALVATION PLEASE AM BEGGING YOU DON'T IGNORE* • • • • • • Now is the time to put your house in order, there would be a "disappearance" very soon. It's called the Rapture! I invite you to make Jesus Christ the Lord of your life if you haven't  just by boldly praying thus: *_"O Lord God, I believe with all my heart in Jesus Christ, Son of the living God. I believe He died for me and God raised Him from the dead. I believe He's alive today. I confess with my mouth that Jesus Christ is the Lord of my life from this day.j Through Him and in His Name, I have eternal life; I'm born again. Thank you Lord, for saving my soul! I'm now a child of God. Hallelujah!"_* Chat with me and God Bless You.