Christ Embassy Soul Tracker: CELEBRATING LEADING LIGHTS!!! "And this on KingsChat Web
CELEBRATING LEADING LIGHTS!!! "And this gospel of the kingdom shall be preached in all the world for a witness unto all nations; and then shall the end come." Matthew 24:14 Soul Tracker celebrates exceptional proponents of the Gospel in the 1st quarter of 2020. We present the top 10 Ministry Centres/Zones, in no particular order: NNW Zone 2 Abuja Zone Abuja Ministry Centre Warri Ministry Centre Port Harcourt Zone 3 Lagos Zone 2 Accra Zone Benin Zone 1 NSE Zone 2 Calabar Ministry Centre Thank you so much Sirs/Mas for aligning millions around the world with their divine destinies in Christ. Be a Gospel activist, get onboard www.christembassysoultracker.org. Follow this Super User for more inspiring Soul-winning news! #perfectingsoulwinning #gospelactivists #nostoppingus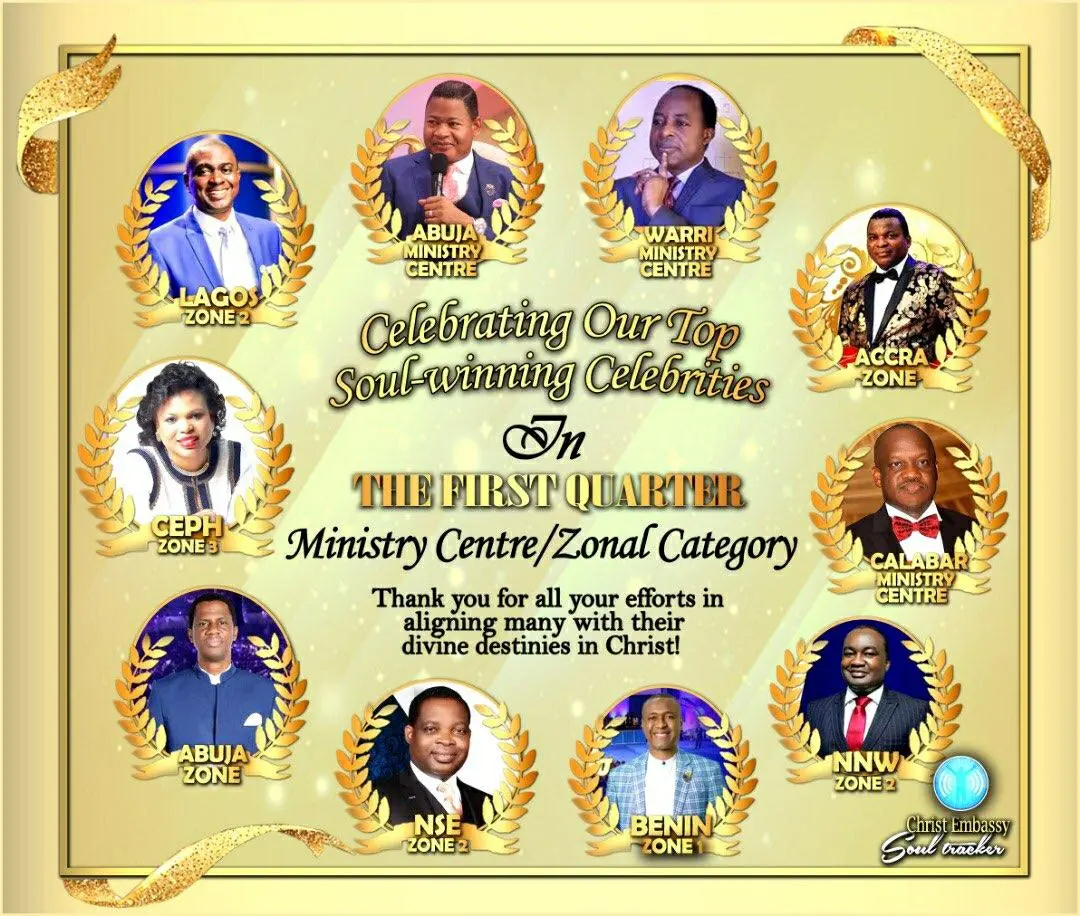 Happy Wedding Anniversary our dear Pastor Edwin & Sis Agricola. Your union has been a blessing, impacting & transforming lives. So much grace at work. We love you dearly. #CeTanzania
I give thanks unto thee, O Lord, I sing praises unto thy name. Great deliverance giveth he to his King; and sheweth mercy to his anointed, to David, and to his seed forever more.
💥🎩Happy birthday Zonal Pastor Sir. Thank you for giving of yourself to the work of Soul- and Church building. We love you ♥️ #UKZone2 #lwcentralchurch #Pastorchrislive #Protocoldept.
Who said prayers don't work,let keep praying, pastor said pray that our leaders will have the boldness to stand up it has happened in Jesus Christ mighty name Amen
Yippee! I can't keep quite! It's 10 days to the biggest day we've been waiting for! Glorrrry! Counting up to the birthday celebration of an amazing life couch, mother and God's own elect!
📺HIGHLIGHTS OF SUNDAY SERVICE Part 1 There's so much to learn and love about God. You would Love This! #blwzonej