Masajuwa .E. Pheobe: Happy birthday sister Ijeoma Duru. on KingsChat Web
Happy birthday sister Ijeoma Duru. Thank you for all that you do in ministry. More Grace to you dear.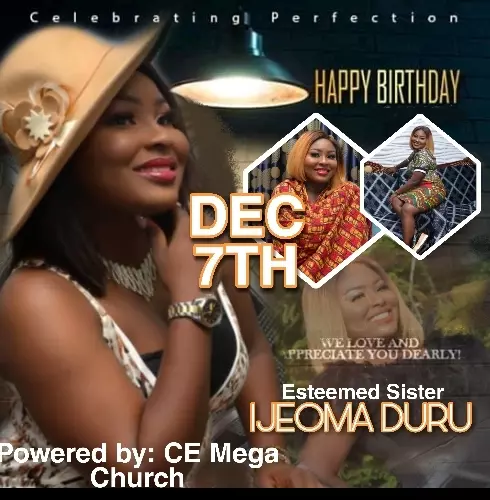 Pastor Ebihor Kennedy
commented:
Happy birthday Sister Ijeoma Duru. This is the beginning of greater thing to happen in your life. I love you.
IJEOMA DURU
commented:
THANKS Dear Sis Pheobe, I love you.😍💖💯
Happy birthday to a most amazing regional pastor.We look at you and its easy to follow.Thank you sir for being so exemplary,guiding us by God's spirit.I am grateful to God for the gift you are to us in the region.Words are not enough to say how much we love and appreciate you sir
Happy birthday dear Daddy Thank you so much for saying YES to God sir! #cesapele
Happy birthday dad thank you so much pastor sir for showing me the right parts to go and I glow in glory because of you I love you so much.
"Enter his gates with thanksgiving     and his courts with praise;" We cannot help but joy in the Lord here at @Ce_Bristol Welcome to the#Monthofthanksgiving #UKVZ4
#dec7 #happybirthdaysir #ilovepastorchris The deep state terminators 😎✌
Happy birthday Daddy..I love you somuch. Thankyou for All! May the Lord keep guiding and protect you till the day of the Lord in jesus name! Christ embassy Basel 2
***DAY OF SERVICE OUTREACH*** CE Rockhill USA distributed free blankets to the homeless to keep warm during winter, distributed copies of our daily devotional, many souls won. #dayofserviceoutreach #dec7 #freeblankets #USAREGION2 #CEROCKHILL