PRENATAL PROGRAM: HAPPY BIRTHDAY TO OUR MAN on KingsChat Web
HAPPY BIRTHDAY TO OUR MAN OF GOD - Rev Dr. Chris Oyakhilome We celebrate our Man of God TODAY and ALWAYS. Thank you Sir 4 restoring hope in many families, homes and changing destinies tru d expression of d message of the gospel of Christ of which The LW Prenatal is one. HBD SIR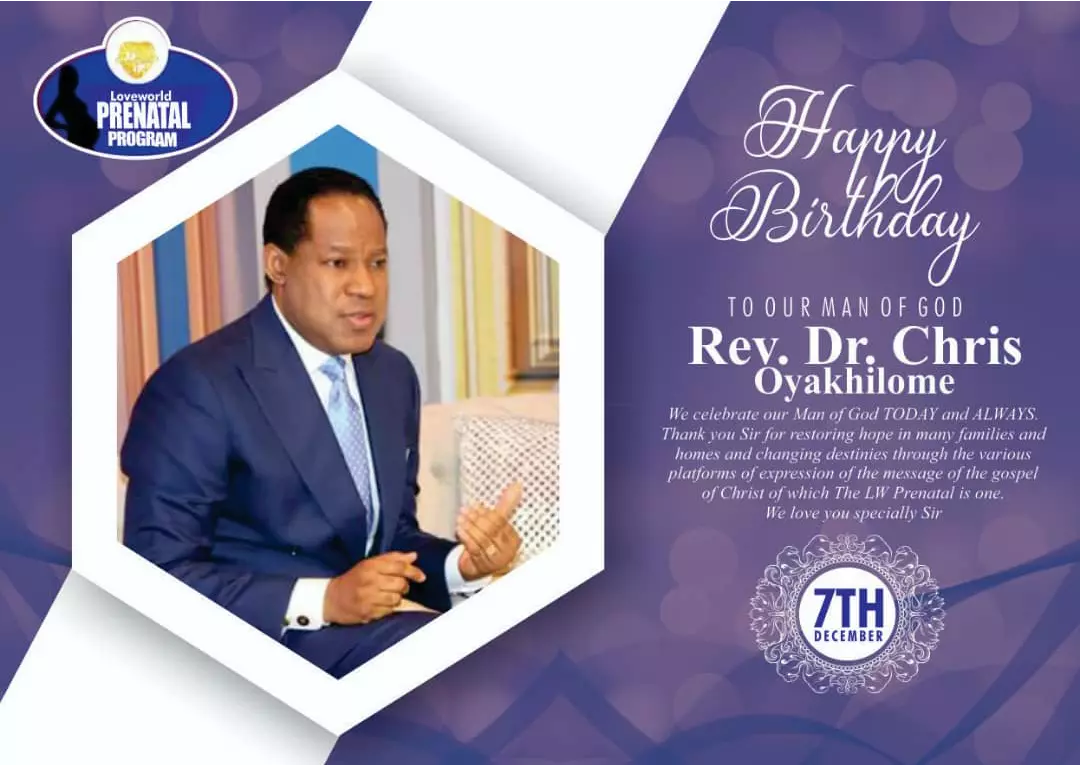 Every moment with you is indescribable. Thank you for playing a pivotal role in my life. Thank you for loving Jesus Christ the way you do. Thank you for being an inspiration to many nations. Thank you for everything. I love you Pastor sir. #Dec7 #Offer7 #MyFather
Wow! Happy birthday to my Father, Mentor, Man of God and Life Coach Rev Dr Chris Oyakhilome. We are so blessed in this generation to have a Man of God like you, full of the Spirit, wisdom and full of the word. Thank you for giving my life a meaning. I love you for life Papa❤❤😍
We do great things for our pastor... #C.EIRUKPEN1 Happy birthday pastor...
A Glorious Happy birthday to a gospel luminary ....Thank you sir for bringing the whole world into an accurate knowledge of the word of God ....The light of this mandate continue to blaze so brightly to the ends of the earth Happy birthday Pastor
Happy birthday to my super Daddy. #Pastorchris, #dec7, #wisdomplace, #cephz2
Happy birthday to our HERO and life COACH. Pastor sir we love you
Happy birthday to my mentor,teacher life coach thank you for teaching me the word of God you gave my life a meaning love you Sir dearly
'2019 is written in the records of success' Day 6 of 31 Days of Thanksgiving - EWCAZ5 Share with us your own testimony in the comments section. God bless YOU abundantly. #EWCAZ5 #cenunguagh #31DaysofThanksgiving #Thanksgivinginewcaz5 #monthofblessingsinthanksgiving #countingmyblessings #givingthankstotheLord
Happy birthday Pastor sir thank you sir,for all these years of God's word invested into my life, am forever grateful that you are my Pastor, Teacher, life coach, Father and an Hero, I love you Personally!!!!