Hello Loveworld: Just under 24 hours until on KingsChat Web
Just under 24 hours until the history-defining Global Day of Prayer with Pastor Chris and Pastor Benny Hinn! Share the news with everyone you know, and on all platforms! We're set for eternal global impact! Watch the broadcast LIVE tomorrow, from 7pm GMT+1/2pm EST at www.helloloveworld.tv! #globaldayofprayer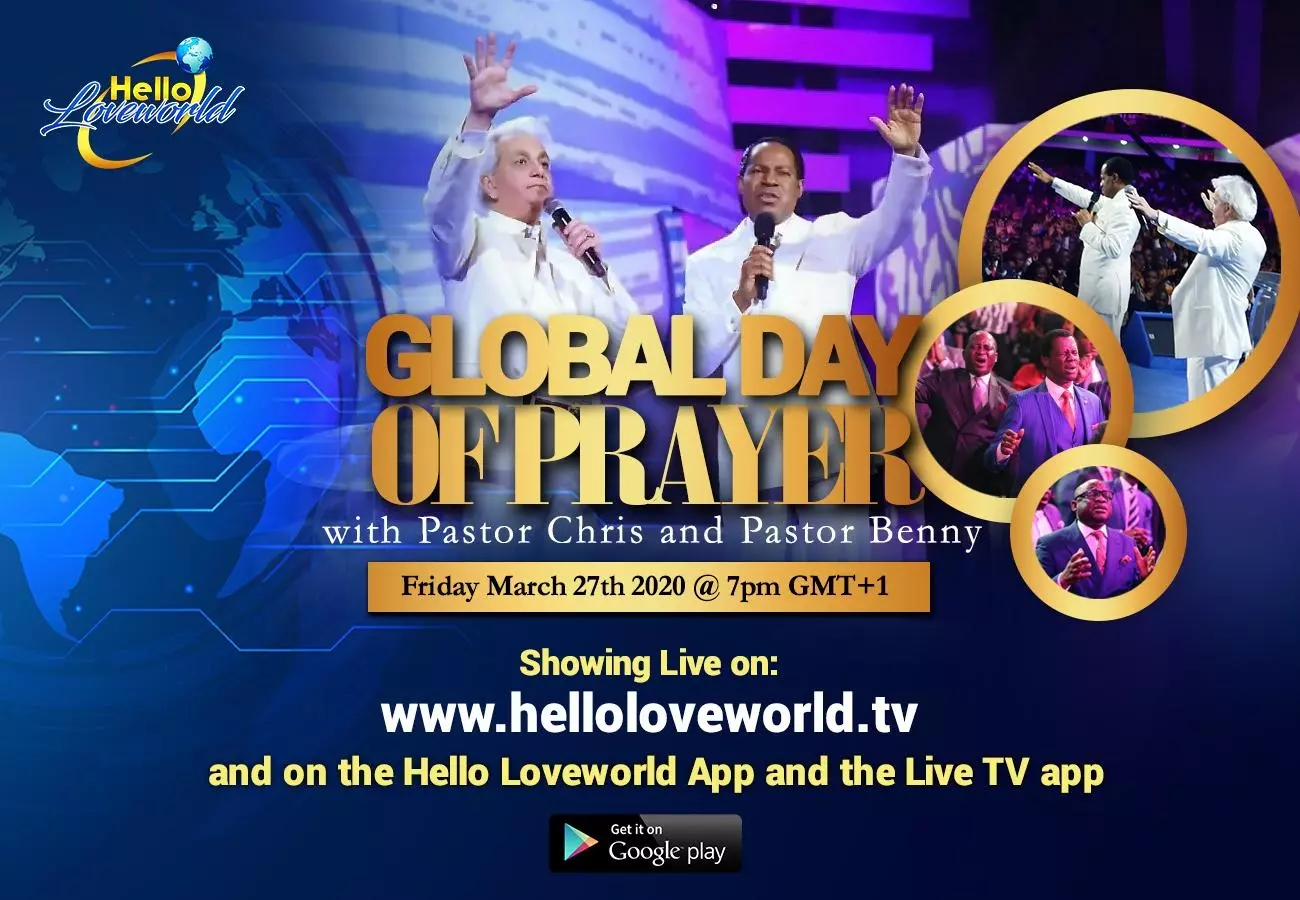 Am ready ready ready💃💃💃#prayerworks#prayerprevails#globalprayertomoro🤗
Southern Africa is Ready! Stay tuned @ https://tniglobal.org for live streaming of the Global Day of Prayer!
Happy birthday to a burning and a shining light, a dear sister and friend, I love you ho ha, the Lord will surpass all your expectations in this new year.❤ #teamcalabarrocks #globaldayofprayer
Happy bday pretty Princess Candice.It was like a few days ago, the world was blessed with you.... and now u are BiG 4!!! Beautiful!Bold & Brilliant You will continually be a delight to all growing in wisdom, grace & divine health. The Lord has perfected all that concerns you.I❤️U
Just under 24 hours until the history-defining Global Day of Prayer with Pastor Chris and Pastor Benny Hinn! Share the news with everyone you know, and on all platforms! We're set for eternal global impact! Watch the broadcast LIVE tomorrow, from 7pm GMT+1/2pm EST at www.helloloveworld.tv! #globaldayofprayer
Perfect evening esteemed brethren .Can we please pray that internet is stable tomorrow, that ministry angels are dispatched everywhere around the world to secure the internet connection, that everyone can connect easily & that they have sufficient data to participate.
Je prends position avec le pasteur Chris et le pasteur Benny Hinn pour apporter la guérison aux nations. Rejoignez-nous demain vendredi 27 mars 2020 à 19h GMT + 1 pour la Journée mondiale de prière. AMEN🖐 #globaldayofprayer #healingtothenations #AmbassadorsNetwork #dspukzone3
We're READY!!! #Loveworldsat #globaldayofprayer For LoveWorldSAT Avatar 👉🏾👉🏾👉🏾http://www.loveworldsat.org/globaldayofprayer.php