Christy Dcns: HAPPY BIRTHDAY ESTEEMED PASTOR BIODUN on KingsChat Web
HAPPY BIRTHDAY ESTEEMED PASTOR BIODUN LAWAL ❤️❤️❤️🙏🏼🙏🏼🔥🔥 #UKZONE2 🇬🇧🇬🇧 #LWBATTERSEA #gylf #lwteensministry #prayerthone #ror #watchpastoronPCDL #globalimpactoutreach #loveworldladiesnetwork #2021preparatorystudyseries #prayingandfasting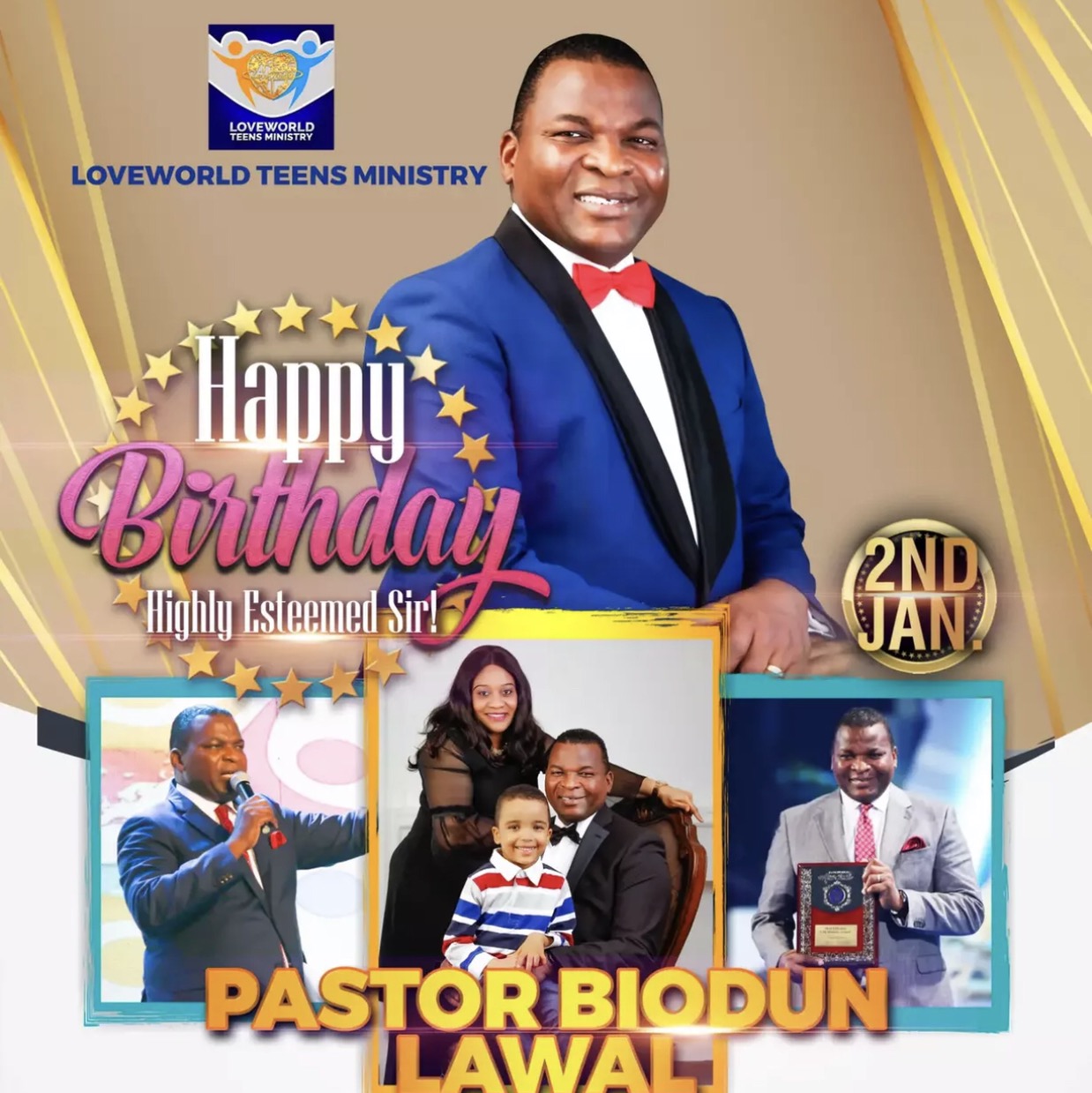 Tega
commented:
Celebrating... B for Billionaire Pastor 💥💥💥 I for Inspiring Minister 💥💥💥 O for Outstanding Personality 💥💥💥 D for Diligent Soldier💥💥💥 U for Undefeated Champion 💥💥💥 N for Nurturer of Destinies 💥💥💥 HAPPY BIRTHDAY HIGHLY ESTEEMED PASTOR BIODUN LAWAL 💥💥💥
WATCH THE FUTURE AFRICA LEADERS AWARDS RE-BROADCAST Showing on several terrestrial stations between 4:30- 9:30 PM
Happy new yr of perfection family. As i celebrated my 2020 birthday, I took a trip down memory lane n God has bn so good to me. I'd like to tnk the highly esteemed Pastor Chidi Ezimako for d opportunity to serve under ur leadership sir. I am truly grateful. #myseasonofgratitude
Happy glorious birthday sir. We love you. Thank you for being so dedicated in following our man of God: Pastor Chris Thank you for your exemplary leadership. We love you!!! #sonofconsolation #huiosparakleseos #sonofpastochris #pbl2021 #ceatlanta #ceatlantagroup #ceusaregion2
#HuiosParakleseos #SonOfConsolation #SonofPastorChris #PBL0201 #CeAccraGhanaZone #CeLAATeensChurch
Happy birthday Pastor Sir Thank you pouring out your heart unto us and always teaching us the word of faith and how to possess the nations for God. #HuiosParakleseos #SonOfConsolation #SonOfPastorChris #PBLO2021 #CeAccraGhanaZone
#Happeningnow 2020 FALA Cocktail And Reception. Special Spoken Word Rendition by Faith Stay tuned..... #FALF #FALA2020 #futureafricaleaderdfoundation
When your highly esteemed Regional Pastor call you to declare words of blessings and grace on you on your birthday. Thank you Pastor Sir. For all the words of prayers and blessings!!! I LOVE YOU!
Happy birthday Pastor Sir. I join the host of heaven to celebrate you sir. I love you pastor sir. Glory!!!!!!! #Huioparakleseos #SonofPastorChris #Sonofconsolation #PBL0201 #CEAtlanta #CeUSAregion2