Rhapsody of Realities: 🏆🌟✨💫1ST QUARTER VIRTUAL RHAPSODY AWARDS: on KingsChat Web
🏆🌟✨💫1ST QUARTER VIRTUAL RHAPSODY AWARDS: ARE YOU READY? IT'S LESS THAN AN HOUR TO GO!!!! ⭐✨💫 🌟✨⭐💫🏅🎖️🏅🎖️🌟✨💫 IT'S THE GRAND UNVEILING OF THE NEXT LEVEL!!💃💃👏👏🎖🏅🏅 A special celebration of our uncommon victories and the efficacy of God's Word in the first quarter of 2021. ⏰ TODAY SATURDAY, 10TH APRIL, 2021 BY 4PM, GMT+1. 🌟✨💫🏅🎖️🏅🌟✨💫 REGISTRATION AND PARTICIPATION IS THROUGH YOUR RHAPSODY AWARDS ZONAL LINK OR RHAPSODY NETWORK LINK. DON'T MISS IT!! SAVE THE DATE. #RhapsodyAwards #RhapsodyVirtualAwards2021 #Rhapsody #pastorchris #prayingnow #rhapsodyofrealities #Loveworld #CE www.rhapsodyofrealities.org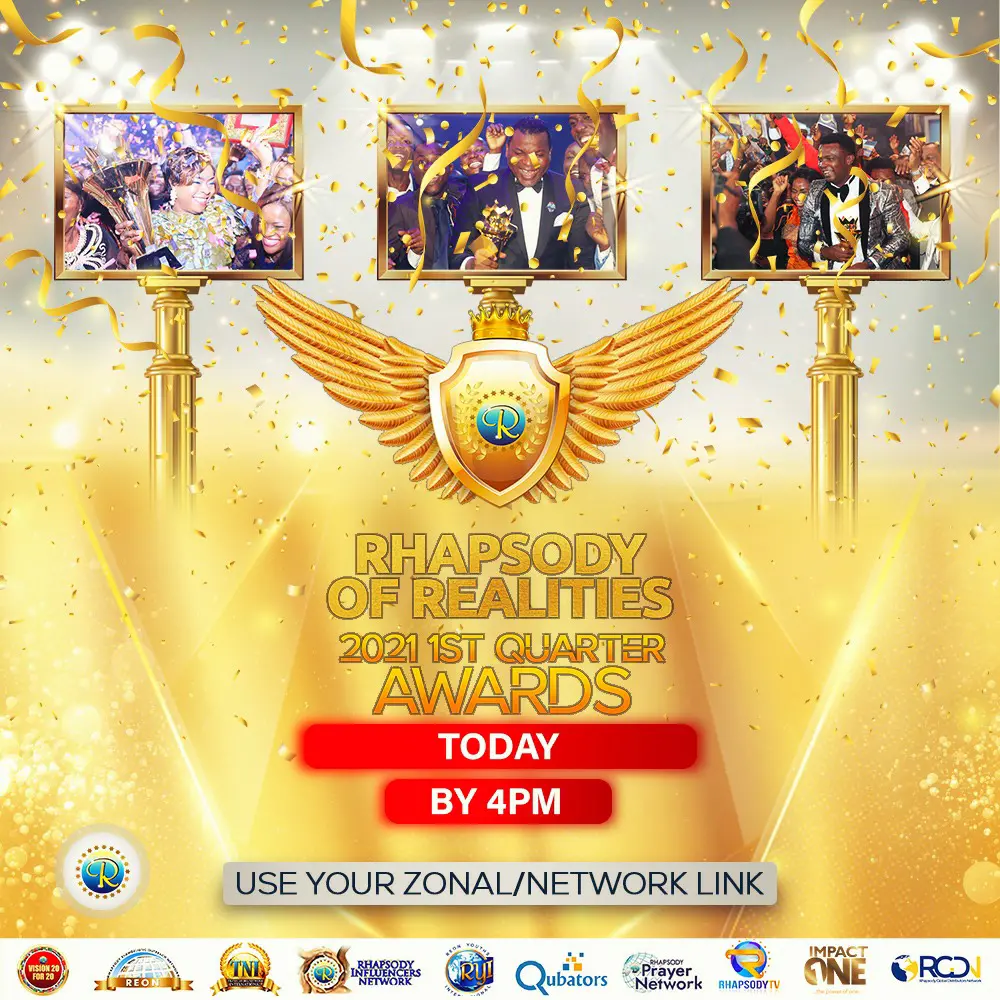 Sergio
commented:
😎🏅Chris ganó mano 💥✋
HAPPENING NOW ... REACHOUT SENEGAL 2021 ... Send us around the world with the news of your saving power... The Gospel is prevailing over the Fiasco. Stay tuned for more updates.
📢╰☆☆A͛N͛N͛O͛U͛N͛C͛I͛N͛G͛☆☆╮👇🏼👇🏼 The Global Children's Church Open Day🔊 Yay! It's something to shout about!💃🏻🥳🥳 Pastor....Tell a Teacher to tell a parent to tell another Parent to attend. Date: Sunday, 18th April 2021 Venue: Your Children's Church See you there 🤸🤸🤸🤸 #LoveWorldChildrensMinistry #ChildrenschurchRocks #CELZ5ChildrenRock #2021YearofPreparation #CELZ5
Dear Esteemed Sister Stuti, Thank you for being so dependable, committed and consistent to LovetoonsTV. With you in our team, it's smiles, result and fun all the way. We love you. #lovetoonstv
https://youtu.be/0g39ScrF614 What did Abraham believe? What is God final advice to all mankind after all he had done in Christ for mankind ? Find out on this amazing teaching on the message of TRUTH by Evangelist Juliana Giesselmann.
Yes Sir! Thank you Pastor Sir!
https://awards.rhapsodyofrealities.org/amchttps://awards.rhapsodyofrealities.org/amc
🔔 IT'S BARELY AN HOUR TO GO💃💃💃: THE RHAPSODY OF REALITIES 1ST QUARTER AWARDS 🏆🏅🥇🥈🥉 🎯 REGISTER TO ATTEND ON: http://awards.rhapsodyofrealities.org/rpn OR USE YOUR ZONAL LINK ⏰ TIME: 4PM GMT+1/ 10AM EST 🏆 IT'S A CELEBRATION GALORE! YOU 🏆 DON'T WANT TO MISS THIS!!! 🏆 COME LET'S CELEBRATE YOU! #Rhapsodyawards #rhapsody #rpn
Celebrating Rhapsody of reality first quarter award #cemidwestzone #cesiluko1 #group2 #sport
#RhapsodyAwards HAPPENING TODAY💃🥰🥳🥳 REGISTER NOW ON: awards.rhapsodyofrealities.org/ry 🗓️⏰: SATURDAY, 10TH APRIL,2021. 4PM, GMT+1.