Cephas Obrempong: HAPPY BIRTHDAY TO YOU MY on KingsChat Web
HAPPY BIRTHDAY TO YOU MY PASTOR, FATHER, LIFE COUCH, MENTOR, TEACHER. THANK YOU PASTOR SIR FOR ORDERING MY LIFE WITH YOUR WORDS AND TEACHINGS. YOU HAVE GREATLY HELPED ME FIND MY PLACE IN CHRIST.. I LOVE YOU SO MUCH PASTOR SIR. #ECWAVZ5 #CEADENTANGROUP #DEC7 #OFFER7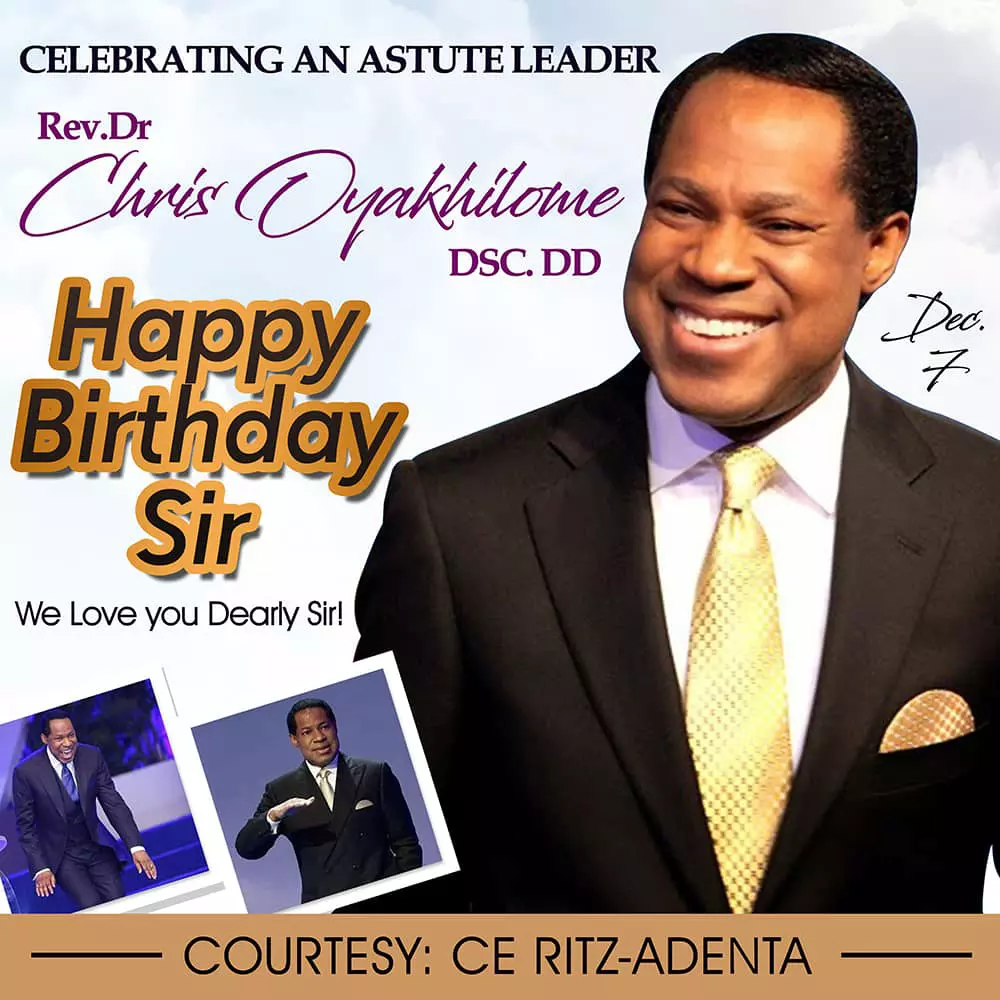 Cephas Obrempong
commented:
Happy Birthday to you Pastor Sir. You are my hero. I love you so much Sir
I am eternally grateful to you Pastor. Happy Birthday!!!
Happy birthday to our amazing man of God Rev. Dr. Chris Oyakhilome Phd. DD. Dsc. Thank you for your loving us and showing us the path of growth, and being an inspiration for living the glorious life! We are grateful to you sir! #dec7 #happybirthday #pastorchris #weloveyou
Happy birthday to my mentor and life coach I love you PASTOR 😍😍😍
My DADDY is DADDYING many DADDIES in the world. I'm blessed and I can't be quiet. Happy birthday sir #offer7 #Ilovemydad #Cempape2 #Silveebirdgroup #CEABUJAMINCENTRE.
Happy Birthday to my President
HBD Dad! Hear is my dance challenge. Cool! My challenge goes to TNI: Pastors Kelepi, Semiti, Isaac, Miracle, Flo, Navita, Primcewill, Cathy, Dr Rukky, St Zoe. Try match my moves guys! #Dec7
To A Most Excellent & Exceptional Global Phenomenon! Happy B'day Pastor Sir! I thank u unreservedly for being an awesome spiritual dad. Thanks for d indelible impact being made d world over. Thank u 4 everything You're d only one like u. I love u more than words can say. #Dec7
To A Most Excellent & Exceptional Global Phenomenon! Happy B'day Pastor Sir! I thank u unreservedly for being an awesome spiritual dad. Thanks for d indelible impact being made d world over. Thank u 4 everything You're d only one like u. I love u more than words can say. #Dec7
I love you daddy you are more than a superstar.Thank you for teaching me Christianity without incentives.Happy birthday Pastor Sir 😘😘😘
Happy Birthday My President My Mentor My Life Coach My Father God's General BLW NO. 1 CITIZEN I Love You Sir Words are not enough to express my love, care and appreciation for you. You're simply the best dad in the world Happy Birthday Sir