CALABAR MINISTRY CENTRE : """HOMECOMING SERVICE & FOUNDATION SCHOOL on KingsChat Web
"""HOMECOMING SERVICE & FOUNDATION SCHOOL GRADUATION CEREMONY""" <PRAYER GUIDE FOR TODAY FRIDAY, 1ST OF NOVEMBER> ~Pray and decree that we have a conducive atmospheric condition throughout this period of publicity, mobilization and for our Cell Outreaches as well as on the day of the program. ~Secondly, pray for the graduating students to continue to function and participate in all our laid down Church structures (the Cell system, First Timers Ministry, Foundation school, Weekly services and Activity groups), such that they will grow, become more stable and mature in Christ. #HomeComingService #FSGRAD #CalMC #TeamCalabarRocks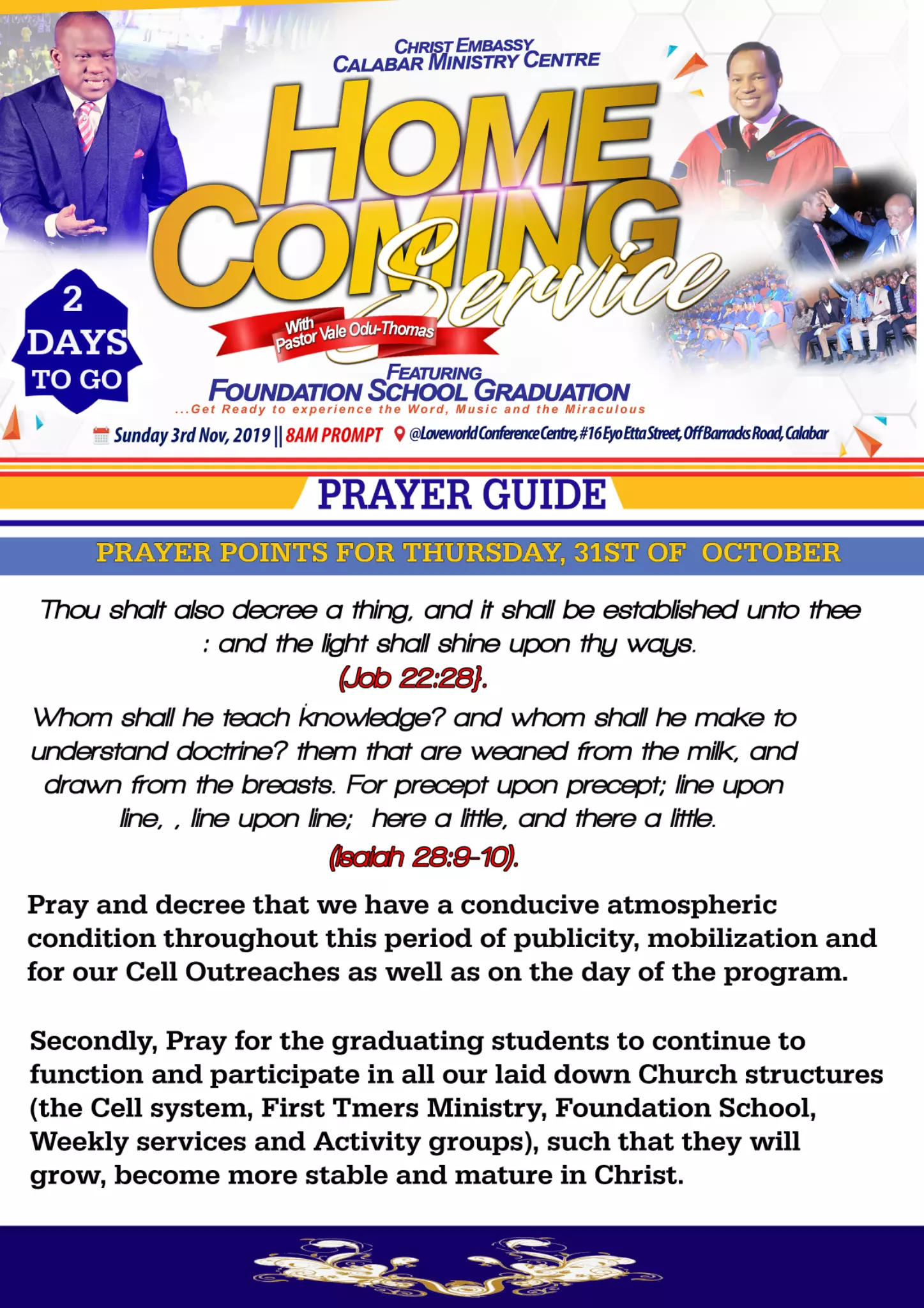 Happy birthday dear sis Bose. Thanks for being reliable and commitment to all your responsibilities in the media department. Your passion for the work and love for our man of God pastor chris and pastor Gabriel is worth emulating. We love you ma #ceibsouth #ceibsouthmedia
https://share.cloutbucks.com/croftvogel123
3 DAYS OF GLORY! INAUGURAL CHURCH SERVICE FOR CHRIST EMBASSY SUVA CENTRAL! FIJI ISLANDS!
As we enter into a beautiful new month, we remain steadfast in our faith and the authority in the name of Jesus! Use this consciousness to produce testimonies today and throughout this new month. Follow this account for more excerpts. Remember to share with your loved ones.
REON CONFERENCE AT CHRIST EMBASSY ABUJA ZONE; THE MINISTERS CAME IN THEIR NUMBERS WITH GREAT EXPECTATION AND JOYFULLY REGISTERED. THE REON COORDINATOR: ESTEEMED PASTOR MATHEW VAMPEH, SENIOR PASTOR VISIBLE IMPACT INTERNATIONAL CHURCH WELCOMING THE MINISTERS AND TAKING AN INTRODUCTION SESSION.
Happy birthday Pastor...Me love you personally
Happening life in#CEABULEGBA this Sunday by 9am, you don't want to miss it💃💃💃
24 HOURS TO GO! Are you Triple Ready? Registered✅💯 Invited a friend ✅💯 Cleared your schedule ✅💯 Device Ready📱📲🖥💻✅💯 Clear your schedule and prayerfully prepare for the GYLF Online Conference because it will be a time of rehashing. Stay Expectant✌✌ #GYLFONLINECONFERENCE2019