ABUJA MINISTRY CENTRE : CELEBRATING GRACE!! IT'S OUR BELOVED on KingsChat Web
CELEBRATING GRACE!! IT'S OUR BELOVED DEACONESS EMMANUELLA ARUKWE BIRTHDAY TODAY🎁🎁🎁🎉🎉🎉 Happy birthday Beloved Deaconess Emmanuella Arukwe, it's a brand new day for you. The Lord has ushered you into seasons of grace and refreshing and your experience will be in consonant with the Word. Thank you for your unfeigned love for the Lord and His work. Your righteousness and fruitfulness has the Lord established, granting you deeper knowledge of His person as you devote your life to the gospel. We love you. Happy Birthday🎊🎊🎊🎊🌟🎉 #CEMCABUJA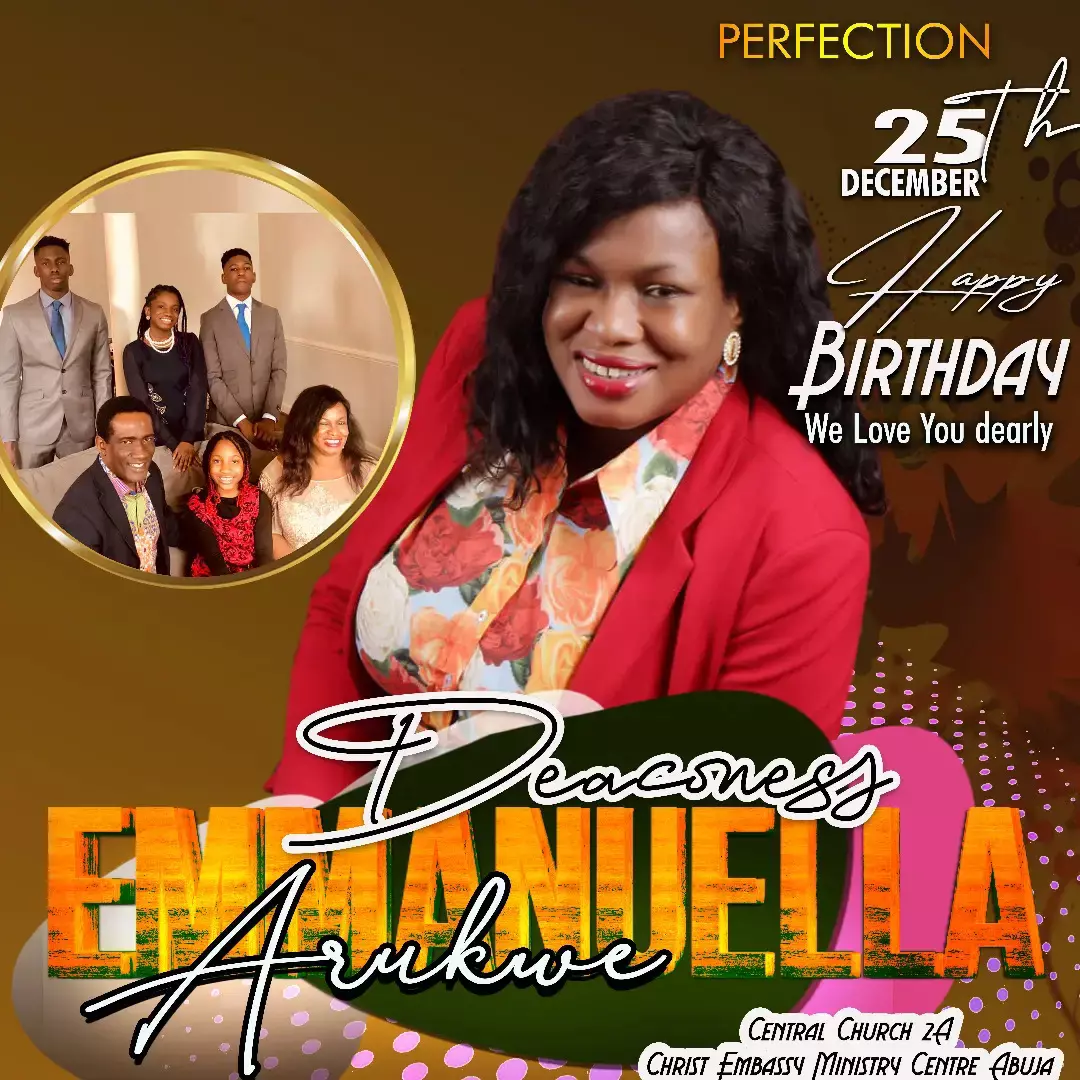 WE CELEBRATE A WOMAN FULL OF LOVE. HAPPY GLORIOUS BIRTHDAY to you Dearest Pastor RITA OWASE. I LOVE YOU DEARLY............
MERRY CHRISTMAS! 'You Are The Reason For The Season' ISAIAH 9:6-7 (VOICE) 'Hope of all hopes, dream of our dreams, a child is born, sweet-breathed;  a son is given to us: a living gift. And even now, with tiny features and dewy hair, He is great. The power of leadership, and the weight of authority, will rest on His shoulders. His name? His Name we'll know in many ways—He will be called Wonderful Counselor, Mighty God, Dear Father everlasting, ever-present never-failing, Master of Wholeness, Prince of Peace. His leadership will bring such prosperity as you've never seen before—sustainable peace for all time. This child: God's promise to David—a throne forever, among us, to restore sound leadership that cannot be perverted or shaken. He will ensure justice without fail and absolute equity. Always. The intense passion of the Eternal, Commander of heavenly armies, will carry this to completion.' I love you! DR. YANICK Yanick Music Ministries International (YMMI)
Happy birthday to an amiable,amazing ,compassionate pastor Ree,pastor thank you for all you do for gospel ,thank you for always pushing and encouraging us to follow suit, I Love you plenty ma.
Happy Birthday Esteemed Pastor Ma. Thank you so much ma for all you do in the Ministry. Thank you ma for been a great inspire to us all. I love you so much ma #PMA2512 #CelebratingPerfection #CelebratingResults
Happening Now💃💃💃 It's Christmas Service right here in Central Church with the Highly Esteemed Ministry Centre, Warri Director Evang Dr. Eddy Owase. Christ is the reason for the season let's celebrate Him with Love💃 #christmas #ministrycentrewarri
We didn't celebrate Christmas in hiding! #MerryChristmas #SEZ1 #CEOwerri
Dearest Esteemed Dcns, Happy birthday MA. Thank you for yielding yourself to the Holy Ghost to be mightily used of Him to restore men back to God, bringing healing to nations, advancing the kingdom of God in every nation, indeed of ur increase there shall be no end #CEMIDWESTZONE